News
We love book orders from this site, and I will be sending them out promptly, so please use the Current titles tab under Books/Catalogue on the menu above on this page. We use Parcel Force or couriers, or just Royal Mail. Our payments are handled by Pay Pal or by Nochex which takes Visa and Master Card, all other cards except for Amex. We are hopefully fast at getting the orders out so please go ahead!
A wonderful article in Saveur, https://www.saveur.com/august-cookbook-club-double-feature on Honey from a Weed by Patience Gray 
And a best book recommendation, from Ms Marmite Lover –
http://www.msmarmitelover.com/2018/11/the-best-food-and-drink-books-of-2018.html
Barges and Bread by Di Murrell (Prospect Books)
Di Murrell spends much of her time on the water, mostly on British canals. This fascinating food history book deals with grain transport on the river, the time when domestic commerce was usually via the inland water network, prior to the first British motorway built in 1959. The chapters cover  pre-history, the earliest farmers, the Romans, London and the Thames and at the end of the book, her personal history on the water.
She talks of 'the constancy of bread' as a food product to be transported, and of course families and businesses living upon the water needed to bake their own. She veers into Michael Pollan territory, that cooking is essential for humans, that raw ingredients were never enough to sustain our large brains.
There are recipes: the earliest form of bread- flatbread; Essene bread – sprouted and 'cooked' in sunlight; Ezekiel bread – a bible recipe that God gave to the Israelites; Maslin bread – a medieval loaf; Manchet bread- using beer; an Anglo-Saxon bread. Murrell delves into the history of flour, what type of flour we use, mostly imported Canadian, and artisanal flour from local mills (something I always buy when I come across them).
Today fewer people eat proper bread as a result of the mechanised Chorleywood process "though problematically, growing numbers of people are finding that this same daily bread makes them ill".
I read this book while on the Norfolk Broads earlier this year. It's an interesting, gripping, philosophical, practical, food history from an original perspective.
New books!
Sweet Slices of History
by Marjory Szurko is just out. We had a splendiferous book launch at Oriel College last week, and over 100 people came. Get your copy here: 
https://prospectbooks.co.uk/products-page/current-titles/sweet-slices-of-history/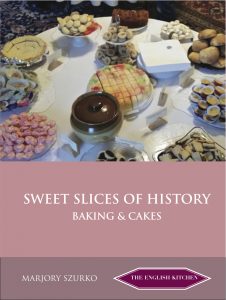 Our food history magazine which comes out 3 times a year is called Petits Propos Culinaires, or PPC. PPC – new subscriptions will start with PPC 113, due February 2019. To subscribe, use the link above. PPC 112 has been sent out!
To contact us, please use email address:  catheryn@prospectbooks.co.uk  
Tom Jaine can be contacted on editorial content for PPC on tom.jaine@prospectbooks.co.uk
If you are a trade customer, you can download this list of our titles: list2017 .
| | | |
| --- | --- | --- |
| JOIN OUR MAILING LIST: | | Prospect Books on Twitter. |