News
If your thoughts turn to cosy internet shopping for books, we are ready with stock, envelopes and stamps, and Parcel Force for speedy overseas delivery. Please go ahead! We love to have orders and we do try to make payment easy. You now have a choice of payment options at the end of the check out process, Nochex, or Pay Pal which is the one to use for Amex. Go to this link for the full list of books to buy: https://prospectbooks.co.uk/current-titles/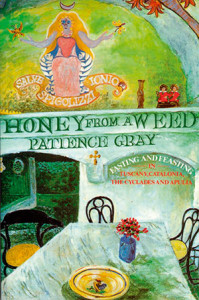 Honey from a Weed by Patience Gray – we have many copies in stock after reprinting.
Our food history magazine which comes out 3 times a year is called Petits Propos Culinaires, or PPC. PPC – new subscriptions will start with PPC 111, due early April 2018. To subscribe, us the link above.
To contact us, please use email address:  catheryn@prospectbooks.co.uk  
Tom Jaine can be contacted on editorial content for PPC on tom.jaine@prospectbooks.co.uk
    If you like hearing authors talking about their books, have a listen to Di Murrell:          https://www.eatthispodcast.com/barges-and-bread/
Thank you, Jeremy Cherfas, for interviewing Di.
There is only one Tom Jaine in this world. To listen to him on The Food Programme (broadcast on BBC Radio 4,  November 2014) you can download the Podcast indefinitely, here: http://www.bbc.co.uk/podcasts/series/foodprog
If you are a trade customer, you can download this list of our titles: list2017 .
| | | |
| --- | --- | --- |
| JOIN OUR MAILING LIST: | | Prospect Books on Twitter. |