News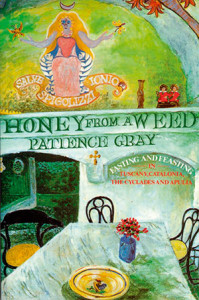 It's snowing in London, much of the UK and further afield! So if your thoughts turn to cosy internet shopping for book presents, we are ready with stock, envelopes and stamps, and Parcel Force for speedy overseas delivery. Please go ahead!
Honey from a Weed by Patience Gray – we have many copies in stock after reprinting, and here's hoping for this wonderful book appearing beneath many Christmas trees.
Buying from this site! We love to have orders and we do try to make payment easy. If you do not get on with our system (Nochex) and it does not like Amex, then please email me a list of the books you want with your delivery address. I can then send you a Pay Pal payment request for the exact amount and get to work packing.
 Our food history magazine which comes out 3 times a year is called Petits Propos Culinaires, or PPC. PPC – new subscriptions will start with PPC 110. To subscribe, us the link above.
To contact us, please use email address:
Tom Jaine can be contacted on editorial content for PPC on
There is only one Tom Jaine in this world. To listen to him on The Food Programme (broadcast on BBC Radio 4,  November 2014) you can download the Podcast indefinitely, here: http://www.bbc.co.uk/podcasts/series/foodprog
If you are a trade customer, you can download this list of our titles: list2017 .
| | | | |
| --- | --- | --- | --- |
| JOIN OUR MAILING LIST: | | | Prospect Books on Twitter. |