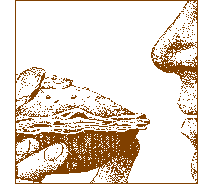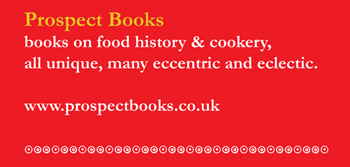 Prospect Books is the pre-eminent list of books on the history of food.
Christmas! Books make wonderful presents. Please order but we cannot guarantee overseas orders will arrive by 25th December as the last Christmas posting date has passed. They will arrive soon after. UK ones are fine until 15th December.
We do sell from this website but you can also order our books through Blackwells online, Waterstones online or any other online retailer. You can order also from Wordery, who offer free postage in the UK. The link is: https://wordery.com  A good site for book orders to Australia is  www.booktopia.com.au
All orders to Europe may incur local taxes and have to be collected from poste restante. We do not receive any of this income so if your relative is unlikely to collect a gift parcel, please be warned, as the book will only be returned to us if uncollected.
Recent press: 
Medlars: Growing & Cooking by Jane Steward Anyone with a tree or access to a decent supply of medlars may be interested to know there is, at last, a comprehensive guide to everything medlar. Here is medlar curd, vinegar, sticky toffee pudding, walnut loaf and even pickled medlars. Plus everything you need to know about growing and looking after them. Nigel Slater, Instagram October 2023
The recipe (Fish soup, The Guardian 23 October 2023) is also inspired by Davidson's Mediterranean Seafood, an illustrated catalogue of fish and marine animals, and suggestions on how to cook them. He notes that the delicate, firm flesh of the mullet is best grilled or fried, and needs no sauce. I agree, but also adore it in fish soup, along with a handful of shellfish. It is a basic and brothy dish that comes together quickly (and can be varied infinitely). Rachel Roddy, The Guardian
We publish the journal of food history, Petits Propos Culinaires. To subscribe, use the link. It works for renewals too.
For all other enquiries, publicity, or new book ideas, please contact catheryn@prospectbooks.co.uk (Catheryn Kilgarriff)
If you are a trade customer, you can download this list of our titles: list 2022.