Prospect Books, publisher of books about cookery,

food history and the ethnology of food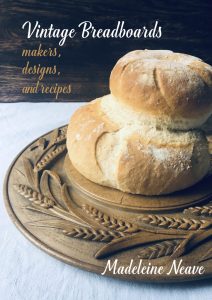 Just in is Vintage Breadboards by Madeleine Neave and her team. We will be having a launch at the Putney Library in Disraeli Road, Putney, London, SW15 2DR from 6-8pm on December 4th. Email if you would like an invite.
Our food history magazine which comes out 3 times a year is called Petits Propos Culinaires, or PPC. PPC – new subscriptions will start with PPC 116 early in the New Year as PPC 115 has just been sent out. To subscribe, use the link above.
We love book orders from this site, and I will be sending them out promptly, so please use the Current titles tab under Books/Catalogue on the menu above on this page. We use Parcel Force or couriers, or Royal Mail. Our payments are handled by Pay Pal or by Nochex which takes Visa and Master Card, all other cards except for Amex. We are hopefully fast at getting the orders out so please go ahead!
A Dollop of History is one of my favourite blogs, and here is what they made of Sweet Slices of History  https://historydollop.com/2019/01/13/sweet-slices-of-history-baking-cakes-by-marjory-szurko/
Tom Jaine can be contacted about editorial content for PPC on tom.jaine@prospectbooks.co.uk
For all other enquiries, publicity, or new book ideas, please contact catheryn@prospectbooks.co.uk (Catheryn Kilgarriff) 
If you are a trade customer, you can download this list of our titles: list2017 .
| | | |
| --- | --- | --- |
| JOIN OUR MAILING LIST: | | Prospect Books on Twitter. |