PPC 101 (October 2014)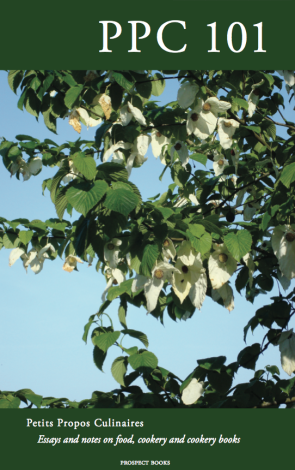 PPC 101 (October 2014)
Contents

| | | |
| --- | --- | --- |
| 12 | One of the Earliest English Jelly Moulds | Peter Brears |
| 15 | Early Steam Kitchens | Patricia Bixler Reber |
| 34 | The Lime Juice Run | Di Murrell |
| 42 | Charles Elmé Francatelli, Crockford's and the Royal Connection | Colin Smythe |
| 68 | George Orwell and the Defence of English Food | Blake Perkins |
| 87 | Cuba Hunger Force: Women's Bodies to the Rescue | Patricia Tomé |
| 101 | À la Zoug-Zoug: Re-imagining Alexis Soyer | David Thomson |
| 112 | Eastern Dishes in Late Seventeenth-century Britain | William Sayers |
| 118 | Book reviews | |
NOTES ON CONTRIBUTORS
ANDREW DALBY, PHILIP HYMAN, RACHEL LAUDAN, HELEN SABERI, BARBARA SANTICH, JOHN WILKINS, and C. ANNE WILSON are editorial advisors to PPC.
PETER BREARS is familiar to Prospect Books readers from his books on jellies, medieval cookery and Yorkshire food. His Cooking and Dining in Tudor and Early Stuart England is in active preparation.
DI MURRELL has spent much of her life on inland waterways here and in Europe. See and . Her piece on narrowboat catering in PPC 96 won the Sophie Coe Award in 2012.
BLAKE PERKINS is a contributor to the Oxford Dictionary of National Biography and to the online quarterly magazine . He holds an A.B. and M.A. in history from Brown and a J.D. from Chicago.
PATRICIA BIXLER REBER is an American culinary historian focusing on food- ways and cooking apparatus. In the latest Oxford Symposium proceedings she has a paper on the Hampton Mansion's kitchen arrangements, and she has a blog 'Researching Food History – Cooking and Dining' <http:// researchingfoodhistory.blogspot.co.uk>, and a website <http://www. hearthcook.com>.
COLIN SMYTHE is an independent publisher (Colin Smythe Limited) . He specializes in Irish material, particularly literary history. He was also the first publisher of Terry Pratchett and continues to act as Terry Pratchett's literary agent.
DAVID THOMSON runs a small catering company and is studying an MA in the Anthropology of Food at SOAS. Please contact him with any enquiries, catering opportunities and/or work and work experience opportunities."
PATRICIA TOME is an Associate Professor at Rollins College in Winter Park, Florida. She is the co-author of Cinema Paradiso (2010) and Horrofílmico (2012) and several of her articles have appeared in journals such as Latin American Theatre Review, Cuadernos Americanos, Revista de Estudios Colombianos, among others.
WILLIAM SAYERS is at Cornell University. His gripping collection of etymological essays is a forthcoming Prospect Book under the title Eatymologies.
Preliminaries
PPC 101
PROSPECT BOOKS AND PPC
The ownership of Prospect Books and PPC is transferring from myself to Catheryn Kilgarriff, owner of Marion Boyars Publishers Ltd. The aims and direction of the enterprise are expected to continue along the lines established in 1979 by the founders Alan and Jane Davidson. I hope to continue a certain involvement, but without the worries of perpetual failure. If I might quote from a letter I addressed to Prospect's authors which accompanied their latest royalty payment: 'It goes without saying that the last 21 years have been pure delight as far as I am concerned. There are some of you who may wish that there'd been less delight and more sales, and one reason for the transfer of power to Catheryn is that she indeed may breathe dynamism and energy into those mysterious functions of publishing and selling. I assure you that I have always tried my hardest, but that does not necessarily mean I have been successful. But I think that I can truly claim that all the books that have been produced since 1993 have each, in their turn, been my favourite children, and it will be a wrench to cast them abroad on a wider sea. Although by no means old, intimations of mortality are never far distant, and not one of my own children wished to make it a dynastic affair. So, "Strike now," my spirit commanded. And I struck.' And those sentiments I expressed with regard to issue 100 should be repeated here too.
THE OLD FOODIE
This website (http://www.theoldfoodie.com) is the work of Janet Clarkson, the author of a couple of those excellent Reaktion Edible Series (Pie and Soup). It is worth a visit for she is curious and enthusiastic and you will always learn something, particularly about recipes.
THE ART OF EATING PRIZE
We have not heard much about Ed Behr and his esteemed magazine, The Art of Eating. Evidently it is still going strong but some how the mailman doesn't drop it at my door. Its health is so vigorous, indeed, that it has announced the creation of a prestigious annual prize for the best food book published in the USA. The lucky winner will be $10,000 richer. The judges, we read, will be Nancy Harmon Jenkins, Harold McGee, Garrett Oliver, Daniel Patterson, Tejal Rao, Lucas Wittmann, and Winnie Yang. Nominations will open on September 30 and close on November 30. Publishers may each nominate three books. There is no charge for nominating a book. Five independent bookstores specializing in food – Rabelais, Kitchen Arts & Letters, The Cookbook Stall, The Book Larder, and Omnivore – will each nominate up to two books by self-publishers. In addition, each judge will nominate two books. The judges will announce a long list of 12 books on February 2, 2015, and a short list of six books on February 17. The winner will be announced on March 2. Further information is a available at www.artofeating.com.
GLOBAL FOOD HISTORY
We were sent notification of a new journal. Yet more evidence of how fast this whole field of studies is expanding, with many new and significantly backed entrants to the market. This has to be a good thing. Whether it is a really good thing may depend on your taste in reading. The text runs as follows: 'Global Food History is a new, peer-reviewed, academic journal that aims to present works in food history from leading scholars in the field. Launching in 2015, the journal will be of interest to those engaged in the study of the cultural, social and economic history of food.' The publisher is Bloomsbury.
SAM PICKARD
Sam Pickard is a fabric designer from north Devon. Her chief attraction for readers of PPC is that she produces a very fine-looking pair of linen napkins adorned with facsimile recipes from Robert May's Accomplisht Cook and a six- foot table runner printed with its title-page, the table of contents, and some printers' ornaments. The price is £28 for a pair of napkins and £55 for the runner. http://www.sampickard.co.uk/NewFiles/Shop.html.
SYMPOSION JOURNAL
Another website on which to idle is http://www.symposionjournal.com edited and published by Panos Kapetanakis in North London. It intends to recirculate and republish material relating to food and food studies that deserves a wider audience. The site is very handsome.
TURMERIC
To a degree, e-books are not the go-to format for cookbooks. They may have swept all before them in hot sex, romance and horror, but the stove remains inviolate. However, here we have a fine e-book from the knowledgeable word-processors of Colleen Taylor Sen and Helen Saberi. The subject is not just turmeric in cookery, but in the medicine chest as well (and even in the beautician's hold-all). To buy this you can go to Amazon and it will cost you no more than £4.80.
ANNE WILLAN
One summer pleasure was to linger over Anne Willan's memoir, written with Amy Friedman, called One Soufflé at a Time (St Martin's Press, $27.99, £18.99). It is important that people who have played a role, especially an important role, in the formation of our culinary taste, and in the education of those who gratify that taste, should leave us a record of their actions and ambitions. Food, and the whole culture surrounding it, is so evanescent that reconstruction becomes difficult after a very short while. I was reminded of this when proposing various twentieth-century individuals for the Oxford Dictionary of National Biography. It was virtually impossible to discover anything about them. Of course, the situation, at least as far as newspapers and journalism are concerned, is very different today, but it was not so long ago that great men and women would work and die without so much as an ink blot in their memory. Not so, providentially, Anne Willan, who is very much with us and still active in her sphere. Her memoir is full of everything you can imagine: travel, family life, personalities (in spades, what with chefs and their antics) and useful facts and reflections that will help us understand the way things were at the end of the last century. Anne Willan is wonderfully sunny and positive (even if, when meeting her, you sometimes worry that you may not have cooked that last dish quite correctly). A sense of well-being shines forth from these pages. And there are also plenty of recipes. Many will know that Willan recipes work.
BLOOMSBURY
I have already adverted to the Bloomsbury proposal to publish Global Food History and it is evident that the firm is piling into food studies in a big way, perhaps a reflection of their purchase of Berg (big on sociology and food) as well as their wish to build up their academic side. Three large books have come my way. The first is Food Words. Essays in Culinary Culture, edited by Peter Jackson, the historian of milk, among other things, and who contributes essays too (Bloomsbury Academic, £60). The topics, arranged alphabetically, are many and various: Anxiety (food scares), Authenticity, Commodities, Sex, Time, Tradition and many more. The contributors are often involved in the CONANX project at the University of Sheffield (Consumer Culture in an Age of Anxiety) and the tone is usefully academic and aware of other people working in the field (useful, therefore, for the bibliography). I am not sure I recommend it for light reading. The second is The Handbook of Food Research, edited by Anne Murcott, Warren Belasco and Peter Jackson (Bloomsbury Academic, £80). I note that this is also available as an e-book at £79.99 which pottiness may encourage a slight sympathy with Amazon vis-à-vis Hachette, however uncomfortable that makes you. This is more of a structured series of essays exploring the place of food in the modern world in four parts (Historical Essentials; Frameworks of Provision; Buying and Eating; Contemporary Issues, Problems and Policy). It is deeply sociological, but has an extensive bibliography. It is useful but not readable – in the sense that Vasily Grossman is readable. The third book from Bloomsbury is Ken Albala's compilation (Prospect having contributed a few, hurrah!) The Food History Reader (£75, paperback £24.99). This is aimed at students and I advise you not to try answering the model questions at the end of each section: much too hard. By the way, Jeffrey Pilcher's 4-volume compilation of food history writing from Bloomsbury (which I have not seen) will cost you £595.