PPC 109 (September 2017)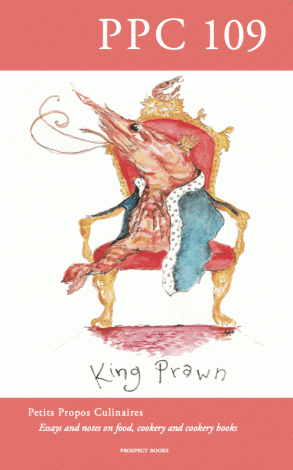 PPC 109 (September 2017)
Contents
14 Natacha Du Pont De Bie
16 Alain Senderens: a Cook and his Legacy
Philip Hyman
20 Elizabeth Moxon Identified
Peter Brears
22 Landscape: Features and Fancies
Bridget Henisch
32 An Enquiry into the Derivation of Chowder
Blake Perkins
68 Life of Pikelet
Mary-Anne Boermans
105 Before the Flood
Tom Jaine
119 Cooking in Australia
The Maryborough Chronicle, 1898
121 Book Reviews
Preliminaries
GUILD OF FOOD WRITERS AWARDS
It was with great pleasure that I heard that Sri Owen had been honoured with a lifetime achievement award from this body. Subscribers will doubtless recall that her first (in fact second) great book was published by Alan and Jane Davidson in 1980 as the first Prospect Book. Alan wrote, 'It was at this point that Jane and I met Sri Owen and learned that the 'Home Book of Indonesian Cookery', at that time her only published work, was reaching the end of its natural life and that the publishers, Faber, had reluctantly concluded that it would not be viable in paperback form. Since we had a special interest in the food and cooking of South-East Asia, and were confident that Sri's book would have a future as a paperback (all the more so if a substantial amount of the background information which Faber had not wished to include could be restored to it), we responded positively when Sri asked us whether we might take on the book. We had never published a book before but we supposed that it would not be very difficult.'
It is also pleasing to report that Josh Sutton's Food Worth Fighting For, published last year by Prospect Books, was shortlisted in these same Awards. One of his 'food fights', the fish riots at Newlyn in 1866, was printed in PPC 100.
FOOD FOR THOUGHT AT WELBECK
We had a tremendously enjoyable weekend at Welbeck Abbey as the guests of Alison Swan Parente and her husband William when the School of Artisan Food organized a group of speakers into a coherent package they dubbed 'Food for Thought'. The title was wholly apposite, with contributions from Alice Brinton who runs a remarkable wine merchant's shop in Cluny in southern Burgundy; Bronwen and Francis Percival who have written Reinventing the Wheel: Milk, Microbes and the Fight for Real Cheese (Bloomsbury, November, £16.99); Nicole Pisani, a chef who turned to cooking proper school dinners; Professor Tim Lang talking about sustainability of the food supply; Arun Kapil, the spice merchant who runs the fantastic Green Saffron in Ireland; Tim Spector who wrote the ultra-comprehensible The Diet Myth: The Real Science Behind What We Eat which explains something of our microbial biome; the Guardian's Felicity Cloake who looked at the role of social media and food; Sumayya Usmani, author of the excellent Pakistani recipe book Summers under the Tamarind Tree (Frances Lincoln); and Kimberley Bell, the founder of the Small Food Bakery in Nottingham. All these were helped along by the welcome presence of Ivan Day who holds some of his excellent historic food courses at the School. It was a really enlivening two days, the surroundings and hospitality palatial, the company stimulating, the not-very-old Harley Gallery showing off the Portland collections amazing. Look out for next year's announcement.
THE FOOD ASSEMBLY
It was Kimberley Bell (see above) who alerted me to the principles of the Food Assembly. Wherever a local Food Assembly exists, you go to their website, see what local producers and suppliers are offering, order online, then go to the assembly point (once weekly) and pick it up while meeting the producers at the same time. A sort of bespoke farmers' market. The website explains all <htps://thefoodassembly.com/en/>. Evidently success depends on the range of foods offered, and on propinquity. Our nearest Assembly is Bude, two hours' drive away. But the idea is sound.
IEHCA CONFERENCE, TOURS
Not long after Welbeck we were off for the third international conference on food history at the François-Rabelais campus in Tours. A high old time was had by all, even if somewhat sweltering thanks to government cutbacks on air-conditioning. I had been warned that this might be an organizational maelstrom but in fact the scores of lectures all went off to plan, with audio-visual equipment fully functioning. The most difficult thing I found was sometimes understanding the polyglot lecturers delivering their addresses in broken French or English. So many were the sessions that sacrifices had to be made, but it was a gathering full of enthusiasm and interest. We particularly enjoyed the company of the Irish contingent of Dorothy Cashman, Tara Kellaghan, Elaine Mahon and Máirtín Mac Con Iomaire who providentially chose the same small hotel as ourselves. Their talks on manuscript recipe books, claret in Ireland and the official gastronomy of Irish diplomacy were great fun. I delivered a tiny talk on Cora Millet-Robinet (coals to Newcastle it might be thought). If you can arrange a trip to future conferences, you could meet with the stars of food history as well as encounter those rising to the top in every country under the sun. Keep posted at http://iehca.eu.
INTERNET FOOD JOURNALS
I seem to have been accumulating references to a variety of online food magazines. Akin to blogs, they seem to multiply at a furious rate. I often wonder how people consume them, just as I am mystified by the audience for blogs. Do people follow a dozen blogs constantly? Do they have a blog binge every fortnight to see what's new? Do the throw their hands up and just follow one, leaving the rest mouldering in the gutter? And for blogs read online magazines. That said, there are some pretty serious things on offer. I have just done an interview with The Gannet (http://www.thegannet.com) which was founded in 2015 by the journalist Killian Fox, the film-maker Adam Park, and the photographer Yousef Eldin. Its principal offering is a series of interviews of people involved or interested in food. It also has a regular media digest (US and UK) which will alert the browser to a varied menu of online and print food journalism. It has recently itself ventured into print with a survey of Swedish food from a host of angles. As with so many of these online offerings, the photography is considered and of high standard.
We have all regretted the absence of the estimable Chris Hirst from the columns of the Independent where he used to cover food matters (though you can catch up with his reports on various pubs in England in the pages of the Telegraph). In partnership with Carolyn Hart and Emma Hagestadt, his career has expanded to take in Internet publishing. Their Bread & Oysters (http://breadandoysters.com) is a general magazine (I am unclear as to the difference between a magazine and a blog apart from the fact the former has more parallel themes, while the latter is a single strand along a dateline). There is a wide-ranging miscellaneous 'Journal', restaurant reviews, book reviews, interviews and special-interest articles – the latest consultation yielded a piece by Chris Hirst on the walnuts of Kent.
SABOR
I mentioned the appearance of the first print issue of this very glossy magazine edited by Fermin Albert a few months ago. Now, after a certain wait (a speculation, indeed, that it had all gone horribly wrong), here is the second issue, all 284 pages. Their blurb reads: 'For our first issue, Sabor Journal took you inside the culinary revolution reshaping Paris, the world's first great restaurant city. In our second, Spirulina Dreams, we're taking you to a place more beautiful, more intimidating, and altogether weirder: the Future. We've gone in search of an elusive blue algae drink at "the world's largest food innovation exhibition" in Paris and dug deep on the impact of climate change on classic wine regions. We take you to a culinary school changing the way young people eat at the edge of Bolivia's altiplano and inside a Dutch lab that's exploring the nearly infinite possibilities of microalgae. We asked some of the brightest minds in the food world for a glimpse into their imagined food futures, and sat down for a talk with none other than Dan Barber, who wants you to save the world with better bread (we're paraphrasing).' It will cost you $20.00 and can be obtained via https://shop.saborjournal.com/products/issue02.
CURED
Another food magazine, concerned with all things fermented. The particular news here is that the editor in chief is now Darra Goldstein, late of Gastronomica and the Oxford Companion to Sugar and Sweets, and still the mastermind behind the University of California Press gastronomic titles. Again, the quickest thing to do is quote the online puff: 'CURED, which launched in October 2016 from Zero Point Zero Production, the company behind the PBS series Mind of a Chef and Anthony Bourdain's Parts Unknown. CURED is the first periodical to explore how age-old methods like salting, pickling, and fermenting inform the way we think about and consume food today. The inaugural issue covers topics ranging from the anthropological (Christmas pickle ornaments) and culinary (fermentation-themed restaurants) to health and wellness (the gut microbiota). The articles cover the globe, including bog butter in Ireland, Bombay Duck in Mumbai, tejuino in Guadalajara, pickled oysters on Martha's Vineyard, cultured buttermilk in Senegal, and Nishiki Market in Kyoto. Printed on heavy stock, and designed by Emmy Award-winning art director Daniel de Graaf, CURED is visually stunning, a magazine to savor. To order a copy visit: http://curedmagazine.com.'
TABLES DES HOMMES
Listening to a talk at Tours by Florent Quellier on the state of current gastro­nomic studies, I was provoked into looking at the catalogue of the Presses universitaires de Rennes and its series of books under the rubric of Tables des hommes which it publishes jointly with the Presses universitaires François-Rabelais (Tours), aided and abetted by the IEHCA. The directing committee consist of:
Martin Bruegel (INRA), Antonella Campanini (univ. sciences gastronomiques Pollenzo), Jean-Pierre Corbeau (univ. Tours), Marc de Ferrière (univ. Tours), Marie-Pierre Horard-Herbin (univ. Tours) et Florent Quellier (univ. Tours). I print below the titles so far produced:
Pour une histoire de la viande, Marie-Pierre Horard et Bruno Laurioux (dir.), 2017;
Les petits vignobles, Stéphane Le Bras (dir.), 2017;
Des mots à la bouche, Sidonie Naulin, 2017;
Savoureux insectes, Elisabeth Motte-Florac et Philippe Le Gall (dir.), 2016;
Devenir sain, Camille Adamiec, 2016;
Le sacre du roquefort, Sylvie Vabre, 2015;
Les produits de terroir, Corinne Marache et Philippe Meyzie (dir.), 2015;
La cuisine d'Istanbul, Özge Samanci, 2015;
Albert Cohen. Une poétique de la table, Claudine Nacache-Ruimi, 2015;
Premiers paysans des Alpes, Lucie Martin, 2014;
De chair et de sang, Vincent Vandenberg, 2014;
Le commerce du bétail charolais, Dominique Fayard, 2014;
La table des Français, Florent Quellier, 2013;
Plaisirs alimentaires, Anne Dupuy, 2013;
Le luxe alimentaire, Vincent Marcilhac, 2013;
La juste mesure, Thomas Depecker, Anne Lhuissier et Aurélie Maurice (dir.), 2013;
En toute saison, Antoine Bernard de Raymond, 2013;
Le banquet du monarque dans le monde antique, Catherine Grandjean, Christophe Hugoniot et Brigitte Lion (dir.), 2013;
L'assiette du touriste, Jean-Yves Andrieux et Patrick Harismendy (dir.), 2013;
À la table des rois, Catherine Grandjean, Anna Heller et Jocelyne Peigney (dir.), 2013;
Parler vin, Rachel Reckinger, 2012;
Manger et boire aux Expositions universelles, Van Troi Tran, 2012;
Le Grand Hôtel, Alexandre Tessier, 2012;
Le corps du gourmand, Karine Karila-Cohen et Florent Quellier (dir.), 2012;
Le biscuit et son marché, Olivier Londeix, 2012;
Le saké, Nicolas Baumert, 2011;
La pomme de terre, Marc de Ferrière le Vayer et Jean-Pierre Williot (dir.), 2011;
Ivresse et ivrognerie dans la France moderne, Matthieu Lecoutre, 2011;
La cuisine à la scène, Athéna-Hélène Stourna, 2011;
Le choix des aliments. Informations et pratiques alimentaires, Martin Bruegel, Marilyn Nicoud et Eva Barlösius (dir.), 2011;
Les manières de table dans le monde gréco-romain, Robin Nadeau, 2010;
La cuisine du peintre, Valérie Boudier, 2010;
Profusion et pénurie, Martin Bruegel (dir.), 2009.
Impressive stuff, and an achievement that could be matched by the University of California Press, or the series put out by the Columbia University Press, 'Arts and Traditions of the Table'. British university presses, not that there are many, have not followed suit, even if Bloomsbury is keeping the flag flying on the commercial side. Thinking back to the early days of the Oxford Symposium and the advocacy there by Messrs Davidson and Zeldin and their supporters for some form of institutional recognition of food studies in Britain, they might be hugging themselves for joy at the massive output of some university systems; but alas, not those of England.
ROBIN YAPP THE DENTIST
Wines from the Rhône or Loire shipped by Robin Yapp, the wine merchant at Mere in Wiltshire, have figured in the family cellars for many years, even decades. There was a moment in the mid-seventies when we stocked his entire list at the Carved Angel in Dartmouth, and my daughter Matilda was still encountering his son Jason and step-son Tom when she was working in Soho just a year or two ago. We giggled therefore when my wife was reading one of Elizabeth Jane Howard's Cazalet novels and encountered one Yapp, a dentist. Robin Yapp was famously a dentist before wine merchant, practising the two trades simultaneously for sixteen years.
FRENCH RICE COOKERY
I had some difficulty comprehending Cora Millet-Robinet's advice on cooking rice as she seemed to be advising that it should be boiled nearly to perdition. I include here my note to the relevant recipe in my recent translation of Maison rustique des dames: 'Here Mme Millet-Robinet talks of cooking the rice until it bursts (jusqu'il est crevé). Faire crever le riz is a common instruction in French manuals of this era and is usually defined as cooking until the rice has released its starch (rather as you cook and stir a risotto until it releases its starch). Although she admits of the possibility that you will overcook your rice and cause it to break down entirely, the cooking of it until it 'bursts' is still quite a thorough cooking. Mary Hyman has alerted me to a remark by Mme Saint-Ange in her Livre de Cuisine (1927), 'We still do not know how to cook rice in French households … To cook the rice to bursting [faire crever le riz] is the only goal they think one ought to aim for; and by 'bursting' is meant that the grain is deformed, broken down, fluffy, turning to mush at the slightest contact, whereas rice while being perfectly tender should always preserve its separate grains [my translation].' French attempts at Italian cookery have often been ridiculed, not least their risottos. I was both amused and horrified to find French rice cookery very doubtful on our recent trip to Tours. Risotto was a frequent presence on the menus, but it was never risotto as we know it. A farrago more like.
MARY-ANNE BOERMANS
The essay on the pikelet that may be read on pages 68–104, below, was the winning entry for this year's Sophie Coe Prize https://sophiecoeprize.wordpress.com. We congratulate her; it's always grand when a PPC contributor carries off a spoil. Her most recent book, Deja Food, is noticed in the book reviews at the end of this issue.