Traditional Recipes of Laos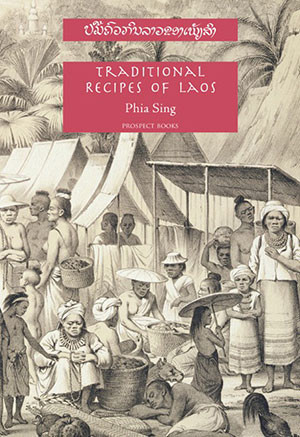 ISBN-13 978-1-903018-95-8 Published 14 Sep 2013 320 pages; 156×232 mm; paperback with flaps; 99 b&w illustrations Price £20
Phia Sing
Traditional Recipes of Laos
• A foundation text for Lao cookery •
• Revered by Laotians around the world •
• Much additional matter on how to cook this sparkling cuisine •

Prospect Books first published this manuscript (from notebooks compiled by the late Master of Ceremonies and Chef at the Royal Palace at Luang Prabang) in 1981. The first edition was a parallel text: Lao on the left, English translation on the right-hand page. Later editions (after 1994) were in English only. This version reestablishes the Lao text and prints the English unchanged from previous editions. The notebooks are a precious resource for those wishing to cook Lao food: the 124 recipes were compiled to give a balanced view of the cuisine (albeit from quite a high-ranking perspective). In the thirty years since its first appearance, materials and ingredients have become easier to source, and the cooking techniques and styles more familiar to us. The dishes, therefore, are very cookable. There is a long prefatory section, written by the late Alan Davidson and his daughter Jennifer, which explains much about Lao cookery, ingredients and equipment. The whole book is plentifully illustrated with drawings done from life by Soun Vannithone and other Lao artists.

The introduction is 50 pages long and covers the life of Phia Sing; Lao eating habits and attitudes to food; Lao culinary terms and culinary equipment; and Lao ingredients. The recipes occupy 250 pages and there is a supplement of 10 pages with recipes for Lao desserts (which were not covered by Phia Sing's notebooks).

Phia Sing (d. 1967) was Master of Ceremonies and Chef at the Royal Palace of Luang Prabang. The late Alan Davidson was British ambassador to Laos in the 1960s and after a distinguished career in the diplomatic service, turned to writing and publishing on food and cookery. His masterpiece is The Oxford Companion to Food. He was the founder of Prospect Books.
A note from the late Alan Davidson about the book printed in Mekong Express
---
A note from the late Alan Davidson about the book printed in Mekong Express
Phia Sing and his Recipes
by Alan Davidson, former British ambassador to Laos
Chaleunsilp Phia Sing, who was born at Luang Prabang in about 1898, was an extraordinarily versatile man, a sort of Laotian Leonardo Van Vinci. He appears here in his capacity as the royal chef at the Palace in Luang Prabang. But he was also the Royal Master of Ceremonies, at a court of many and beautiful ceremonies, a physician, architect, choreographer, sculptor, painter and poet. In addition, he had been the mentor of the youthful Princes Souvanna Phouma and Souvannavong, and accompanied them when they went to Hanoi to pursue their studies at the university there in the 1920s.
Phia Sing died in 1967. He had been ill for some time and knew that death was approaching. It was in these circumstances that he wrote out his recipes–114 recipes in all–in two little French notebooks.
The principal translators received much help and advice from other qualified persons. In doing the translations, they sought to be fairly literal and kept to the sequence of ingredients and that of instructions which Phia Sing himself followed. In some instances the recipes would have been made clearer and easier to follow if the order had been changed; but it was thought better to eschew editing and stick to translating.
However, certain steps were taken to make the recipes easier to use. Equivalent quantities are given, and some necessary explanations, and a few obvious additions (such as putting water in the pot with the ingredients before bringing them to the boil!) were made. All these are in brackets. So are the few additions which had to be made, e.g., because Phia Sing had omitted an ingredient from his list (the omission being apparent from a reference to the ingredient in the instructions). Note, however, that all punctuation marks are additions (Lao writing is not punctuated) and that for obvious reasons these have not been bracketed.
Phia Sing himself added explanatory notes at the end of certain recipes. These appear under the heading 'Note.' Any similar notes added by the editors appear under the heading 'Editors' Note.' All footnotes are by the translators or editors.
By all these means the text and its translation have been presented with complete accuracy (save for the fallibility which must affect all translators) and no distortion; but the work of Phia Sing has been rendered more easily comprehensible by the discreet addition, in a manner clearly identifiable, of a little information to supplement his and of certain comments which at least some readers are likely to find useful.
A note from the publisher, Prospect Books, Allaleigh House, Blackawton, Totnes, Devon TQ9 7DL, England.
Traditional Recipes of Laos is and will remain a book of unique interest for cooks and scholars. Virtually nothing has been published in the past about Lao foods and cookery, distinctive and fascinating though these are. The recipes are preceded by full information about Lao eating habits, utensils and ingredients. This information is illuminated by 100 drawings, all by Lao artists. Almost all the recipes can be used by anyone with access to Chinese and oriental grocery stores.