The Downright Epicure Essays on Edward Bunyard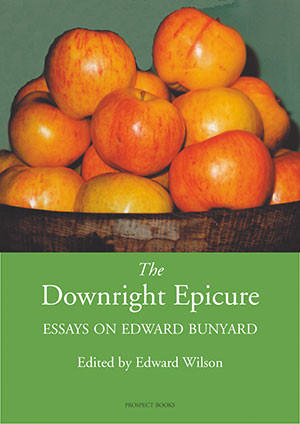 ISBN-13 978-1-903018-48-4
Published Mar 2007
350 pages; 174×246 mm; hardback; illustrations
Price £30
Edward Wilson
The Downright Epicure
Essays on Edward Bunyard
Edward Ashdown Bunyard (1878–1939) was England's foremost pomologist (student of apples) and a significant gastronome and epicure in the 1920's and 30's.

He wrote three books of national significance: A Handbook of Hardy Fruits (1920–25), The Anatomy of Dessert (1929), and The Epicure's Companion (1937, edited with his sister, Lorna). His family was the owner of one of England's most significant fruit nurseries, founded in 1796 in Kent. In his written work, Bunyard was important for his trenchant and enlightening explication of the charm of apples, surely England's most noble garden product, as well as pears and other fruits. Bunyard's life ended tragically with his suicide in 1939.

This volume of essays, written for the most part by Edward Wilson, English scholar and fellow of Worcester College, Oxford, but with important contributions by Joan Morgan (England's foremost authority on the history of apples), Alan Bell (biographer of Sydney Smith, formerly Librarian of the London Library) and Simon Hiscock (Senior Research Fellow in Botany at Worcester College, Oxford) topped and tailed by poems from Arnd Kerkhecker and U.A. Fanthorpe.

The studies include a biographical essay on Edward Bunyard and chapters about his friendship with Norman Douglas; his literary tastes; his scientific work in plant genetics; his relationship with the epicurean society, The Saintsbury Club; his work seen in the context of inter-war gastronomic writing; and his contribution to the horticultural world, particularly as a pomologist and enthusiast of English roses. It closes with a full bibliography of works by, and about, Bunyard.
A PDF of the preliminary matter and of the first pages of the first, biographical, chapter of the book.
Review of Downright Epicure by J.D. Smith in Gastronomica.
A Review by Forbes W. Robertson in Garden History.
A Review by Ian Jackson in Taxon.
A Review by Tim Longville in Hortus.
---
Review of Downright Epicure by J.D. Smith in Gastronomica.
English nurseryman, pomologist, and gastronomic scholar Edward Bunyard is relatively little known these days; to take a current measure of recognition, at the time of this writing there is not even a Wikipedia article devoted to his life and work. Yet an individual such as Bunyard represents a larger portion of the fabric of a time and place than the historical figures at the heads of parliaments and armies. Heir of a century-old family nursery in Maidstone, Kent, Bunyard was educated at home due to unspecified 'poor health' and never attended university. He nonetheless came to write books including The Anatomy of Dessert and The Epicure's Companion, as well as articles and catalog copy, and even presented work on Mendelian genetics to the Royal Horticultural Society, where he served as a member of the governing council during most of the last decade of his life. A bachelor of no recorded passional life (a refreshing contrast to the present age of over sharing), he traveled extensively on the Continent for both professional reasons and leisure, which largely overlapped; he eventually befriended members of the Bloomsbury Group, including Harold Nicolson and Vita Sackville-West.
Even as Bunyard relished his role of gentleman scholar and latter-day Renaissance man, he witnessed economic and social changes that would make lives like his own increasingly rare, if not impossible. Acknowledging that American land-grant universities represented the future of horticultural research, and envying their resources, he resisted some of the implications of that approach, sometimes to the detriment of his business. Favoring varieties of apples and other fruits for flavor instead of yield or ability to be shipped, and avoiding the trend toward more profitable monocultures, he anticipated concerns now voiced by Wendell Berry, Carlo Petrini, and Vandana Shiva. Bunyard consequently found himself increasingly less at home, and less prosperous, in a massifying, if more egalitarian, world. Beset by both personal and financial problems, Bunyard took his own life with a gunshot in his quarters at a London men's club shortly after the onset of World War II hostilities in 1939.
These facts and numerous others are presented, sometimes repeatedly, in the essays that make up The Downright Epicure. Written for an audience of scholars, this collection must be taken on its own terms; it does not accommodate a general or casual reader. The accumulation of undigested facts, especially lists of titles that would have found a better place in footnotes or other scholarly apparatus, renders more than a few passages daunting. The tenor of this remotely admiring Festschrift is conveyed by accurate but hardly colorful chapter titles such as 'Edward Bunyard and Literature' and 'The Epicurean Context of Edward Bunyard.' The final chapter, which discusses the circumstances of Bunyard's death, bears the almost comically distant title of 'Edward Bunyard the Committee Man.'
These concerns aside, however, this volume represents a valuable compendium of information. The thirty-five-page bibliography of Bunyard's own writings offers a ready point of departure for further investigation, as does a surprisingly brief three-page bibliography of works about Bunyard. It can only be hoped that the primarily descriptive essays in this volume, and the materials cited therein, will lead to a more comprehensive and analytical treatment of Bunyard's career and its relation to a period of accelerating specialization in agricultural production. If we are fortunate, that treatment will be holistic, in the spirit of Bunyard's own efforts, and accessible to a non-specialist reader rather than pressed through the tendentious sieve of one or another body of self-referential theory.
Bunyard's own reticence about his emotions and personal life aside, the career for which he is known continues to invite the essential questions of biography, such as what enables a person to take up a significant role in his world and how an individual's work is shaped by his times. Few present-day nurserymen, for instance, are likely to have enjoyed an opportunity to develop a high level of expertise in roses, in addition to fruits and vegetables, in middle age. Fewer still are likely to have undertaken the education that led Bunyard to read widely in French as well as English literature and allude to both in his own writings. (On the other hand, few contemporary nurseryman are likely to share his stated disdain for bananas as leading to laxity in taste and intellect, which was intertwined with an equally stated and-to current readers-breathtaking racism toward the peoples who produced them.) The presence of such complexities as well as such flaws suggests that more remains to be said about Bunyard, who in a 1930 letter succinctly critiques the direction of his nation: 'For a memorial I shall plant an avenue of Japanese Cherries; no Cypress for me, despite its age-long lore. No! Let us add a little to the beauty of the country; fifty years ahead it will need all we can provide' (p.73).
---
A Review by Forbes W. Robertson in Garden History.
The fourth-generation, Kentish nurseryman, Edward Bunyard, entered the family firm in 1896, its centenary year. Uninterrupted progress in his career led to both professional distinction and influence, as well as entry to the upper ranks of society. He founded the Journal of Pomology and, by the 1920s, was the leading British pomologist. His handbook of hardy fruits became, and remains, a key source of information about old fruit varieties.  Immersed in the affairs of the Royal Horticultural Society, member of Council and also of several of its influential committees, showing, judging, advising, Bunyard's was a dynamic role in the horticultural scene. In 1936, publication of his Old Garden Roses prompted the revival of appreciation of their history and the need to find a place for them in the contemporary garden. Throughout his career he was a prolific contributor of letters and comments about all manner of practical problems and current topics to all the major gardening journals.
There was, however, another compelling dimension to Bunyard's character. His attitude to life was infused with an aesthetic sensibility, which found expression in much of what he did, whether it was his celebration of the flavours of different fruits in his Anatomy of Dessert, the scents and colours of roses, the charm of old writings on horticulture, or the enjoyment of good food and wine in convivial company. Familiar with several European languages, Bunyard was at ease in their literature of the past. He travelled often in Europe, especially France and Italy, and was a close friend of the man of letters, Norman Douglas, and was welcome in the villas of the coterie of wealthy English gardeners of the French Riviera. This nurseryman was hardly cast in typical mould. Then it all ended tragically: faced with impending bankruptcy, he shot himself with the revolver he used for killing bullfinches in his orchard.
The several contributors to this volume apply their individual expertise to a fully documented account of Bunyard's life and work. The editor, Edward Wilson, makes a major contribution under several headings. He deals with the family background, the history of the firm and Bunyard's friendship with Norman Douglas, which is considered at some length. He succeeds in identifying the literary sources, often classical or from Bunyard's favourite eighteenth century, of the apt phrases or allusions which Bunyard so often drew from his wide reading to enliven the description of some fruit or vegetable. The other major contributor, Joan Morgan, evaluates Bunyard's contributions to pomology and the history of roses, especially in terms of his appreciation of their aesthetic attractions. She reminds us of his lasting contribution in laying the foundations of the National Fruit Trials, reveals the extent of Bunyard's participation in the various initiatives of the Royal Horticultural Society and, incidentally, presents a great deal of interesting comment about old varieties of both orchard fruit and roses. Both these authors set their subject, to evocative effect, in the context of the manners and social attitudes of his time. There are also three short essays by Simon Hiscock, Alan Bell and Richard Sharp on, respectively, Bunyard's early, but unsustained, foray into genetics in relation to xenia, or the influence on fruit of foreign pollen; the Saintsbury Club, of which Bunyard was a member; and the related world of gastronomy, to which Bunyard brought a connoisseur's perception.
This volume is likely to satisfy readers with different interests. It will attract those who would like to know more of the inner workings of British horticulture in the interwar years and those in search of comment about old varieties of either orchard fruit or roses and their history. It will also appeal to those of a more literary persuasion, curious about Bunyard's friendships with the unconventional Norman Douglas, as well as those who find of sufficient interest the biography of a talented and complex man whose horticultural expertise was laced with both scholarship and fine feeling.
---
A Review by Ian Jackson in Taxon.
In the realm of fruit, the English pomologist, botanist, nurseryman, bibliophile, and epicure Edward Ashdown Bunyard (1878-1939) has long held a place comparable to that of Gertrude Jekyll in garden design or E.A. Bowles and Jason Hill in plantsmanship. Bunyard's The anatomy of dessert (1929) and Old garden roses (1936) might almost be called 'cult classics'-the former has recently been reprinted with contributions by two California enthusiasts, David Karp and Michael Pollan. Little, however, has been published about the man himself, and many a reader must have felt the dearth of biographical information, for it is hardly possible to read prose so invitingly personal, so wittily allusive, without wondering about the character and situation that inspired it. For our satisfaction, Edward Wilson and his collaborators have at last produced the indispensable guide to the life and works of E.A. Bunyard under a title borrowed from Silex scintillans by the 17th century poet Henry Vaughan:
The down-right Epicure plac'd heav'n in sense And scornd pretence.
So happy a quotation might well be amplified, for Bunyard was probably an epicure (or epicurean) in every sense, including that of Vaughan himself, as when in Olor Iscanus the disconcerting quiet of the charnel-house inspires the exclamation:
Eloquent silence! able to Immure
An Atheists thoughts, and blast an Epicure.
Bunyard presented a copy of his last book, The epicure's companion (1937) to Fred Stoker, one of the great authorities of the day, who reviewed it in The gardeners' chronicle. Edward Wilson notes that 'it would be wrong to see in F.S.'s encomiastic review … evidence of Gibbon's assertion that complimentary copies are the levying of "an unavoidable tax of civility and compliment"' (p. 57). With The downright epicure, I too find myself in possession of a complimentary copy – and still worse, a copy of a book in which the list of acknowledgements begins with the words: 'I should like to express particular gratitude to Mr Ian Jackson, of Berkeley, California, who combines in his knowledge the panoptic and the microscopic' (p. 9). Instead, however, of 'declaring an interest,' as is the custom, I will adopt that sentence as rhetorical scaffolding and begin with a panoptic question: who was E.A. Bunyard?
The short answer is that he was one of the most learned of English nurserymen and finest of literary stylists among gardening writers. Wilson's extensive (though almost certainly not exhaustive) bibliography of his 5 books and some 400 articles (pp. 345-379) allows the reader to gain for the first time an adequate sense of Bunyard's remarkable range of publications. His botanical and horticultural interests were certainly wide, and by no means confined to those most appropriate to the day-to-day running of the family nursery, founded in 1796. Indeed, Bunyard's 'pursuit of connoisseurship at the expense of profit in fruit and roses' (p. 49) had helped to bring the business to the brink of bankruptcy by the time of his death. In 1927, a correspondent of The gardeners' chronicle spent 'An Afternoon with a pomologist,' noting that 'Mr. Bunyard likes to embark on what he facetiously terms "joy rides" from which no profit is derived, but much pleasure' (p. 41). He was also expert in bibliography and botany-his last post was that of Librarian to the Royal Horticultural Society, and like Edward Wilson, he was a Fellow of the Linnean Society. In 1906, Bunyard was invited to address the Third International Conference on Hybridization and Plant Breeding, one of several convened in the wake of the rediscovery of Mendel's researches. Simon Hiscock discusses the paper he delivered on the phenomenon of xenia (pp. 157-67), which Bunyard saw as 'the influence of foreign pollen upon the maternal structure,' in particular the fruit. [It was at this meeting that the conference president William Bateson publicly introduced the term 'genetics' to the English language.] Bunyard's scholarly interests in fruit, science, and history were later to be agreeably revealed in the pages of The journal of pomology, which he founded in 1919.
In Birds and beasts of the Greek anthology (1928) readers of Norman Douglas would also have encountered Bunyard's name-Edward Wilson discusses the relationship of the two (pp. 109-156), and prints their correspondence, much of it hitherto unpublished. When Victoria Sackville-West wanted advice on her rose garden at Sissinghurst, she invited the author of Old garden roses (1936) to a luncheon worthy of such a gastronome. She described the occasion in a letter to her husband as 'a lovely orgiaical [sic] day with Mr. Bunyard' p. 51). Until at least 1970, the books of Bunyard and Graham Stuart Thomas were the rosarian's twin testaments. Even in our own age of global (especially antipodean) enthusiasm and lush color photography, Bunyard's own austerely elegant collotype plates and Thomas's delicate watercolors continue to present an alternative version of the flower even to those with no taste for horticultural belles-lettres. Joan Morgan (Wilson's admirable second-in-command) devotes a chapter to 'Edward Bunyard the rosarian' (pp. 271-304), rightly emphasizing his non-literary contribution as a nurseryman and collector (or rescuer) of rare plants-contributions that inspired (and eventually made possible) the National Trust's collection of old roses at Mottisfont Abbey in Hampshire.
For all his prominence during his lifetime, Bunyard has undeniably become something of a legend today – a revered name on a title page rather than a substantial personality. The intimate details that flesh out for us the lives of the great gardeners have remained until now undisclosed. Wilson suggests that Bunyard's suicide may have influenced his biographical oblivion. Stubborn or god-fearing folk who cling to life against all odds have always had difficulty in coming to terms with less tenacious sensibilities. [This attitude persists even in an age that is louche by traditional standards. As late as 2000, the editor of the most widely-circulated classical journal in Britain was forced into retirement for refusing to print an apology for a phrase in a book review by M.L. West that described the Japanese as 'connoisseurs' of suicide – the offending passage appears in Greece & Rome, vol. 47, no. 2, p. 232.] But the manner of death cannot account for everything. Bunyard shot himself on 19 October 1939, a few weeks into World War II, and was thus denied even the provisional immortality attained by persons who time their departure for a slow news day. [Ed. note: Another example: Aldous Huxley (1894-1963) had the misfortune to die on the same day, 22 November, that President Kennedy was assassinated.] The historical and biographical chapters of the book go as far as is now possible to restore flesh-and-blood, although it is plain that our knowledge of Bunyard is likely to remain fragmentary.
Richard Sharp's chapter on 'The epicurean context of Edward Bunyard' (pp. 175-187) situates its subject among the gastronomic writers of the period, reviving many a forgotten name. Forgotten or half-remembered names also fill Edward Wilson's chapter on 'Edward Bunyard and literature' (pp. 75-108). 'In Bunyard's prose,' he observes, 'quotations and echoes catch our eye kaleidoscopically, as languages and periods succeed each other for reasons not of chronology but of fresh juxtaposition and literary aptness. It is the mark of a mind which has all of the richness of variety of a large and well-stocked cellar' (p. 106). Another of Wilson's chapters, subtitled 'A biographical essay' (pp. 17-74), presents much previously unpublished information, barely snatched from the devouring maw of Time. In a letter written only a month or two before his death in 2001, W.T. Stearn, last surviving witness to the circumstances of Bunyard's death, provided Wilson with valuable details of the undocumented portions of Bunyard's library. Owing to his financial embarrassments, Bunyard's superb pomological library could not be left, as he had intended, to the Lindley Library of the Royal Horticultural Society, but Stearn was able to select and purchase on behalf of the Society certain essential works, leaving behind for auction a collection of general literature, botany, pomology, and horticulture, with substantial holdings in sexology. A lifelong bachelor, Bunyard moved with ease among the expatriate homosexual population of Italy and southern France. Wilson's drift is clear enough: he does not mince words but rejects pointless speculation. A medievalist who has written (as he has-for the new Oxford dictionary of national biography) an account of so nebulous a figure as the unknown author of Sir Gawain and the green knight is ex officio an expert in nuance. Wilson has, too, the wide acquaintance with, and discriminating appreciation of English literature and its byways that an English don of the old school should command-he is Senior Fellow and Garden Master at Worcester College, Oxford, from which four of the seven contributors are drawn. That it should require a college to assess E.A. Bunyard is a measure of the range of the man's interests and achievements; that a crack team could be assembled from Worcester is a tribute not only to the resources of the college but also to the collegiate system itself. What mere specialist department in a modern university could at once provide the literary historian, the classicist, and the botanist that the subject demands?
It is now time to turn from the panoptic to the microscopic, and tie up a few loose ends. 'The reference to the Pelican [Press that] remains obscure' (p. 119) is to the firm run between 1916 and 1924 by Francis Meynell, the predecessor of his more famous and enduring Nonesuch Press. Norman Douglas's unidentified allusion in a letter of 1922 to an unaffordable 'Villa Said' (p. 116) presumably refers to Paul Gsell's volume of the table-talk of Anatole France, Les matinees de la Villa Said (1921). The article on aspects of xenia in The journal of the Royal Horticultural Society that has eluded Simon Hiscock (p. 163) does in fact exist. Bunyard's handwriting (or a typesetter's dyslexic inversion of Roman numerals) is probably to blame: the correct reference is vol. xxvi, p. 849, not vol. xxiv, p. 1899.
In a quotation (p. 91) concerning the claret 'Château Ausone,' said to be produced on the site of the Roman villa of Ausonius, Wilson has had to leave 'untraced' the 'night of wine and flutes' enjoyed by the fourth-century poet. The phrase is not by Ausonius but from a description of the epistle to Symmachus that introduces his poem Griphus ternarii numeri (Riddle of the number three) printed in The wandering scholars (1927) of Helen Waddell, the Egeria of George Saintsbury's old age. Saintsbury, in fact, according to her preface, provided the book with a 'running commentary on manuscript and proof [that] has sometimes found its way into footnotes that hardly need his initials for identification.' One such note, on the Château Ausone, 'one of the two best of the St. Emilion clarets,' no doubt caught Bunyard's eye. The two men, incidentally, do not appear to have been acquainted, although Bunyard was one of the fifty founding members of the still-extant Saintsbury Club, supplying apples and walnuts to its first dinner, held on Saintsbury's 86th birthday in 1931. [Alan Bell contributes a short chapter (pp. 169-173) to the book on Bunyard and the Saintsbury Club.] The 'few notes on wine' appended to the second edition of Bunyard's The anatomy of dessert (1933) certainly echo the polymathic Saintsbury's Notes on a cellar book (1920) in more than title. As for Waddell's phrase 'night of wine and flutes,' she was probably recalling 'the days of wine and roses' of the decadent poet Ernest Dowson, whose verses were also echoed by Bunyard, as Wilson notes (p. 102).
The 'Mr J. Neame' who was allowed to buy books at a valuation from Bunyard's estate before the auction sale of June 1940 must be Thomas Neame not J. Armstrong Neame as Wilson speculates (p. 69). Not only are 'T' and 'J' easily confused in manuscript – Wilson relies on probate records – but J. Armstrong Neame's publications on wildflowers do not suggest a Bunyardian sensibility. Sir Thomas Neame's pomological library, however, sold after his death at Sotheby's (London) on 4-5 February, 1974, included dozens of books with a small ink stamp reading 'Bought by Thomas Neame, Faversham, Kent, from the library of E.A. Bunyard, April 1940.' I cannot swear to the month as I quote from memory, having long since sold the many volumes I then bought. Perhaps a bibliophilic reader can supply an exact transcription from a copy in his possession. And scholars more learned and more microscopic than myself may amuse themselves with tracing to their sources the references and quotations on pages 86, 94,105, 106, 121 and 126 that have eluded everyone – everyone, that is, but Edward Bunyard.
---
A Review by Tim Longville in Hortus.
I suspect that Edward Bunyard (1878-1939) survives today, if he survives at all, only as a slightly dim name. (Humiliatingly, even on booksellers' lists he is sometimes confused with his father, George.) And for many years he has been largely unread. Yet there are at least two good reasons for reading him. First, his writing, whatever its subject, was always informed by real knowledge. Second, it was real writing. It is often overblown, and sometimes slightly absurd in its self-consciously baroque metaphors, its elaborate syntax and wilfully obscure range of reference, but it is never less than entertaining. As a result, even when later research seems to have disproved his theories, reading him is still an immensely enjoyable experience. (Something I tried to suggest when providing a taste of the simultaneously lush yet acid prose of his The Anatomy of Dessert in a 'Snippets' column in HORTUS 67.)
If he is remembered by gardeners it is usually only as someone whose pioneering work on old roses Graham Stuart Thomas always respectfully acknowledged. His actual book on the subject, Old Garden Roses (I936), has never been reprinted. (It would be well worth reprinting, in any series devoted to 'gardening classics'.) Yet his scholarly research into the history of roses was only one aspect – and far from the most important aspect – of the remarkable many faceted career of a remarkable many-faceted but strangely unknowable man. For much of his life his main preoccupation was in fact fruit. He was the fourth generation to be involved in his family's famous nursery and his two-volume A Handbook of Hardy Fruits (published in I920 and I925) is a magisterial survey of the then existing cultivars of fruit both hard and soft. It is now a fascinating historical document, a record of splendours since lost. But even when it was published it had an elegiac undertone, because Bunyard already felt that the richness he documented was rapidly fading. That elegiac tone is even stronger in the third of his four major works, the last two of which were both devoted to various aspects of the pleasures of the table. The third was The Anatomy of Dessert (first English edition, I929; second edition, with the addition of A Few Notes on Wine, I933). The fourth was The Epicure's Companion (I936, edited with his sister Lorna and with contributions by his sisters Marguerite and Frances as well as by many famous 'food names' of the day). At least The Anatomy of Dessert has recently – at last – been reprinted, in a neat little paperback edition, ideal for bedtime reading or for carrying in a pocket, and it comes with a characteristically witty and elegant introduction by Michael Pollan (who seems to be as fascinated and amused as I have always been by what he describes as 'the erotics [of fruit], in Bunyard's writing, 'this waiting-game, the drawn-out foreplay of cultivation and inspection building up to the climactic first bite.') But The Epicure's Companion has never been reprinted and is – please – at least as worthy of re-publication …
Still, Bunyard's few current fans have, at the moment, at least one more 'reason to be cheerful', as the late lamented Ian Dury once memorably sang. And it is a very substantial reason: Prospect Books' handsomely produced 400-page volume of scholarly essays on his life and work. There are two dominant contributors. The book's editor, Edward Wilson (Fellow and Tutor in Medieval English Literature and Garden Master at Worcester College, Oxford), also contributes articles on Bunyard's life and on Bunyard as a writer. Joan Morgan (vice-chairman of the RHS Fruit and Vegetable Committee and author, with Alison Richards, of The Book of Apples) writes on Bunyard as nurseryman, 'pomologist', 'rosarian' – and 'man about learned societies'. (Her extremely thorough and scholarly articles are probably those likely to be of most immediate interest to gardeners.)
It is fascinating to discover that this extravagantly scholarly writer, who happily quotes from obscure authors whether classic or relatively modern and whether obviously relevant to the subject in hand or not, never, because of ill-health, had any real formal education. What he knew he discovered and absorbed by himself (It is equally fascinating to find that Bunyard the self-educated Maidstone nurseryman eventually moved with no apparent sign of social unease in what Joan Richards describes as 'the holiday-world of the super-rich'. In the I930's he enjoyed several Riviera seasons which were, as she puts it, 'an endless succession of parties and picnics when Bentleys and Rolls-Royces purred along the Corniche from one luxurious home to yet another stunning garden and glorious meal.' That (sorry!) 'lifestyle', in combination with his weakness in business for what he called his 'joy-rides' (that is, interests pursued for [often expensive] pleasure rather than profit), may have contributed at least in part to another oddity about him: the fact that he died almost penniless. (Even more oddly, his mother, who died a few months after him, left over £15,000 and his brother Norman, the other partner in the family firm, died in 1969 leaving over £58,000. So however erratic as a businessman Edward may have been, his errors of judgement don't seem to have caused the other members of his family any financial hardship.) He may have had other expenses, though. When he wasn't spending his summers on the Riviera, he was on Capri or in Florence in the company of the writer Norman Douglas and his largely homosexual circle. Bunyard never married, at home his friends were mostly men much younger than himself, so it seems possible, even probable, that his time on Capri and in Florence was not entirely devoted to scholarly exchanges or merely gastronomic pleasures. On the other hand, there is, as Edward Wilson points out, absolutely no hard evidence about his sexual preferences. Indeed, the greatest oddity about Bunyard's life, given that he was in his day a considerable and flamboyant figure in several different social worlds, is that so little is known about it. Wilson's fifty-page 'Biographical Essay' tells us a great deal about his subject's contemporaries and ancestors. (Many of those last, interestingly, seem to have shared his weakness for financial improvidence.) That is at least in part because he has so unavoidably little to tell us in detail about the life – certainly the interior life – of the man himself, 'in part' because he is also regrettably prone to feel that he is being 'intrusive', a surely fatal feeling for a biographer. It is perfectly possible to feel that to write a biography at all would be intrusive, but having decided to write it the biographer must surely do his best to tell (all) the truth. Nowhere is that more true than in relation to the greatest of the many mysteries about Bunyard's life: the way it ended. On 19 October 1939 he shot himself in his room in The Royal Societies Club at 63 St James's Street. Why? Looming financial disgrace? Despair at the state of the world (war had just been declared, he was cut off for the foreseeable future from his beloved Europe)? Or something more intimate? No one, it seems, knows for certain. What is certain is that he left no explanatory note, or none that has survived. (In itself the failure to leave a final message is a surprising omission in such a lover of the fine phrase. Suicide provides, after all, a sadly ideal occasion for one last purple flourish of the pen.)
Wilson, Morgan and their colleagues have left unexamined no note which has survived in their attempts to establish both Bunyard's value now and his value and position in a range of different 'areas of interest' during his lifetime. Not all of those notes may have been altogether worth examining (the 50 pages devoted to printing, footnoting and analysing Norman Douglas's less than shattering or revealing notes to Bunyard are a case in point) but there is always the unexpected and intriguing discovery to keep the reader interested. (Who, for example, now knows about George Forrester Scott [1864-1937] who reviewed The Anatomy of Desert for the Times Literary Supplement? He wrote books under the names John Halsham and John Halstead, and his interests were, in Edward Wilson's words, 'gardening, classical literature, cricket, the country, brickwork', while his 'Sunday afternoons were devoted to the Divina Com media … in his beloved and worn Venetian edition of 1568'. A writer worth rediscovering, perhaps? – if only to find out how brickwork made it onto that list of interests.)
There is also – perhaps inevitably, given several contributors raking over the same less-than-abundant evidence – a good deal of repetition between and sometimes within articles. More or less the same brief biographical sketch of Horace Annesley Vachell, for example, appears on two consecutive pages in Richard Sharp's essay on Bunyan as epicure. Discussion of Bunyard's possible importation of roses from La Mortola is something else which seems to have 'self-seeded' with little variation into several articles. These are cases where judicious editorial weeding would have improved the final product.
Finally, generally speaking the writing in these essays is 'scholarly-earnest' rather than 'scholarly-baroque' like Bunyard's or 'intelligently entertaining' like Pollan's. Edward Wilson's phrase to describe the financial situation of that strange man and gifted gardener, Basil Leng, is indicative of the prevailing tone. The sale of his family's ownership of the Sheffield Daily Telegraph, says Wilson, 'would give a pecuniary vitality to his life': which is a charmingly circuitous way of saying 'made him rich'. (There is also throughout the book a scattering of equally charming misprints, such as 'the throws of depression'.)
What life, what liveliness, these 400 pages do contain is essentially Bunyard's own. He is, as ever, irresistibly quotable. Among the passages from his writings quoted in The Downright Epicure is, for example, his discussion of the proper time at which to eat 'the musk-flavoured Litchi'. It is 'surely when reading the Arabian Nights. The Mardus translation, of course.' But of course … Or try this elaborately camp tease, from A Few Notes on Wine: 'If the wine has not been gradually warmed before it is poured, it must be warmed by the hands of the drinker, lovingly clasping the wine glass, making love, as it were, to the reluctant nymph. And here comes the justification of the thin glass: Could you, Sir, or you, Madam, make love to anyone in cut-glass pyjamas?'
Indeed, 'making love in cut-glass pyjamas', with its contradictory combination of passion, bizarre stylishness and underlying discomfort, is as good a phrase as any to sum up Bunyard's own odd but appealing life and writing. Can you, Sir, or you, Madam, resist that cut-glass-pyjama-ed appeal? I do hope not.