Persia in Peckham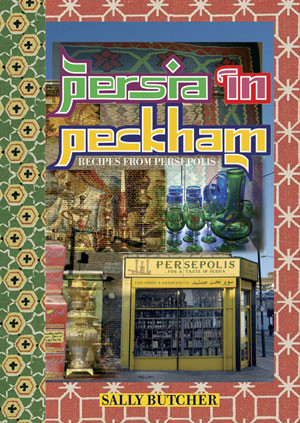 ISBN-13 978-1-903018-51-4
Published Aug 2007
422 pages; 246×174 mm; paperback with flaps; b&w illustrations
Price £20
Sally Butcher
Persia in Peckham
Recipes from Persepolis
Shortlisted for the André Simon Trustees Food Book of the Year Award in 2008

'Like all great cuisines, the food of Iran is more than just about food – it is a window into the history and soul of a nation. This book is the one we will be cooking from this year.' Sam Clark of Moro Restaurant. Persepolis is a foodie's paradise. Sally Butcher and her husband Jamshid have created a food store from heaven, gathering all that's best from Iran and the Middle East. Chef and food writer Tom Norrington Davies remarks that 'Persepolis is my corner shop. But even if it wasn't, I'd happily cross town and country to get there. Otherwise I'd miss the heady scent of their herbs and spices every time I opened my kitchen cupboards. Persepolis is an emporium in the true sense of the word. It feels exotic and local all at once, and this is, in no small part, thanks to Sally Butcher. She is always happy to give advice on everything from chick peas to hookahs with the same warm mix of humour, expertise and enthusiasm. And if the samovar is on you get all the above with a cuppa. Persepolis is the sort of place no neighbourhood should be without.'

This book distils all that is remarkable about this shop and the style of cooking that it supports. Sally herself is English, but she has had to learn the ways of her customers and her husband's family. She is a matchless interpreter of Persian food and cookery, as well as of modern Iran and the tremendous changes that have been going on in that society since the revolution. This book should be seen as a way for British readers to enter into the Persian experience; to understand how the cuisine has developed; and to appreciate how the cookery (and the society) is reacting to the modern world.

The recipes are full and informative,covering every aspect of Persian cookery from soups and stews to drinks and sweetmeats. This will be a book to remember; and a book that will be applauded and endorsed by some of the most respected of our modern food writers and chefs.
Chapter 5 dealing with Casseroles (PDF)
Title Page, Table of Contents and Author's Introduction (PDF)
The Glossary, a List of Useful Addresses (in the UK), A Note on Further Reading, and the Index (PDF)
Review in The Sunday Times Culture Magazine
Review by Xanthe Clay in Daily Telegraph (21/09/07)
Review by Susan Low in Time Out
---
Review in The Sunday Times Culture Magazine
Nominated as Cookbook of the Year
This gem of a book mixes alluring Persian recipes with tales of modern Iran and insights about running a corner shop in southeast London. What makes Persia in Peckham so gripping is the engaging authorial voice of Sally Butcher, who explains everything from persimmons to pickles with zip and charm. A university dropout, Butcher married an Iranian and together they run a magical bazaar on Peckham high street called Persepolis. The recipes (which are extremely doable in a Claudia Rodenish way) reflect the food that the coupel sells: moreshish tahini dips and broad bean pulaco, spicy kofta meatballs, sticky honeyed pastries, sour-cherry jam and cooling sherbets. Like a great corner shop, the book is stuffed with unexpected aspides on cinema in Iran, or the link between the Iranian love of saffron fudge and the large number of Iranian dentists.
---
Review by Xanthe Clay in Daily Telegraph (21 Sep 2007)
Xanthe Clay has unearthed the secret delights of a suburban London treasure trove There's a secret gastronomic port of call that has been drawing leading chefs such as Sam and Sam Clark of Moro and Tom Norrington-Davies for years. It's not in Notting Hill, or the Cotwolds, or some other foodie hot spot. It's on Peckham High Street in south-east London. Sally Butcher and her Iranian husband, Jamshid Golshan Ebrahimi, set up Persepolis Food Stores six years ago, after leaving the Greek restaurant where they both worked. Today, their shop is an Aladdin's cave of high-quality Arabian food stuffs, as well as Arabic CDs, Persian carpets and vividly coloured Iranian glass and china. Butcher has a passion to share her love of all things Persian (or Iranian – the words can be used more or less interchangeably). She's usually on hand to answer questions, give advice and hand out recipes from opening time until the shop shuts at 10pm. Yellow signs posted around the shop also offer her wry tips. "Jamshid's family call me 'the bowl hotter than the soup'," she laughs. "It means I'm more Iranian than the Iranians." Persian food is "all about contrasts," says Butcher. It revolves around the people's love of rice and sweet/salty/sour combinations. Meals always start with fresh cheese and mounds of fresh herbs, called sabzi, and are followed by generously spiced, fragrant meat. Now Butcher's encyclopaedic knowledge and witty style have found a home in her new book, Persia in Peckham, a treasure trove of Persian recipes and folklore with a south London slant. It's quirky, idiosyncratic and probably not for beginners, but the recipes are delicious and imbued with her passion and pragmatism. And if there's a problem, you can always call Peckham and Butcher will know the answer.
---
Review by Susan Low in Time Out
This is a Londoner's cookbook if ever there was one. The 'Persepolis' in the subtitle is a Peckham-based purveyor of Iranian foodstuffs and handicrafts. The owner, Sally Butcher – beat that for an east London surname – is the owner of the shop. She's a one-time chef who married into an Iranian family and learned 'by osmosis' the language, culture and recipes of ancient Persia and modern-day Iran.
Butcher says that the book aims to be a 'kitchen-table book, rather than a coffee-table book', and it is. There are no lusty food-porn images (though there are some nice line drawings) and the author has a writing style that's witty and charmingly irreverent.
So too with the recipes. From kebabs and khoreshes (stews) and kuftehs (stuffed rissoles or meatballs) to pulaos (rice dishes), classic Persian recipes make up the bulk of the book. Yet the recipes aren't precious or overinvolved, and are written in a way that's likely to encourage neophytes.
The book also delves into the wider culture of Iran, covering topics such as the Persian music scene, Iranians and their relationship with Islam and Iranian wedding rituals. One chapter is dedicated to 'The Peckham Influence', with recipes that reflect the multi-ethnic mix of this particular slice of south-east London, such as suya chelow with jerk chicken, or Persian pizzas. It's a book that – like the best kitchens – is marked by tolerance, generosity and great food.
Susan Low