3 2021 First Catch Your Gingerbread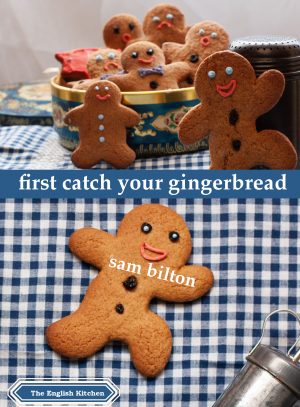 ISBN-13 978-1-909248-69-4
Publication: 10th January 2021;
256 pages; 234 x 156 mm; paperback with flaps;
100 colour photographs; 150 recipes for traditional gingerbreads, biscuits, cakes and savoury dishes;
Price: £15.00
Sam Bilton 
Gingerbread is a lovely, squidgy treat which has played a part in almost everyone's childhood. But do you know what gingerbread was made of when it first arrived on our plates; was it flavoured with honey? When did treacle,  dark, sticky, and on its own, fairly strong tasting, which adds moisture, depth of flavour and character to baking, first become available? Then there's the question of when gingerbread migrated from the home kitchen to commercial products. And why did the gingerbread man leap from the tin, and run so fast with a fox snapping at his heels?
With 100 colour photographs by the author and from historical sources, and 150 recipes for traditional gingerbreads, biscuits, cakes and savoury dishes, this is a unique book. To read an extract, click here:
https://prospectbooks.co.uk/wp-content/uploads/2020/11/First-Catch-Yr-Gingerbread-pages.pdf
FIRST CATCH YOUR GINGERBREAD by Sam Bilton will answer your historical questions, starting with gingerbread in Roman and medieval times, and those grand banquets from the sixteenth and seventeenth centuries. Then Sam Bilton takes us right up to the present day, where entire cities are now built from gingerbread for display.
Sam Bilton is a food historian, who runs the Repast Supper Club, food events with a historical theme. She is also a food and drink writer, with articles appearing in magazines and online, with English Heritage, and she works on historical recipes, recreating them for the modern day, including an eighteenth-century recipe for a Bride Cake. Sam is a member of the Guild of Food Writers Committee, and on several panels.   
Reviews:
'This is a total delight. And it has full colour pictures...bang on target.' Dr Annie Gray, food historian  Kitchen Cabinet Radio 4 resident food historian
'The remarkable history of Horsham and its gingerbread and the modern version is folded in, as molasses are to the oats and citrus peel, to create a delightful story of the gingerbread in Sam's new book. Sam's book is full of literary references to gingerbread spanning the centuries, born out of years of research in the British Library.' West Sussex County Times