PPC 98 (August 2013)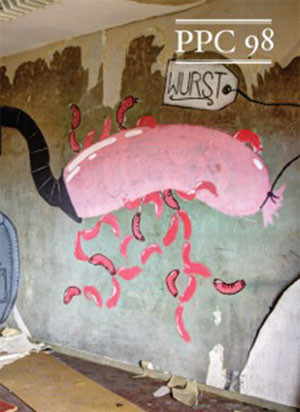 PPC 98 (August 2013)
 

Contents

Buy an individual article as a PDF

| | | |
| --- | --- | --- |
| 26 | English Food, 1934: Irving Davis and the International Wine and Food Society |   |
| 41 | You Can't Beat an Egg | Steven D.P. Richardson |
| 46 | Ramen – A Japanese National Dish with Chinese National Heritage | Barak Kushner |
| 62 | Jane Grigson | Geraldene Holt |
| 71 | Currywurst | Irina Dumitrescu |
| 78 | The Early History of some Traditional Names for Pork Products | William Sayers |
| 89 | Royal Chelsea Buns | Mary-Anne Boermans |
| 107 | Book reviews |   |
NOTES ON CONTRIBUTORS
MARY-ANNE BOERMANS was a finalist in the 2011 series of The Great British Bake Off and is now a successful food blogger. She has been cooking and baking for more than 40 years. She is passionate about home cooking and has amassed a library of over 900 cookery books, with an emphasis on traditional British recipes. Her book Great British Bakes: Forgotten Treasures for Modern Bakers will be published in November by Square Peg. Mary-Anne lives in Worcestershire with her husband and daughter. IRINA DUMITRESCU teaches medieval literature at Southern Methodist University in Dallas. Her essay 'Tasting Texas,' on culinary fusion in the Lone Star State, appeared in the Southwest Review. GERALDENE HOLT is a very senior lady in the galère of English cookery writers. Her books on cakes are legendary, as is her garden in southern France, where she lives when she is not in Oxford. BARAK KUSHNER teaches modern Japanese history in the Faculty of Asian & Middle Eastern Studies (formerly the Faculty of Oriental Studies) at the University of Cambridge and has a PhD in History from Princeton University. He has written lots on Japanese history and of course, Slurp!, see below. STEVEN D.P. RICHARDSON has worked fishing trawlers, tutored medieval history, been employed as a numismatist, and as an Associate Producer in arts and history television. Based in London, he is now a freelance writer and the author of the cookery app, telchef. WILLIAM SAYERS is Adjunct Professor in the Department of Comparative Literature at Cornell University. He writes on medieval western European languages and literature and works in collection development in the Cornell University Library system.
Preliminaries
MICHAEL POLLAN
In the book reviews you will find Tim Harris's enthusiastic notice of Michael Pollan's new book Cooked. We were amused to read in the Guardian round-up of media reviews of Giles Coren's slightly heterodox opinion of this year's great guru of food. Michael Pollan is a professor of journalism. His books are part of that great American tradition of non-fiction writing that steers a course between investigation, populism and speculative thought. For many of us, our first encounter with it as teenagers was possibly Vance Packard's Hidden Persuaders. Another example I remember fondly is Tracy Kidder's House. What marks most of these books is a certain prolixity, as well as a thoroughness in their wanderings around their chosen subject. When it's well done, it is astonishingly instructive, and I for one take my hat off to Pollan's exposé of corn and corn syrup in American processed foods as a great example of a clear objective masterfully executed. However, although Coren is wrong to imply that Pollan is turgid (although I would agree he's somewhat long-winded), he is absolutely bang on the money that Pollan's conclusions are banal in the extreme and if anyone found them arresting or novel, then they must never ever have thought about food or eating before in their lives. From the day you were born it was self-evident that most processed food was filth, and that most food processors were only in it for the money. It was also pretty obvious to anyone with half a brain that if you wished to eat with sense, you ate in moderation and across the full palette of foods available. It really doesn't need five hundred pages.
TWELFTH-CENTURY RECIPES FROM POITOU
I expect quite a few of you will have read in the press about the discovery by researchers from Durham University of a very early group of manuscript recipes in a document once in the hands of the monks of Durham, but now in the library of Sydney Sussex College Cambridge. I give below the text of the communication from Dr Giles Gasper of Durham which describes the material in question. I hope that Prospect Books may be connected with the next stage of this exciting development. A sequence of culinary recipes from the late twelfth century has been discovered in a manuscript originally from Durham Cathedral Priory, now part of the collection at Sidney Sussex College, University of Cambridge (Manuscript 51). Professor Faith Wallis (McGill University, Montreal) made the discovery and has been working on the collection subsequently with Dr Giles Gasper (Durham University). The recipes are sauces for various meats, which the author or compiler states are from the Poitou region. Some ten sauces are included, for meats ranging from chicken, 'hen in winter', beef, duck, pork, ram (presumably a 'wether' or castrated male sheep), lamb, sausage and 'tiny little fish minuti pisculi'. There is also a recipe for conserved ginger, with detailed instructions for preparation: soaking in water, cutting into slices, cooking down with honey, rubbing honey in by hand, and continuing the process with other flavourings including spikenard. The sauces and conserve emerge (fols. 39r–v) in a section of the manuscript dedicated to medical recipes (fols. 27r–46v) written by a single scribe. The medical recipes preceding the culinary recipes are in broadly head-to-toe order, while those that follow are largely for compound medicines for internal or whole-body disorders. The recipe collection ends half way down fol. 44v, but the same scribe seems to have intended to start a new collection on fol. 45r, with a recipe 'ad uocem clarificandam' (for clearing the voice). There is no indication that the sauces are anything other than culinary in intention. The ginger conserve has culinary relations in later medieval cooking, but bears close resemblance also to medicinal recipes for digestifs and aphrodisiacs recorded in contemporary later twelfth-century collections such as Cirac instans and the Antidotarium Nicolai. The manuscript as a whole is a composite of four distinct booklets, all roughly coeval but separately copied. They appear to have been bound together in the twelfth or perhaps the thirteenth century, as there is a table of contents for the entire volume in a hand of this period on the flyleaf. The first two booklets concern the sacraments comprising poems on the Mass and on baptism, and a tract defending the real Presence composed of extracts from patristic and early medieval theologians. In between this part of the volume and the closing section (a gloss on the Psalter and Canticles), is the collection of medical and culinary recipes. This section dates to the third quarter of the twelfth century. The manuscript is recorded in the Durham Cathedral Priory library catalogue of 1391; by the late sixteenth century it was in the possession of John Pilkington, Archdeacon of Durham. Who collected and copied these recipes remain open questions. It may be tentatively proposed that the collection was not created by the scriptorium of Durham Cathedral Priory. Rather, it was assembled for private study and reference, possibly by a physician like Master Herebertus or Master Gervasius, both of whom donated medical books to the Priory in the twelfth century, as earlier catalogues from Durham show. The Priory's surviving booklists from the twelfth century indicate that it accumulated a sizeable and up-to-date medical collection, but how and when the Sidney Sussex volume came to the community of St Cuthbert is still to be established. What is becoming clear is that these recipes are amongst the earliest, if not the earliest, to survive from the western medieval tradition; they are to this extent unusual. Written in Latin, there are a few parallels with the fourteenth-century Latin cookbooks which are known, the Tractatus de modo praeparandi et condiendi omnia cibaria, Doctrine preparationis ciborum, Liber de coquina et Modus viaticorum preparandorum et salsarum. However, the taste combinations for the twelfth-century recipes appear to be different to the later traditions: the emphasis is on herb-flavourings, garlic and vinegar; the only spices used are pepper, along with some use of coriander, cost and spikenard. There are some interesting parallel descriptions of Poitevin sauces from the 1160s in the chronicler Ralph Diceto, and also in the De nominibus utensilium of Alexander Neckam from c.1180. These descriptions are not presented as recipes in the same way as those in Sidney Sussex 51, but do provide useful confirmation of the early date and palate.The recipes formed the basis of a cookery workshop for History, English and Archaeology MA students from Durham University, which took place on April 25th at Blackfriars Restaurant in Newcastle, led by Caroline Yeldham and Blackfriars' proprietor, Andy Hook. They were then recreated by Blackfriars chefs for lunch the following Saturday, 27 April, to accompany a lunchtime lecture in the banqueting hall of the restaurant by Professor Chris Woolgar entitled 'Food in Medieval England.' This was the third lecture in a collaboration between the Institute of Medieval and Early Modern Studies, Durham University and Blackfriars Restaurant. The collaboration will continue with further exposition, and an eventual cookbook to include the sauces from Poitou in their original form and as interpreted by Caroline Yeldham, and the Blackfriars staff. Faith Wallis and Giles Gasper will be organizing an international workshop in July 2014, to be held at Durham, to investigate the circumstances of the manuscript, its content, production and context, and will be leading a full-scale scholarly treatment. Giles Gasper and Faith Wallis (with thanks to Caroline Yeldham, Bruno Laurioux and Greti Dinkova-Bruun)
WOOD-FIRED OVENS
For those of you who pursue this activity, I have found a new website full of anguished discussion about how to do it and 'What I've done'. Its address is: <http://ukwoodfiredovenforum.proboards.com/index.cgi>.
†ROSEMARY DAVIDSON
It is with great sadness that I report the death of Rosemary Davidson on 20 November 2012. Rosemary was a founding director of Prospect Books in company with her brother, Alan and sister-in-law, Jane. She had herself a distinguished career in educational publishing with Longman and the Cambridge University Press (of which she was the first woman on its executive board). When living in Cambridge she opened the Broughton House gallery at her home in King Street. Here she showed (and published) many of the woodcuts by the artist and author Gwen Raverat. She also used to buy a parcel of Prospect Books every Christmas for the gallery's festive show. I found the similarities between brother and sister very marked. The same willingness to see the amusing side of life, the same openness to other people, and their preoccupations, hobby-horses, or quirks.
†HUGO DUNN-MEYNELL
It's with equal regret that I report the passing of Hugo on 6 February 2013. An excellent obituary was printed in the Guardian, written by his friend Roger Owen. We all knew Hugo as the secretary and chief executive of the International Wine & Food Society which, it might be argued, he awoke from years of quiescence and injected with new vigour and purpose. I had dealings with him over some years as editor of the revived journal of the IWFS. Hugo had a long and pioneering career in PR and advertising, but belied his spare frame with an enthusiasm for good food. In this he was abetted, in the years that I knew him, by his wife Alice Wooledge-Salmon whose career as a distinguished food writer he in turn encouraged and supported.
†JOCASTA INNES
I was very sad to read of the death of Jocasta Innes on 20 April 2013. We exchanged a few letters and hers were always memorable. My own were those of a slavering fan. We have always thought her Country Kitchen a work of astonishing utility as it gives clear and simple instruction on the basic activities that might result from living in the country, having the odd animal, and tending the untidy garden. For us it has never been improved upon. There were some informative obituaries in the national press which can be retrieved on the Internet.
†NICOLE FENOSA
It is with sadness that we record the death of Nicole Fenosa whose fine illustrations adorn the text of A Catalan Cookery Book by Irving Davis which we re-published in 1999.
†CAROLE LAMBERT (1949–2012)
It is our sad task to announce, albeit months after the fact, that one of the most important, and perhaps the most discreet, of the culinary historians active in the Flandrin Group during the 1980s, passed away in July. Carole Lambert began her career as a medievalist in the late 1970s in her native Montréal. She did ground-breaking research into the culinary manuscript traditions of south-central and south-western France at a time when research into French regional culinary cultures was in its infancy. Two manuscripts from the Auvergne, one a cookbook, the other about the grafting of fruit trees, were published in 1987: Le Recueil de Riom et La maniere de henter soutillement…. (Le Moyen français, n°20, Montréal, Editions CERES). The results of further research formed the basis for her dissertation which was completed in 1989 under the title: 'Trois réceptaires culinaires médiévaux: "Les Enseingnemenz", les "Doctrine" et le "Modus."' The first is a critical edition of what is arguably the oldest collection of culinary recipes in French, which dated from the early fourteenth century; the second a previously unknown Latin translation of that text; and the third a hitherto unknown collection of recipes from the late fourteenth century written in Latin but clearly Occitan in origin, the Modus preparandorum viaticorum et salsarum. To Carole's credit she provides the reader not only with the original texts but, in the case of the 'Modus', a French translation as well, coupled with a careful analysis of the ingredients and linguistic quirks that indicate its southern roots. Her invaluable eighty-page glossary of medieval cooking terms and comprehensive indexes also permit the reader to compare these recipes with the same recipes found in other medieval texts, with an indication of the degree of similarity or divergence between the different versions. In addition to pursuing her own research, Carole took it upon herself to publicize and diffuse the work of others, most notably by organizing a symposium held in May of 1990 in Montreal. All the scholars who were then doing seminal work into medieval and Renaissance European texts presented papers that were collected and published in 1992, under Carole's supervision, as Du Manuscrit à la Table (Presses de l'Université de Montréal, and Champion-Slatkine, Paris). Several years later, Carole also co-authored, with Jean-Louis Flandrin, a beautifully produced and impressively researched volume devoted to medieval recipes, Fêtes gourmandes au Moyen Age (Imp. Nationale, Paris, 1998). Unfortunately, Carole's most important work, her critical edition and translation of the Modus, has yet to be published. Nevertheless, we are happy to report that it is currently scheduled to be published – along with the Manuscrit de Riom and the Maniere de henter soutillement – by Honoré Champion in a series of texts devoted to various aspects of medieval life. With this publication, Carole's unique contribution to medieval culinary studies will at last be given the recognition it deserves and made available to scholars heretofore unaware of her work. Philip & Mary Hyman
DUTCH GASTRONOMIC COLLECTION
Claudia Roden very kindly sent us this information about developments in Holland: 'The University of Amsterdam has become, since 2012, a centre of gastronomy that will be of value to researchers as well as to chefs, restaurateurs, food producers and artisans. Joke Mammen, who is in charge, came to last year's Oxford Symposium and will be coming again this year. 'Their Special Collections library, which has cookbooks dating back to the Middle Ages, now also houses an increasing part of the immense collections of the scholar-gastronome Johannes van Dam and the food historian Joop Witteveen. For more information and a PDF-file of the folder on the 'history of food collection' see: http://www.bijzonderecollecties.uva.nl/en/the-special-collections/collection-profile/collection-profile-2/collection-profile-2/content/folder/modern-period.html 'The University will be awarding two annual prizes: the international Johannes van Dam prize for gastronomy (I was the very thrilled recipient this year) and the Joop Witteveen prize for culinary history of the Low Countries. On 18 January 2013 a gala event and an exhibition of the Gourmand World Cookbook Awards 2012 collection donated by Edouard Cointreau – were held to celebrate the inauguration of the awards and the newest addition to the university cookbook collection. 'The Special Collections, together with the University of Amsterdam's Institute for Culture and History and the Vrije University of Brussels, will hold an annual Symposium on the history of food in the Low Countries. The first will be held on 17 January 2014. For the theme this year and the call for papers visit: http://www.bijzonderecollecties.uva.nl/en 'For all information contact Joke Mammen <j.j.mammen@uva.nl>.'
SALEP AND COFFEE-HOUSES
I have been contacted by Chris Elliott on this subject, in the hope that informed readers can assist him. His e-mail is <c.elliott@dsl.pipex.com>. 'I am hoping that you can suggest sources of information on a fairly specialized area of food history. For a number of years now, I have been researching what can broadly be summarized as the cultural impact of Egypt (particularly Ancient Egypt) on Britain, and English Heritage have recently published my book Egypt in England, which deals with Egyptian-style architecture and interiors. Initially, my research focused on London's Egyptian connections, and in The Insight Guide to Cairo I came across the following passage: "The clientele of coffee houses or chocolate houses in eighteenth-century London, for example, drank many of the same decoctions – made of cinnamon (qirfa, pronounced "erfa" in Cairo), ginger (ganzabíl), aniseed (yanssun) or licorice-root (erq-sus), that are still commonly ordered in any good coffee house in twentieth-century Cairo. Popular in eighteenth-century Paris, Madrid and London was sahlep, a hot drink made from the farinaceous root of Orchis mascula. The word sahlep, identical in French, Spanish and English, derives by way of Turkish from sahlab, the usual Arabic name for both the drink and the plant, but is in fact a polite euphemism for the plant's proper Arabic botanic name, which literally means 'fox testicles'." 'Mrs Grieve's Herbal has information on Salep, as it was also spelled: "Before coffee supplanted it, it used to be sold at stalls in the streets of London, and was held in great repute in herbal medicine, being largely employed as a strengthening and demulcent [soothing] agent. The best English Salep came from Oxfordshire, but the tubers were chiefly imported from the East." 'Charles Lamb refers to a "Salopian shop" in Fleet Street, and says that to many tastes it has "a delicacy beyond the China luxury," and adds that a basin of it at three-halfpence, accompanied by a slice of bread-and-butter at a halfpenny, is an ideal breakfast for a chimney-sweep. Though Salep is no longer a popular London beverage, before the war it was regularly sold by street merchants in Constantinople as a hot drink during the winter. 'Despite trying books on London's coffee-houses, however, I haven't been able to confirm that the other drinks were routinely or commonly available. I'd like to be able to do this, as I suspect that the presence of drinks from Cairo in London goes back further than the eighteenth century, and reflects long-standing links through trading and pilgrimage. I did try contacting Max Rodenbeck, whose father, now deceased, wrote the original version of the guide, but he was unable to trace the source of the passage quoted above.'
BOUILLIE
You may think that you know what this is, a pottage of grain and vegetables or even just a simple porridge. We think of it as the staple of French peasants. Breton bouillie is particularly famous. So there we were, in a Breton supermarket, when we spied some clear plastic packets labelled Yod kerc'h. They were filled with a coffee-coloured set jelly (of sorts). Yod is Breton for bouillie, kerc'h is Breton for oats, so this was oat porridge, but that's not what it looked like. The way they used to make this porridge was to soak the oats for a day in cold water and skim off the bran and chaff leaving the starch-laden mass at the bottom, which can then be cooked with more water. This is reminiscent of making sowans. Come the Industrial Revolution and the processing of the oats gets mechanized and much, much finer. So rather than the flakes that we see in porridge oats, it is a flour, or meal. Once they have separated out the rubbish, and boiled up the remainder so that it sets, you do indeed have a jelly-like substance. This you can remove from the packet, cut into dainty slices and fry in butter or lard. It then becomes a bit like polenta and it's rather tasty (though the processors have put in quite a lot of salt). End of lesson.
A SRI LANKAN COOKERY BOOK
Paul van Reyk has told me of his production of a sort of facsimile edition of the recipe book of his grandmother, Ada de la Harpe (b. 1883), a Sri Lankan Dutch burgher (an employee of the Dutch East India Company who remained in Ceylon after the British had taken over). He has designed it so that an image of each page is accompanied by a transcription. There is also a glossary of some less common terms. The book can be viewed online at <http://issuu.com/foodwriter/docs/the_recipe_book_of_ad_de_la_harpe_first_edition_20> and downloaded at <http://www.paulvanreyk.com.au/wp-content/uploads/2007/10/The-Recipe-Book-of-Ad-de-la-Harpe_First-edition_2013.pdf>. Email: <pvanreyk@optusnet.com.au>.
GRIMOD DE LA REYNIÈRE
The redoubtable Carolin Young has (as far as we are concerned) resurfaced after a few months off the scene with a blog retracing the steps of the sainted Grimod across modern Paris, as well as printing his Almanach and her translation thereof alongside her account of present-day shops and shopping. <http://www.almanachdesgourmands.com>.
KRISPY KREME
I expect most of you will have picked up the news about the opening of the Edinburgh branch of Krispy Kreme. In the light of the government's stance on our dietary intake, I find it fascinating. I did a little bit more research in the Guardian archive and on Google and found that Krispy Kremes excite a similar devotion across the world, be it Bangkok, Sydney or Cardiff. I am perplexed. From the Guardian 15 February 2013: 'Edinburgh police have had to marshal hundreds of cars and pedestrians to prevent a third day of traffic chaos at a newly opened Krispy Kreme doughnut store in the city. Seventy-two hours after the US chain's first Scottish outlet opened, drivers were still queueing for up to an hour to get their fill on Friday. The day before Lothian and Borders police urged motorists to avoid the western side of Edinburgh altogether due to the chaos. Patrol cars were sent to Hermiston Gait retail park to try to stop Krispy Kreme customers causing gridlock when a mile-long tailback began backing on to the M8. Edinburgh Evening News reported that pedestrians were queueing in wintry conditions for up to an hour, but the delays caused by banked-up cars had been worse, with motorists waiting in line for the drive-through service for up to two hours. Napier University students Melinda Garrott and Elise Setter told the paper they took public transport to reach the store after getting free samples in the city centre. Garrott said: "We got the bus. It's about 25 to 30 minutes, but we had no idea where the store was so we got lost. It was raining – we had to get a taxi. We then waited about 40 minutes in the queue, but they gave us free doughnuts so it was OK." Health campaigners said they were appalled at the number of people prepared to wait in their cars to buy the cholesterol-packed snacks. Tam Fry, for the National Obesity Forum, said: "If Edinburgh is overweight today then it will certainly be obese by tomorrow."'
LIVERPOOL HOPE UNIVERSITY
The expansion of food studies continues apace. This can't be a bad thing, even if its velocity in England does not yet match that of the United States, Australia or parts of Europe. It is also, I hope, a good thing for publishers of relevant books (see the latest output from Berg as an example), although I note that the sort of food studies espoused by Prospect are not quite the same thing as food studies pursued by sociologists and the like. Anyway, I have been contacted by Dr Bryce Evans of Liverpool Hope with the news that there is a new undergraduate course at Liverpool Hope entitled 'The Taste of War'. Students explore the role of food in conflict from Alexander the Great to Afghanistan. In the near future students will also be taking part in an innovative 'learning through cooking, eating, smelling and tasting' session where they experience multisensory learning through cooking dishes from different eras at a local cookery school. More details are available from <evansb1@hope.ac.uk>.
QUEEN VICTORIA
I have been contacted by Mary Williamson from Toronto with the following enquiry: 'Over ten years ago I became intrigued by the contents of a paragraph in Roy Shipperbottom's introduction to the reissue of Elizabeth Raffald's The Experienced English Housekeeper (Southover Press, 1997). "Such were the quality and popularity of the instructions in this extraordinary book, written by a working confectioner and containing trade secrets of the day, that they were widely copied, and recipes from it are found in many family manuscript recipe books – not least one compiled by Princess (later Queen) Victoria. She entered several Raffald recipes in her own handwriting including King Solomon's Temple in Flummery, signing it Victoria." Shipperbottom doesn't give the source of his information, and because he had died before his reprint was published I inquired with the Royal Library at Windsor Castle. I was told that no such manuscript exists there. 'Just the other day I picked up my copy of Court Favourites by Elizabeth Craig (Andre Deutsch, 1953) and it seems that her collection was based on recipes in the same elusive manuscript together with another recipe manuscript that belonged to Princess, then Queen, Victoria. In her introduction Craig tells us how she acquired the recipes. It would have been around 1933 that she became acquainted with an Irishwoman who regularly dined with an "English princess." At some point the Princess showed the Irishwoman "an old scrap-book which had been given to Queen Victoria when she was a young girl." It had originally belonged to Princess Charlotte, daughter of George IV. "Hand-bound in vellum, with a crown stamped on every page, it was one of the most interesting volumes I have ever perused." She estimated the recipes ranged over fifty to eighty years. Another book was produced. Bound in Russian leather it contained "many recipes cut from old books and papers, alongside recipes evidently copied by Princess Victoria from some ancient, perhaps forgotten, books on domestic subjects. On the first page someone had penned 'Given to Victoria on her birthday – 1831'. The entries in the book date from 1831 to 1887." 'I have written about, and given lectures on Mrs Dalgairns and Mrs Rundell, and like many researchers would be fascinated to know whether Princess Victoria copied the recipes of my culinary heroines. Does anyone know where these two manuscript collections might be, and whether there is any likelihood that they have been digitized and made accessible? If we knew the identity of the "English princess" of 1933 it would help.' Mary Williamson: <mfw@yorku.ca>
ANOTHER COMIC FOOD SONG: THE IRISH JUBILEE
Following the success of the last poetic contribution from Dr Máirtín Mac Con Iomaire of Dublin, I have pleasure in offering his next instalment, which he introduces thus: 'When I first heard this song in Hughes Pub on the final session of Sean-Nós Cois Life over ten years ago sung by one of the Góilín singers, I knew straight away I would have to learn it due to its rich food theme. It has been recorded by Barry Gleeson on his album Path across the Ocean, and is found in print in John Wyse Jackson and Hector McDonnell's book Ireland's Other Poetry: Anonymous to Zozimus. I have recited this classic food-related song/ballad/poem on a number of occasions at the Oxford Symposium on Food and Cookery. It tells of a famous banquet that took place on the election of an Irish-American Senator Doherty in thanks to his constituents. It is a robust nineteenth-century view of Irish political shenanigans in America. The song might relate to the election of John Doherty (1826–1859) to the New York State Senate for the 7th District in 1858. John was the son of Patrick Doherty (1794–1849) who came to New York from Ireland c. 1811 and fought in the 1812 War. John Doherty had been alderman for the 19th ward in New York from 1852 and 1853 and seems to have died on the day that the legislature adjourned on 19 April 1859. A report in the New York Times on the 22 April 1859 on the late Senator Doherty notes that "he left his mark, if not on the legislation of the past two years, certainly on the memory of all his colleagues. He was a bachelor, eminently genial, good natured and disposed to be merry under all circumstances… When entirely sober his address must have been very pleasing. Whatever his condition, he never forgot to be gentlemanly, courteous and merry." The report continues to outline how he was hijacked by the various lobby groups and nearly killed with hospitality. There are a number of versions of this song available but the one below is my favourite and the version performed in Oxford.
A short time ago an Irishman named Docherty Was elected to the Senate by a very large majority Sure he felt so elected that he went to Denis Cassidy Who owned a bar room of a very large capacity Arra, says Docherty go over to the brewer and order A hundred kegs of lager beer and give it to the poor! Then go over to the butchers shop and order up a ton of meat Be sure the boys and girls have got all they want to drink and eat They made me their senator, to show them all me gratitude They'll have the finest supper ever given in the latitude Tell them the music will be furnished by O'Rafferty Assisted on the bagpipes by Felix Mick M'Cafferty Sure whatever the expenses are, remember I'll put up the tin And anyone who doesn't come, be sure and do not let them in Now Cassidy at once sent out the invitations And anyone who came was a credit to the nation Some came on bicycles because they had no fares to pay And all those that did not come, made up their minds to stay away Two by three they all rushed in the dining hall Young men and old men and girls that were not men at all Blind men and deaf men and men who had the chickenpox Single men and double men and men who had their glasses on Well in a few minutes nearly every chair was taken Till the taprooms and mushrooms were packed to suffocation When everyone was seated and we started to lay out the feast Cassidy says rise up and give us each a cake apiece He then said as manager he would try and fill the chair We then sat down and all looked over the bill of fare Well there was pigs' heads, goldfish, mocking birds and ostriches Ice cream, cold cream, Vaseline and sandwiches Blue fish, green fish, fishhooks and partridges Fishballs, snowballs, cannonballs and cartridges We ate oatmeal till we could hardly stirabout Ketch-up and hurry-up, sweet-kraut and sauer-kraut Dressed beef and naked beef and beef with all its trousers on Soda crackers, fire crackers, Cheshire cheese with breeches on Beefsteaks and mistakes were down upon the bill of fare Roast ribs and spare ribs and ribs that we couldn't spare Reindeer, snowdeer and dear me and antelope The women ate so much melon, the men said they cantaloupe Red herrings, smoked herrings, herrings from old Erin's Isle Bangor loaf and fruit cake and sausages a half a mile Hot corn, cold corn, and corn cake and honey-comb Red birds and red books, sea bass and sea foam Fried liver, baked liver, Carter's little liver pills And everyone was wondering who was going to pay the bill Well we ate everything that was on the bill of fare And then we looked on the back to see if any more was there Well for dessert we had ice picks, tooth picks and a piece of skipping rope And we washed them all down with a big piece of shaving soap The band played hornpipes, gaspipes and Irish reels And we danced to the music of "The wind that shakes the Barley fields" Then the piper played auld tunes and spittoons so very fine Then in came fiddler Pat and gave to him a glass of wine Arra, a finer set of dancers you never set your eyes upon And anyone who couldn't dance was dancing with their slippers on Some danced jig steps door steps and highland flings And Murphy took his penknife out and tried to cut the "Pigeon's wings" When the dance was over Cassidy told us all to join hands and sing this good old chorus: Should Old Acquaintance Be Forgot, whoever you may be Let's think of the good auld times we had at the Irish Jubilee!
EL BULLI
The El Bulli show that was in Barcelona is coming to London for all of you that are Modernist fans. It will be at Somerset House, 5 July–29 September 2013. On the subject of Modernist cuisine, which I now use as shorthand for molecular gastronomy, avant-garde, etc., I found another use of the phrase by the esteemed authority Rachel Laudan. Readers will know her as an advocate of our need to embrace modernity and the changes to life that it brings, and her distaste for many forms of nostalgia. Her website is a place that all of us should visit, full of information, opinion and interesting speculative ideas. One of her more inflammatory pieces was a review of Carlo Petrini's book on Slow Food which was published in Food Culture and Society. I had occasion to re-read it not long since and I urge you to do the same. Good, fighting stuff. She has put a PDF on her website. The addresses you need are: <http://www.rachellaudan.com/>, and for the PDF it's: <http://www.rachellaudan.com/wp-content/uploads/2011/12/Slow-Food.pdf>. She uses the phrase 'Culinary Modernism' to encompass not those chefs at the cutting-edge of the world of ponce, but all those strides taken by progressive waves of advocates of improvement to extend the bounty once reserved for the upper crust to the likes of you and me – and far beyond.
PPC PRICES
I fear that the back cover of this issue indicates a new subscription price for PPC. As the best market traders would have it, I do this with a heavy heart. The new prices imposed by Royal Mail in April this year constitute a significant ramp up from previous levels. If I send a single issue of PPC abroad by surface mail, it costs at least £3.25. This is unsustainable without an increase.
THE GLORIES OF PROSPECT BOOKS
It's with real pleasure and bursting pride that I am able to announce that Caroline Conran's book, Sud de France, has been chosen as Food Book of the Year not only by the trustees of the André Simon Memorial Fund, but also by the judges of the new prize sponsored and awarded by Messrs. Fortnum & Mason. This is a fantastic achievement on Caroline's part and of course well merited. Our publishing activity has been in minor key this year as I struggle to fulfil my commitment to the Oxford University Press and the slight revision of Alan Davidson's Companion. However, I was really pleased to see through the press John Fitch's translation of the late-Roman agricultural treatise by Palladius. It is an excellent translation and a handsome volume, and I hope it will occupy the shelves of all those classicists who have not yet seen a decent English version. Our books for the second half of the year number but three. The first is the latest proceedings from the Oxford Symposium, this time on wrapped foods. The second is a translation, edited and introduced by Darra Goldstein, of a Russian book written by the late and great semiotician Yuri Lotman in co-operation with Jelena Pogosjan. This is called High Society Dinners: Dining in Tsarist Russia, and is a study of the domestic archive of the Durnovo family in nineteenth-century St Petersburg. Our third book is a posthumous work by Constance Hieatt. We have called it The Culinary Recipes of Medieval England and it is a gathering of the best recipe for every dish that figures in medieval English culinary manuscripts, translated by Constance Hieatt. It should be extremely useful.
MARY DOHNE
This autumn Mary Dohne is launching a vintage cookbook shop online: noonecooksalone.com. She writes: '"No one who cooks, cooks alone. Even at her most solitary, a cook in the kitchen is surrounded by generations of cooks past, the advice and menus of cooks present, the wisdom of cookbook writers." (Laurie Colwin from Home Cooking) 'The collection is highly idiosyncratic with depth in categories like American regional cooking, cookbooks by novelists, painters and poets, British cookery, charmingly illustrated cookbooks and recipe collections inspired by literary works and fictional characters. I am resisting the lure of antiquarian cookbooks and spiral-bound community charity compilations with little success. 'I am looking to buy vintage hardcover copies of classic British cookery books. I want to do a large consolidated shipment to the US, so collections are preferred. Cookbooks from the 1920s, 1930s, 1940s, 1950s, 1960s, 1970s, and 1980s are my primary target, but earlier books are very welcome. Examples of authors that I'd like to find, but bonus points for new introductions!: Eliza Acton, Mrs Beeton, Arabella Boxer, Margaret Costa, Elizabeth David, Len Deighton, Theodora FitzGibbon, Jane Grigson, Dorothy Hartley, Ambrose Heath, Rosemary Hume, Ruth Lowinsky, Richard Mabey, Alice Martineau, Countess Morphy, Mary Nowak, Marguerite Patten, John Pawson, Constance Spry, Lady Syonsby, Alison Uttley. 'Or, if you are someone who likes to hunt the shelves at Oxfam bookshops and charity sales and to scout out bookshops that have large holdings of cookbooks, I would love to talk to you! Ideally I am looking for someone who collects things, but not necessarily cookbooks, and has a discerning eye. Perhaps you would be interested in trading for American vintage cookbooks or kitchen paraphernalia for your own collection in payment for your services!' Contact: marydohne@gmail.com with photographs or call +1-917-301-4647
BARTHOLOMEW THE ENGLISHMAN
This man is known more widely as Bartholomeus Anglicus. He lived from c. 1203 to 1272. He was a Franciscan friar who lived and worked in Europe, both as a teacher in Paris and as a roving ecclesiastic (sometimes Franciscan, sometimes papal) in Germany and points east, hence his sobriquet 'the Englishman'. His chief claim to fame is an encyclopaedic work called De proprietatibus rerum (On the Properties of Things). I started to come across many references to this book, most particularly in Danièle Alexandre-Bidon's archaeological study of medieval pottery that I mentioned in the last issue. It seemed clear that Bartholomew had lots of practical information on the domestic and dining front and perhaps a translation would be in order. I suggested an inspection to the linguistically adept Andrew Dalby and he reported back that my hopes might be dashed. Yes, there may be practical information therein, but the Prospect coffers would have to support a very large sub-structure of useless material in order to extract the gems. I took my medicine. To sweeten the pill, Andrew very kindly translated two paragraphs that are absolutely concerned with dinner. These are pretty hot stuff so I give you them here for your improvement and delectation. Andrew, meanwhile, has gone on a much more exciting voyage – around the inlets and promontories of Pietro de' Crescenzi. More news about that later. Prandium et convivium: the meal and feast Thus food and drink find their order and application in meals and feasts. Firstly for meals food is prepared and guests are invited. Seats and benches are set out in the dining room. Tables are ordered; tableware is arranged and adorned. Guests are placed with the lord at the head of the table. They do not sit to table before the guests' hands are washed. The mistress's daughters, apart, and the servants, below, feast likewise. Spoons, knives and saltcellars are distributed to the tables, and loaves and cups are soon added. Many and varied dishes follow. Squires and waiters serve each person diligently. By helping one another all are cheerfully rendered equal. They are entertained with lutes and harps. Now the wine is replenished, now the dishes; as each dish is served it is portioned and shared. Finally fruits and spices are desserved. When the meal is completed tableware and scraps are cleared, tables are taken off the trestles, and hands are again washed and wiped. Thanks are expressed to God and to the host. For pleasure's sake drinks are offered again and again. When this meal ceremony is completed [guests] either go to bed, to find rest, or take leave and return to their homes. Cena: the dinner Cena is so called from coenon, meaning 'common',1 because of the community of diners. The ancients would eat in the open and feast in common lest apartness give rise to luxury. But it may be called cena from cenos, meaning 'shade', because already to save cost they wanted to eat privately: so says Papensis.2 Or from scynos, 'dog':3 because of want and the absence of charity each separately would take his food and chew it: 1 Corinthians 11.4 Everything said above about the meal and feast applies to dinner. Several things make dinner more magnificent and noble, and all these things are found in the dinner of Ahasuerus, as seen in Esther 1.5 The first is temporal appropriateness, because a feast should be held on the appropriate occasion, neither before it nor after it. The second is locational suitability with regard to largeness, pleasantness and safety: it is in large, pleasant and safe places that nobles have their feasts. The third is generosity of welcome as shown in a cheerful demeanour. There is no value in a dinner at which the host has a troubled face: Esther 1, 'when he became heated' etc. The fourth is multiplicity of dishes, so that [a guest] who does not like one can immediately taste another: Esther 1, 'the food was served in ever-different dishes'. The fifth is variety of wines and drinks, whence Esther 1 says, 'even the wine … royal … magnificent.' The sixth is the politeness and respectability of the attendants: Esther 1, 'to all his princes …'6 The seventh is the pleasant company of the friends who sit down: Esther 1, 'he made a feast … to all the famous Medes and Persians.' The eighth is the pleasure of the singers and musical instruments, because dinners of the nobility are not usually held without lutes or orchestras: Luke 15, 'when he heard the sound' etc.7 The ninth is the profusion of lights and candles, because it is mean to dine in darkness – and also dangerous because of flies. Hence candles are put in candelabras; lanterns, lamps and tapers are lit at need. The tenth is the tastiness of all that is served, because rough and common foods are not served at dinners, as they are at [ordinary] meals; instead special, light and tasty things are served to diners, most of all in lords' courts. The eleventh is the length of the dinner. When men are free of labour they prolong their dinner. Food taken too quickly produces illness at night, and it is a cheerless way to dine. Thus the dinner of Ahasuerus lasted a long time, a hundred and fifty days.8 The twelfth is liberality, because one who is invited to dinner should not suffer for it: it is improper, after a dinner freely offered, to demand the payment of a contribution. The thirteenth is the pleasantness of rest and sleep: it is right to rest after dinner, because that is when sleep is very sweet. Thus there were beds of ivory and gold laid out on the pavement at the palace of Ahasuerus, as seen Esther 1.9 As Constantinus tells us,10 'when the smoke of food enters our brain we sleep easily.'
Greek koinos (masc.) koinon (neut.) 'common'.
Might be Bernard of Pavia … or someone else …
A confusion of two Greek words, kyon (nom.) kynos (gen.) 'dog', skylax 'puppy'.
1 Corinthians 11.21: Paul criticizes the Corinthians for lack of true communion.
The following references are to the feast of Ahasuerus (Xerxes) at Esther 1.12, 1.7, 1.7, 1.3, 1.3. The quotations are not exact: in this translation '…' indicates where words are skipped.
The allusion is to the following words, which are not quoted, et pueris suis '… and his servants'.
Luke 15.25: the prodigal son's elder brother hears music as he comes home: it is the feast celebrating his brother's return.
180 days: Esther 1.4.
The pavement was in the garden court of the palace: Esther 1.5–6
I suppose Constantinus Africanus
BOOK REVIEWS
Michael Pollan: Cooked. A Natural History of Transformation: Allen Lane, 2013, 468 pp., hardback, £20 As a cookery teacher and chef I am often asked how to cook this or that particular ingredient, often something left at the bottom of a vegetable box. A local greengrocer asked me recently what to do with kohlrabi, whilst a woman in a local shop the other day wondered how to make onion marmalade. It's not that these people aren't interested in cooking, its just that over the years confidence in our ability to cook has been gradually undermined – the most common feedback from my cookery classes has been that people have begun to regain that confidence. Michael Pollan's latest book explores why this has happened and tries to tempt us back into the kitchen. Michael Pollan is an American food writer best known as a critic of the industrial scale of food production, reflected in his books such as The Omnivore's Dilemma, In Defence of Food and Food Rules. His approach can be summed up by a rule he got from a microbiologist – 'Eat food. Not too much. Mostly plants'. This challenge to a seeming over-reliance on nutritionists and others can help us decide what we should eat. He has always advocated individuals and families taking more control over their food; as he said in In Defence of Food, 'we should simply avoid any food that has been processed to such an extent that it is more a product of industry than of nature.' This is not a cookery book: it is more a critique of how cookery has developed over recent time and the impact this is having on our health and well-being. It draws together in one place a number of strands of Pollan's recent work and presents them in a comprehensive and entertaining way. I still can't believe how engrossed I got in the sections on cutting up onions and the make-up of bacteria in my gut! Pollan raises the cookery paradox, something identified in this country some time ago: the more TV cookery programmes there are, the less we actually cook ourselves. He says 'home cooking has been downgraded and the fetishization of high-end cooking is intimidating people. To cook means you have to cook restaurant type food and I think that's a mistake.' He states that we thereby hand over responsibility for cooking to food processing companies so we get out of touch with what we eat. His critique of the food industry and of government policies is devastating – 'in America we subsidize the building blocks of junk food and its no wonder that it is cheaper than healthy food.' Therefore, Pollan suggests, cooking is a political act as it allows us to break free of this dependence on major food companies, supermarkets and large agricultural conglomerates who don't necessarily have our health and enjoyment as their top priorities, and who try to convince us that cooking is not a good use of our time. Cooking for ourselves lets us take back that control over what we eat so that we can better manage our health and enjoyment. He doesn't advocate we cook from scratch every meal, but challenges us to at least (re-)discover these skills. Using the four elements of fire, water, earth and air, he takes us with him on his journey to explore aspects of cookery. He draws on such diverse disciplines as philosophy, chemistry, religion and anthropology to illuminate the act of cookery. So, for example, he mentions the 'cookery hypothesis' first put forward by Claude Lévi-Strauss. It states that it is cookery that distinguishes us from other animals, as only humans regularly cook their meals, so much so that our bodies are now adapted to eating cooked food more than raw. If it is cooking that separates us from other species surely losing that ability and skill means losing something that is part of what it means to be human. It is also something enjoyable and social – in my own experience the most sociable houses are those where the kitchen is the room in which people naturally gather, and especially when cooking is going on there. As well as drawing on these other sources Pollan actually gets stuck in to cooking, He works the huge, hot barbecue pits of North Carolina in the section on 'Fire', takes cooking classes from an Iranian chef in the 'Water' section and learns about making artisanal cheeses from a nun. And it is in these sections that Pollan's skill as a story-teller comes through. He draws some great characters, Ed Mitchell being one of the first who makes an appearance (if you don't count 'Kosher', Michael Pollan's childhood pet piglet!). Ed is a barbecue pit master in North Carolina, described as 'a big black Santa Claus in denim overalls and a baseball cap' and as a 'barbecue rock star'. He also tackles the role of women in cooking. He shows how cooking was 'relegated' to being a chore and mostly women's work, taking place 'within the private space of the household'. He points out how food processing companies have, perhaps cynically, taken advantage of this state of affairs relating: 'Back in the 1970's, KFC ran billboards depicting a family-sized bucket of fried chicken under the slogan "Women's Liberation".' So rather than solve the issue of gender roles in the family the big companies took it away saying 'we can do this for you' by providing already processed food. While encouraging all of us, men, women and children, to get into the kitchen, he suggests that cooking, as well being a political act in reducing our reliance on 'Big Food', can also be an outlet for our inherent creativity. This, perhaps the main theme of the book, shows how cooking allows us to get our hands on real ingredients and transform them into food we can enjoy, using all five senses in ways that our usual daily activities do not. He said 'one of the key things about cooking is that it re-connects us to our senses' in a world where for most of our day our senses are underemployed. In the last chapter on fermentation he hypothesizes that the lack of certain bacteria in our lives as a result of not eating so many fermented foods, such as proper pickles, sauerkraut, or unpasteurized cheeses, may be responsible for the rise in auto-immune conditions including asthma and allergy. The theory goes that 'bacteria essentially "train" our immune system to create a world (inside us) that is safe for them. If we don't have these (bacteria) our immune system fails to distinguish between friends and foe, and will treat a friend, such as gluten or nut protein, as a foe and overreact.' This is an area of work that Pollan has gone on to develop further since writing this book and I look forward to reading the fruits of his further research on this. Covering obesity, dieting, the costs of processed food, the many and varied skills of cooking, marketing, the role of cooks over history, agriculture, and microbiology, this is a wonderfully varied, informative and enjoyable read from one of Time Magazine's 100 most influential men in the USA and we can only hope this influence hits home. Most importantly the book gives us some compelling reasons to get back into the kitchen. TIM HARRIS Adam Gopnik, The Table Comes First. Family, France, and the Meaning of Food, Quercus, 2011, 293pp, hardback: £18.99 (paperback: £11.04). Returning to The Table Comes First, now out in paperback, reveals a book that lasts. The big questions that give it shape, for example 'How Does Taste Happen?', would send many writers running for cover, but Gopnik happily jumps in, drawing together scholarly research, wide reading on the arts, childhood memories, major press interviews, and 'plain facts of the kitchen,' as he calls them. There is a body to the text that supports much telling detail. 'All the good stuff,' he writes on taste, 'is at once universal and overwhelming, and if local, tempered by taste, finely articulated to the place and moment.' So Gopnik is not afraid of linking food and emotion. His opening pages combine a dedication to comic food writer Calvin Trillin, a bittersweet chunk of W.H. Auden poetry and a young Frenchman's letter to his parents written hours before execution in 1942. The big questions, though, guide the text. The first is 'Who Made the Restaurant?' The answer here is a synthesis of the work of the 'sizzlists', as he calls them, a group of historians whose research has changed the story of the Parisian restaurant as we knew it, redating its birth to the 1750s. The text is absorbing both in its specifics and Gopnik's idea that cities may have a food scene akin, say, to London's music scene in the 1960s, that allow new things to happen and even paradigms to change. Interestingly he also links men's and women's desire for a solo place in public life to the restaurant's birth. Gopnik finds many different ways to answer his own questions through his mastery of reportage. For example, 'Meat or Vegetable?', the fourth, finds its reply through an affectionate 2005 New Yorker double interview with Fergus Henderson, London's meat man, and Parisian vegetable-gardening chef Alain Passard. Gopnik's inner debate on their apparently contradictory approaches ends up reconciling them. At the end of the book there is a slight change of pace when Gopnik comes to explore bits of food culture we already know through the media. He writes about Parisian Le Fooding then takes on the Catalan avant-garde. He flies to Barcelona where he eats, reads and interviews key players – there is much self-revelation here – without revealing many of his own thoughts. But it turns out he had not missed a trick. Pithily he goes straight to the point about why the innovation on this 'three-star stage' is not comparable to Carême's and Guérard's changes of paradigm. Kindly he throws in a second idea: that a great avant-garde meal offers a time-out-of-time experience comparable to those the slow-food movement creates. In both cases, he says, you go to eat rather than eat to go. That gives cause for reflection now that researchers say they do not know which comes first, anxiety or obesity. The book ends 'Reading On The Way Home', a generously commented list of sources, further reading and authors whose work has fascinated, touched or inspired Gopnik. VICKY HAYWARD Marco Johannes Bartoldus: Palladius Rutilius Taurus Aemilianus: Welt und Wert spätrömischer Landwirtschaft: Augsburg: Wißner-Verlag, 2012: 376 pp. paperback, € 29.80. (This review first appeared in the Bryn Mawr Classical Review) Monographs on Palladius have been few but good. In 1935 came Josef Svennung's magisterial study of Palladius' late Latinity; in 1975, R.H. Rodgers' definitive analysis of the textual tradition. Now we have Bartoldus' engaging assessment of the farming practices found in Palladius' manual. Palladius, who presents himself as a practical farmer, keen to 'quicken the surface of a well-dug field' ('Poem on Grafting' 168), would have been pleased by Bartoldus' approach. Chapter 1 tackles the vexed question of Palladius' date, which Bartoldus sets c. 400–470. Chapter 2 surveys the organization of the Opus Agriculturae, its Nachleben, its sources, and the history of modern Palladian scholarship. Then we reach the heart of the book, a series of discussions of selected passages from the Opus illustrating all its major subjects, viz. production of vegetables, trees, fruits, wine, olive oil, honey, fowl and livestock, and construction of farm buildings. This selective strategy is a useful one, allowing Bartoldus to delve deeply into topics without producing the proverbial comprehensive mega-biblion. Since he is an unabashed enthusiast for Palladius, his selected passages tend to be those which show Palladius at his best and most original, though not exclusively so. His greatest merit is to discuss Palladius' advice not only vis-à-vis the other ancient scriptores rei rusticae, but also in the light of ancient farming practice as revealed by archeological and historical sources – and indeed in the light of modern farming practice. To this end he deploys a huge bibliography. Where other commentators sometimes make vague claims that such-and-such a technique 'is still practised today', Bartoldus properly gives chapter and verse. A few examples will illustrate Bartoldus' approach. Palladius counsels, from his own experience, that quince trees need pruning, and that they can be planted in the vicinity of Rome in February or early March (3.25.20–22); Bartoldus justifies both statements with reference to modern authorities (126–27). Palladius recounts the advice of a fellow farmer that birdlime will help grafts to take (3.17.6); Bartoldus cites modern experiments validating the advice (136). Palladius is the only ancient authority to recommend a gravity-fed system for distributing must from the pressing-floor directly into storage jars, a system partially paralleled in a villa excavated at Boscoreale (Bartoldus 159). Palladius notes that pigs can be used for weeding a vineyard, and that they 'equal the diligence of a human digger in attacking the grass' (3.26.5); Bartoldus has talked with an Apulian vine-grower who uses them for this purpose. (Sheep and geese are more widely used in organic vineyards today, but for a somewhat different purpose, viz. grazing down the grass and weeds, whereas pigs will root them out with their snouts, and aerate the soil in the process.) Bartoldus' advocacy of Palladius also involves defending him against unjustified accusations of error. At 12.7.19 Palladius has been accused of misreporting his source, Gargilius Martialis, on the kind of soil suited to sweet-chestnut trees; Bartoldus shows convincingly (135) that the error was that of Cardinal Mai, Gargilius' editor, who mispunctuated the relevant sentence of Gargilius. Similarly Bartoldus follows Rodgers (Introduction to Palladius 96–97) in defending Palladius against charges that he miscalculated the size of a juger. In his first chapter, on 'life and times', Bartoldus takes up a suggestion made by Caspar Barth, that our writer is none other than the Palladius described by Rutilius Namatianus in ad 417 as a young relative travelling to Rome to study law. He also argues for his identification with the Aemilianus who was praefectus urbis in 458, and with the Palladius who was Bishop of Bourges 462–c. 470. It will be interesting to see how experts in the prosopography of the late empire evaluate these very detailed arguments. Since Palladius, in referring to his farm in Sardinia, gives no hint of the Vandal occupation of that island from 455 on, Bartoldus argues that the Opus Agriculturae must have been written before that date – not, for example, as late as 460–80, as René Martin believed. Does Palladius' book reflect the social and economic conditions of his day? As a farmer's farmer, he says very little about such matters. Consequently there is a tendency, in discussion of this question, to over-interpret what little he does say. Bartoldus flirts with this danger in his concluding chapter. He argues that the late-imperial development of huge estates is reflected in Palladius' envisaging of three levels of farm administration, viz. dominus and procurator (1.36.1) and agri praesul (= vilicus, 1.6.18). But 1.36.1 envisages the presence of the dominus or (not 'and') procurator: if the dominus is absent, he may put in a procurator. And since both passages are based on Columella, they can hardly be claimed to reflect conditions peculiar to the late empire. Again, Bartolus argues that the late-imperial tendency to economic independence on large estates (Autarkie) is reflected in Palladius' advice to have blacksmiths, carpenters, potters and coopers on the farm, to avoid the need for farm-workers to visit the city to obtain such products (1.6.2). But the passage is based on Varro (1.161.4, via Geoponika 2.49), and therefore reflects conditions in the first century bc. as much as the late empire. Fortunately this kind of positivism is largely confined to Bartoldus' brief Conclusion, and does not colour the rest of his work. Palladius' work was the main channel through which ancient agronomy passed into the Middle Ages and beyond, and Bartoldus recounts both familiar and unfamiliar details of this fascinating story. [It is a great pity that he does not know the ground-breaking work of Mauro Ambrosoli, which would have enabled him to say more about the reception of Palladius by people engaged in practical farming: English translation The Wild and the Sown: Botany and Agriculture in Western Europe, 1350–1850, Cambridge, 1997. He shows how Palladius became an important component in the German tradition of Hausväterliteratur in the seventeenth century, particularly through the writings of Johannes Coler. He also demonstrates that Augsburg was a hotbed of Palladius-reception in the sixteenth century, with several ancient MSS and early humanist editions or translations present there. There is a nice Augsburg patriotism visible here, since Bartoldus' work was an Augsburg dissertation in 2007, and is published (quite attractively) by Wißner-Verlag of Augsburg. Bartoldus' combination of learning with enthusiasm is infectious. Elsewhere I have lamented the paucity of English scholarship on Palladius. I hope that my English translation of him, due to appear shortly, will serve to stimulate new work. Bartoldus demonstrates what might usefully be the goal of such research: to understand Palladius not only in relation to the other ancient auctores, but also in the context of the age-old and ever-new tradition of organic farming. JOHN G. FITCH Steven E. Sidebotham: Berenike and the Ancient Spice Route: University of California Press, 2011: 434 pp., hardback, £29.60. Raoul McLoughlin: Rome and the Distant East: Trade routes to the Ancient Lands of Arabia, India and China: Continuum, 2010: 236 pp., hardback, £65.00. I'm all the better for reading these two books and I'm happy to have them on my shelves. Starting with different perspectives, they overlap rather usefully. They tell me much I didn't know and they help me to find out more. I trust them up to a point: not quite on everything. Sidebotham begins from the ancient port town of Berenike, founded by Ptolemy II of Egypt and further developed under the Romans. It lay at the extreme southeast corner of the ancient Roman Empire and of modern Egypt. He has been excavating there for ten years and he knows this extremely odd site like the back of his hand. It was a bustling place, a hub of long-distance trade, but desert-bound and unable to survive independently from year to year. The relief staff, much of the basic food and drink, and practically everything else, had to be carried in by camel and donkey caravan along a twelve-day mountain trackway from the Nile valley. The track itself, traversing uninhabited country, had to have relay stations that were secure against tribal marauders and reliably supplied with water. From this almost-extraplanetary base Roman ships plied the ocean route, taking gold, silver, the best Mediterranean wines and the finest European slaves down to southern Arabia, across to India, and even beyond, and bringing back the legendary spices after which that UNESCO-defined route is now named. It's a very big book, and if you're more interested in the foods and wines than the other things you will skim over some of it, noting meanwhile that Sidebotham knows what he's talking about. He's written a fair bit of this before, but here it all is in one package. You will see how this ancient trade grew and how it declined: you will make an armchair tour of the Red Sea and Indian Ocean ports with which Berenike dealt; you will inspect the cargoes, weigh the gold and sneeze at the pepper; you will admire the ships with their teak timbers. Both teak and peppercorns survive in Berenike's arid soil. McLoughlin's must have been the most ambitious dissertation of 2006: Roman relations with central Asia and China, southern Arabia, eastern Africa, India and south-east Asia, including both trade and diplomacy, over four centuries. The sources are numerous and hard to grasp. Foregoing scholarship is vast and belongs to many academic fields with different approaches. He sets it all out systematically and he quotes liberally from the texts. As you read McLoughlin you will trace the seaways of the Indian Ocean, the trackways of Arabia, the long and difficult route that coasted Indochina and reached the southern edge of China; you will, of course, be guided along the Silk Road through the Parthian Empire, Bactria, Sogdiana and the Taklamakan desert to make your way eventually to the Chinese capital, thus described in one Greek source: At the extreme north, where the sea ends, lies a very great inland city called Thina from which silk floss, yarn and cloth are brought on foot … It is not easy to travel to this Thina: rarely do people come from it, and only a few. The place lies directly under Ursa Minor. Most engaging, I found, are McLoughlin's detailed narratives of the most adventurous of recorded ancient travels – the trader Titianus Maës who reported the length of the Silk Road (having sent sidekicks to complete the journey), the freedman (name unknown) who was blown off course and became the first Roman to set foot in Sri Lanka, the Alexandros who, having crossed the Malay peninsula, was surely the first Westerner to see the South China Sea, and Gan Ying, Chinese envoy to Rome, who got as far west as the Persian Gulf where, homesick no doubt, he was persuaded by his hosts to turn back. Some of these narratives worried me a bit. Keen to make links across the wilderness of texts, McLoughlin believes he knows the Chinese dénouement of the Maës story, he believes he knows the name of the Ceylonese king who greeted the Roman freedman, and he believes that the mysterious seaport of Kattigara, Alexandros's destination, was in Borneo. I'm not so sure of these things, but I thank him for the possibilities and for the source texts. McLoughlin's bibliography is very rich. The richness of Sidebotham's is as the wealth of Croesus, sixty large-format closely-printed pages. Why? Partly because one must cite everything: McLoughlin dared not leave anything out of his dissertation, and it's a pity there was no supervisor or copy-editor to advise him not to say 'details available from the British Library', words from which one gathers he hasn't seen a few of those books himself. Partly because one cites more when slightly out of one's depth: step forward, Vehling's translation of Apicius, a bad book in 1936, superseded in 1958, doubly superseded today, but there it was on Sidebotham's bookshelf and what should he do but use it? Partly because so much new research in all relevant fields is being published year by year: ancient Indian Ocean trade was described 15 years ago as an emerging field, but you couldn't say that now. And partly because we all write a bit too much. But never mind that. Read McLoughlin on ancient travellers; trust Sidebotham on Berenike. ANDREW DALBY William Sitwell: A History of Food in 100 Recipes: Collins, 2012: 352 pp., hardback, £20.00. If you like your facts in bite-sized chunks, then this is the book for you! Almost certainly inspired by Neil MacGregor's excellent History of the World in 1000 Objects, William Sitwell, food writer and editor of Waitrose Kitchen magazine canters through four thousand years of food history from bread and beer in ancient Egypt to Heston Blumenthal's Meat Fruit today. However, the term 'recipes' seems a misnomer, as this is not really a cookery book as most would understand it. Each short chapter begins with a 'recipe', which is used to provide an insight into the position of food at that particular time, and as such, is as much a socio-cultural history as a culinary one. The recipes are in chronological order beginning with the ancient world and progressing though the Middle Ages, Early Modern, Georgian, Victorian and right up to the current era complete with Jamie Oliver and Delia Smith. Many of the foods discussed have a distinctly British flavour such as Oxo, roast beef, Yorkshire puddings and jam roly-poly, but others are drawn from around the world including the USA and Europe and from all time periods. The book is liberally cross referenced, and has a useful bibliography and website list. It is well illustrated, using both line drawings and historical documents including advertising material. One delightful illustration from General Electric shows a woman in hat and gloves gazing longingly at an open and empty refrigerator while her husband (in suit and tie) looks on! Irritating as the jokey, journalese prose can be, William Sitwell has written an accessible book for general readers who may well find some nuggets of food history that had escaped them in the past. MARILYN JONES Salma Hage: The Lebanese Kitchen: Phaidon, 2012: 512 pp., hardback, £29.95. I love Lebanese food, especially the mezze, and I was delighted to see that this book has a huge chapter, nearly 128 pages, of mezze and salad recipes alone. I am in heaven. There are other chapters on soup, fish, meat, vegetables, breads and pastries, desserts, drinks and pickles and jams. Talking of huge, this is a hefty book, certainly not one for bedtime reading. Its place is in the kitchen, as its title suggests. It is a hands-on book written by Salma Hage, originally from the mountains of the Kadisha Valley in northern Lebanon who, in the time-honoured way, learned cooking from her mother and grandmother. Salma emigrated from Lebanon to England in 1967 with her husband and young son. Here in London she first worked as a kitchen-hand and then worked her way up to the role of head chef for a large catering organization. But, in her own words, 'I'm a professional English cook … but at home … I cook Lebanese.' Her book is a treasure trove of enticing recipes. There are many old favourites of mine such as baba ghanoush, several kinds of hummus, tabbouli, but also some inspiring new ones to try such as eggplant (aubergine) and pomegranate salad and red cabbage and pomegranate. For those who have a sweet tooth there are many delicious pastries and desserts although I wonder if some of them (including some recipes in other parts of the book) may have been influenced by Salma's training as an English cook: – does that matter? With beautiful, vibrant photographs and recipes straight from the heart, this book will be an inspiration for people who want to try something new and different but also a great resource for all of us who love Lebanese food. Browsing through the pages there are so many enticing recipes beckoning to be tried. HELEN SABERI Jane Hornby: Fresh and Easy: What to Cook and How to Cook it, Phaidon, 2012, 351 pp., hardback, £29.95. This is the author's second book, offering her selection of 'spring and summer classics', the 'Fresh and Easy' of the title, following her previous and popular What to Cook and How to Cook it. She trained at Leith's School of Food and Wine and has an established reputation as a food writer, notably with the BBC Food Magazine. This is a large and weighty tome, with the presentation aimed at less experienced cooks who wish to provide lively food for themselves and others, and are in need of clear advice regarding the required ingredients and detailed instructions as to how to handle them. A lengthy introduction gives advice on how to approach recipes, tips on successful outdoors eating, acquiring kitchen equipment and the buying and storing of food items. The chapter arrangement is by meal occasion rather than courses or main ingredients, and moves from Breakfast and brunch and Quick lunches and suppers through Picnics, Food for friends, Sides & salads to Desserts & baking. The abundant provision of colour photographs for each recipe is a prominent feature. They include a display of the ingredients, shown in the size and quantity required followed by the details of the method, with pictorial coverage of the different stages, and concluding with a view of the completed dish. The photographs are taken with a clear and practical intent. This tends to give the book a somewhat textbook feel, but they usefully illustrate the comprehensive accompanying text. The style of cuisine is fairly heterogeneous in that there is widespread dipping in and out of various national cuisines, or at least the ingredients associated with them. The salad section includes dishes based on pasta and pastry. Food for friends includes Duck and pineapple, and Chicken and quinoa, and Barbecues have Mackerel with orange and radish, and Chimichuri-style burgers. The author has an enthusiastic following since the appearance of her earlier book, and many will welcome a second volume written in the same helpful way. JENNIFER STOREY Alan Borg: The History of the Worshipful Company of Cooks: Jeremy Mills Publishing, Huddersfield, 2012: 242 pp., illus., hardback, £30.00 For some six hundred years, between the fourteenth and nineteenth centuries, all professional cooks working in the City of London had to have their training, qualifications and trade practices approved by their Guild, incorporated as the Worshipful Company of Cooks in 1482. Unfortunately much of its archive was destroyed by fire in 1771 and in the Blitz, the only readily available descriptions of its past being the history published by F. Taverner Phillips in 1932, with subsequent volumes in 1982 and 2002. There was still a great need for a single book to draw all the available sources together to present a full, authoritative, readable and fully illustrated history of the company. This has now been admirably achieved by Dr Alan Borg, formerly Director of the Victoria and Albert museum. The quality and range of his scholarship is excellent, while the standard of the book's large-format design and production makes it a real pleasure to handle. It is impossible to adequately describe either the depth or the breadth of its content in a brief review such as this. However, it commences with an account of the origins of the Company, its development under the Tudors, Stuarts, Commonwealth, and on into the nineteenth and twentieth centuries. During the latter period much of its regulatory function was absorbed into national and local government organizations, but it continued its role as a social and charitable institution. It supported the National School of Cookery in the 1870s for example, and is still actively involved in the training of young cooks and in lectures exploring modern food issues. As the story of a City Company, it includes much information on the Cooks' regulations, practices, liveries, artefacts and ceremonials, but there is a great deal more of interest to the food historian, with interesting references to foods, meals and individual cooks. The range of full-colour illustrations taken from sources of all periods is also extremely useful. As an example of Dr Borg's detective work, the city of Hull's fine portrait of John Smith, its mayor in 1563, is now revealed to be of John Smythson, Master Cook to Elizabeth I, and perhaps the finest surviving portrait of a great English cook. Although we must regret the violent loss of so many of the Company's records, which would have greatly informed our knowledge of generations of cooks, we must be extremely grateful to all concerned in the preparation of this timely volume. It should be on the shelves of everyone interested in the history of English food. PETER BREARS Lizzie Collingham: The Taste of War. World War Two and the Battle for Food: Penguin Books, 2012: 634 pp., paperback, £12.99. I was reading two perfectly harmless, indeed captivating, books about France and Europe at the time: Coryat's Crudities and Lady Morgan's France, but had to put them to one side as I pursued the gripping narrative of this book by Lizzie Collingham, hitherto known as the chronicler of curry. The book is so big, so important, so enthralling, that I can't really write a review. The only thing I can do is suggest you read it. There is now, as I have noted, the Penguin paperback, which reads and handles very well. Even though it's very long, the spine does not break. Perhaps my book of the year so far. Steven Poole: You Aren't What You Eat: Aurum Press Limited, 2012: 200 pp., paperback, £7.99. A little firecracker of a book which keeps exploding from start to finish. Highly recommended. There is a little doubt that the foodist world is ripe for ridicule on the one hand, and engagement on the other. There's nothing wrong with liking what you eat, and indeed occasionally thinking about it, but there's plenty wrong with the various hyperbolic statements that accompany these actions. Steven Poole calls us to order. It's interesting to reflect whether there is something sinister in our current preoccupation with food. Although there might be, there probably isn't. You've got to think about something and we lost a lot of thinking matter when we threw God out the window. But there is no need to erect food as another God: God forbid. Katarzyna J. Cwiertka: Cuisine, Colonialism and Cold War: Food in Twentieth Century Korea: London, Reaktion, 2013: 236 pp., illus., hardback, £25.00. We know the author from her previous book (also Reaktion) on the modern history of Japanese cookery. She is methodical, has an eye for the larger picture, and writes clearly. Her work on Korea is quite similar when expressed as a brief. The twentieth century history of Korea is turbulent, including plenty of wars and invasions, masses of foreign influence, and oodles of change. She lays this out so that even those unfamiliar with the country can understand them. She is very good on the influence of industrial processes on food, and enlightening on things such as the history of soy sauce and other flavourings. Korea of course exerted its reciprocal influence on the invaders (Japan) as well as beginning to export its culinary products and achievements to the wider world: hello kimchi. Recommended. Fiona Bird: The Forager's Kitchen: CICO, 2013, 192 pp., hardback, £16.99. Fi Bird is an energetic agitator for the better nourishment of our children, either by means of education, or better cooking. Her publisher's notes on her state she is 'a graduate of St. Andrews university, mother of six, and a past finalist of the BBC television series Master Chef … Fiona divides her time between the stunning Scottish glens of rural Angus and the Outer Hebridean island of South Uist, where her husband is the island doctor.' You would think she didn't have time to write books, but no, she has composed this excellent book on wild foods and what to do with them, and it's really instructive. Who would know that you could make a chocolate pot flavoured with sprigs of Douglas fir? Who knows what to do with all those seaweeds? Who knows you can make fritters of sweet cicely flowers (or even seeds), just as you do elderflowers? Thoroughly recommended. Judith M. Spicksley: The Business and Household Accounts of Joyce Jeffreys Spinster of Hereford 1638–1648: Records of Society and Economic History New Series 41, British Academy, 2012, 414 pp., hardback, £85.50. This is my book of the month. Joyce Jeffreys was quite well off. A comfortable spinster until the Civil War interrupted her way of life. Equipped with some inheritance, enough to make a goodly capital, she lent her money out charging 8% all the while. This income, plus revenue from farms she had in her direct control, was sufficient to enable her to build a house in a Hereford suburb and clothe and feed herself and her household in the manner to which she was accustomed. The accounts detail her income, particularly from financial dealings, and cover many of her outgoings, although of course leaving many gaps, for instance relating to daily expenditure on food and big building costs. With accounts, it seems to me, you just have to take what they give and not regret the omissions. And I can't tell you how much these yield in fascinating detail, from money spent on thrushes to sing in her parlour, to donations to the man who keeps dogs out of church. I could go on and on and on. The edition is careful and instructive, even if the book is a trifle dear. Bravo! Andrew Coe: Chop Suey: A Cultural History of Chinese Food in the United States: Oxford University Press, 2009, 303 pp., hardback, £15.19. Chinese food has a long history in America dating back to the first contacts at the turn of the eighteenth and nineteenth centuries and getting into gear with the arrival of Chinese emigrants in the second half of the nineteenth century in California. It's full of wonderful descriptions of early meals and early restaurants and goes on from the gold rush west to analyse the spread of Chinese restaurants through the whole of the Union. He takes the story to the present day although the last fifty years are despatched in as many pages, the bulk of the narrative tracing those early contacts. The conclusions are a mite depressing, his closing sentence reading: 'Like their ancestors fifty and a hundred years ago, most Americans still expect Chinese food to be cheap, filling, familiar, and bland.' Parallels are not hard to find with British and French experience. Move beyond the Chinatowns of the biggest of our cities and that's pretty much what English and French customers expect too. Morton Satin: Death in the Pot: the Impact of Food Poisoning on History: Prometheus Books, 2007, 258 pp., hardback, £24.95. Here's a knock-about for you to enjoy. Twenty ways to die (maybe even more) from eating your cooked breakfast. Revising as I am Alan Davidson's deathless Companion, I am mindful of his unwillingness to stress the downsides of ingestion and whereas I see a potential outrage at every turn, he would concentrate on the pleasing flavour. So my tentative revisions are full of botulism and clostridium and a book like Morton Satin's is grist to my depressive mill. It's also good fun and interesting. My favourite is the French archaeologist who investigated the coprolites of the royal latrines at Marly and reported on the very high level of parasite infestation among Louis XIV's court. Jeanne Pierre Poulain: Dictionnaire des cultures alimentaires: Presses Universitaires de France, 2012, 1465 pp., paperback, £33.35. This book is too big and too learned for me to review. However, I counsel its purchase if you want an up-to-date summary of opinions and approaches among anthropologists, sociologists, modern historians, and ethnographers (actually not many ethnographers). Mindful, yet again, of the Oxford Companion I am intrigued by the contrast between these two encyclopaedic works. In the French there are no articles on foodstuffs (or very few); in the English, there are not too many articles on gastronomy and related topics. The French, for example, have eleven closely printed pages on Gourmandise and then another six pages on gastronomy. These would not go down well with Alan Davidson. The French do have lots of country entries, some exceptionally long, with some strange omissions. They have Russia, but they don't seem to have the United States. What they do have, in spades, are lots of articles about every aspect of food culture that you can think of, and the length of these articles sometimes appears to reflect the enthusiasm of the authors more than the importance of the subject. Given that many of them are sociologists, it is quite hard to understand (it would be bad enough in English). But here is real food for thought. Jojo Tulloh: The Modern Peasant: Adventures in City Food: Chatto & Windus, 2013, 320 pp., paperback, £12.99. We have always approved of everything that Jojo Tulloh has written: you can follow her columns in The Week. As time went by she obviously got bored with just journalism and took to an allotment in east London: and don't think that this is just a five minutes a week job. Her first book was enlightening and this one takes the business of food production up a notch. It kicks off (one very good reason for notice here) with a portrait of Patience Gray and her life in southern Italy. She went down to Spigolizzi, wrote a lovely article on her trip and re-cycled it for her preface here. The book takes us through most aspects of subsistence cookery: there's a good chapter on pickling; helpful instructions on salting cod or bacon, although she stops short of smoking salmon, visiting instead Ole-Martin Hansen in Stoke Newington who has set up his own smokehouse. Peasants don't mess about, so we have recipes for brains, for faggots, for rillettes, and lots of wild mushrooms. Moving on to the brewhouse, ginger beer, sauerkraut and kimchi are usefully described, as well as an instructive section on making tofu. She's pretty instructive on cheese too. The writing is clean, sensible and enthusiastic enough to give you heart. What Steven Poole (above) would make of it, I am not sure, but it does not resort to hyperbole. Jan Gross: Jam Dreaming: Sid Harta Publishers Pty Ltd., 2011, 382 pp., paperback. Australian readers may already have seen this book published in Victoria and other subscribers have read a couple of pieces between these covers. This is a novel with food, a Bildungsroman where young Eileen (an aborigine) pursues marker-dishes through the agency of Mama Jocsdi, a deli owner in Melbourne. Jan Gross's writing is ever readable, nicely allusive and usually full of memory. Of course, she has a lot to remember, having lead a full and rich life in worlds far distant from writing mere novels. Roberta Gilchrist: Medieval Life. Archaeology and the Life Course: The Boydell Press, 2012, 336 pp., hardback, £30.00. This is a material culture book. I had hoped for information about food and cookery, but didn't get much. It is an extended discussion of archaeological discovery and the way in which the things discovered relate to the human life span (and beyond). That is to say, birth, sex, everyday life, death. The book suffers from an excess of material culture theorizing. But nonetheless contains some quite pleasing notes of very pleasing artefacts: a double-ended ear scoop; a plethora of amulets; dice and counters; various bits of jewellery and knives and spoons; and some pots. As your homework project for the day, could you please discuss the following: 'The permeability of the person/object boundary is also demonstrated by the process of objectification, when the agency of persons and things becomes entwined.' There are many such sentences and their meaning is sometimes a nice thing to consider when chopping logs. Lucy Lethbridge: Servants: A Downstairs View of Twentieth-century Britain: Bloomsbury Publishing Plc, 2013, 385 pp., hardback, £20.00. Highly recommended. A most entertaining and thoughtful romp through the world of service up to about 1950. We, the modern reader, find the subject a constant wonder, hence perhaps the success of Upstairs Downstairs and Downton Abbey. Ms Lethbridge has read widely and deployed her evidence with skill, and a telling eye for an anecdote. If your memory for jokes is short, each one is a winner, though some have been told before. I enjoyed (again?) the tale of the servants' plate-scrapings and leftovers being swept into a single dish, sweet and savoury commingled, because the poor won't notice. She has a good eye too for early signs of bolshiness in the British proletariat and the contempt expressed by the real workers for liveried servants when they strayed beyond the confines of their employment (shopping for instance, or walking down a market street). She also navigates the various differences in practice and attitude of the employing classes, for the history of service among the aristocracy is mighty different from that among the bourgeoisie. My regret is that the book stops, effectively at least, with the 1950s, because the tale I hoped to hear as well was the astonishing growth of domestic service in contemporary Britain. Think of the au pairs, the Spaniards (in the '60s), the Filipinos and now the Poles, eastern Europeans and ex-colonial travellers. The Economist had a nice piece on servants a year or two ago (comparing Brazil today to inter-war Britain on the service question) and it remarked 'According to Britain's Office for National Statistics (ONS), household expenditure on domestic service hit a low point in 1978, since when it has quadrupled in real terms. It estimates there are as many domestic workers in London now as in Victorian times. But everything except the raw number has changed. Few live in employers' houses nowadays; many are self-employed, providing specialist services such as dog-walking or oven-cleaning to multiple customers. More work in institutions such as nurseries, rather than in private homes. Some are well-qualified and earning good salaries: professional couples look for educated nannies with qualifications in first-aid and the like, and pay accordingly. Not included in the ONS figures are the factory jobs that have replaced service jobs. Instead of employing housemaids and cooks, for instance, busy householders buy the output of workers chopping and bagging salads and cooking ready meals.' So there is quite a lot for us all to discuss on the question of modern servants, although the facts and figures are not easy to recover and there's not much lovely literature, memories and correspondence to quote from. Peter Brears: Traditional Food in Northumbria: Excellent Press, Ludlow, 2013: 285 pp., illustrations, hardback, £19.99. Peter has done it again, this time for Northumbria – thanks, perhaps, to encouragement from his friends at Beamish Open Air Museum. Excellent Press has done him proud on the production and presentation, and his own drawings (plus some black and white photographs and prints) are their usual eloquent selves. What I like about Peter's writing is that he is definite, precise and clear. He tells you what's what and no mistake. And his recipes are given straight (often, of course, from impeccable sources). It would be difficult to identify the extra-special bits but mention must be made of the discussion of kitchens, grates and fireplaces, of the meals connected to churches, chapels and rites, and the festival foods of the region. Good sense prevails, old wives' tales are bid good riddance and there is much to ponder about the region and its relation to the wider country. Remind me not to ask for Fadge in a north country restaurant. Rather as in that great film Les Diaboliques, I am sure that it is Peter Brears standing in the back row, holding a rope, in a picture of a pig-killing at Rookhope in the 1920s. Peter Naccarato and Kathleen Lebesco: Culinary Capital: Berg, 2012: 146 pp., £19.99. Signe Rousseau: Food Media: Celebrity Chefs and the Politics of Everyday Interference: Berg, 2012: 196 pp., £19.99. Shelley L. Koch: A Theory of Grocery Shopping: Food Choice and Conflict: Berg, 2012: 134 pp., £19.99. Jane Fajans: Brazilian Food: Race, Class and Identity in Regional Cuisines: Berg, 2012: 148 pp., £17.99. Richard Wilk and Livia Barbosa, eds: Rice and Beans: A Unique Dish in a Hundred Places: Berg, 2012: 282 pp., £19.99. My interest was vaguely piqued by the slightly misleading title, Culinary Capital, expecting as I was a revelatory study of the food of a particular capital. Sadly this slim volume offers no such thing. Instead Culinary Capital slides neatly into that already densely-populated genre so prolific in today's non-fiction canon: that of stating the blindingly obvious. Culinary capital is defined as an individual's right to exercise the power of choice in dietary preferences, thereby asserting their culinary capital. This 'power' is then analysed and linked to Marx's idea of capital, Foucault's idea of power and the body, and an ominous notion of the Self (always beware the capitalized Self). If you baulk at the names of such erudite cultural and social theorists, they are skipped over by our authors here as lightly as a fairy over a puddle. Chapter two then analyses this definition of the Self through our eating preferences (Fixing Dinner/ Fixing the Self) and exemplifies the fine art of saying exactly the same thing in a slightly different way. Particular highlights and insights here include: 'whilst we spend more and more time saturated by food-media, we spend less and less time preparing our own food at home.' – Well I never! – and a cameo from that pioneer of stating the obvious, Michael Pollan. In summary, if you're after new and uninteresting ways of describing and analysing every inconsequential thing about food and diet that you already knew but never deemed worthy of thinking about (because it's not), then this is the book for you. Berg's next offering appears to at least have a sense of humour about itself; charting the rise of food TV, and devoting an entire chapter to Jamie Oliver (with sub-sections for his Twitter output and magazine of course) and to Nigella Lawson's rise as the progenitor of the phrase, 'food porn'. Analysing every aspect of food media, from Twitter to blogs to TV, this study is slightly more enlightened and self-aware than Culinary Capital, with the two final chapters providing insight on obesity and eating disorders and the viewing public's 'morbid fascination' concerning such matters. The mitigating factor here is that the author appears to be as incredulous as to the current state of things as we are at PPC; it's just a shame she felt such feelings warranted 195 pages. To Tesco, with love. Sally J Koch's Theory of Grocery Shopping really does take the biscuit. (Or does it take the biscuit? Maybe it's only taking the biscuit because Tesco's product placement that week has ensured that brand of biscuit will get taken – who knows? Sally J Koch knows!) Ah the conflict, the inner torment one feels in being presented with four different types of ginger-nut. A literary equivalent of Supermarket Sweep with analytical pretensions, this bizarre book talks us through 'the work of grocery shopping', its 'division of labour' and such fascinating areas of discourse as 'supermarket design'. Also included are 'notes from real life', and a section on 'efficient housewife discourse'. Other (visual) highlights include photographs of shopping lists. Jane Fajan's book explores the food of Brazil and its role in the formation of identity at regional and national levels. The book focuses on a few key dishes in Brazilian cuisine and explores their history in regard to regional variety and identity construction. The book is instructive and enlightens an area of cuisine still under-explored, with some nice photos of food and ingredients from the author. Rice and Beans is an interesting little collection of essays exploring the place of the pulse in cuisines around the world. Essential as they are to African and Asian cuisine, the little grains and beans have a chequered history of application, and this collection of essays covers a great amount of ground, offering much in the way of interest. Highlights include an exploration of the red bean's place in the cultural history of New Orleans. LETITIA CLARK Heather Falvey, ed.: The Receipt Book of Elizabeth Dimsdale, c180o: Hertfordshire Record Publications 28, Hertfordshire Record Society, 2013: 264 pp. hardback, £22.00 (ordering: info@hrsociety.org.uk) The Dimsdales were a giant dynasty of Hertfordshire doctors dating back to the early eighteenth century. One of them, Thomas (1712–1800) not only practised in Hertford, but also went off to Russia to inoculate Catherine the Great for smallpox and was made councillor of state for his pains, as well as a Russian baron. Later on he was MP for Hertford in the 1780s and wrote extensively on inoculation. He married as his third wife his much younger cousin, who had been part of his household as a sort of housekeeper, Elizabeth (1732–1812). In her sixties, not therefore as a blushing young bride, she wrote down a collection of recipes. Heather Falvey has done a grand job of transcribing and annotating them, not so much for their culinary content as for their context. The Baroness borrowed extensively from her friends and acquaintance and these, as far as possible, are identified and discussed. There is also an excellent glossary. The Baroness travelled to France as well as to Russia in the 1770s and 1780s (her Russian diary has been published). So people will be pleased to see her recipe for Sauerkraut, and for Russian cucumbers which was told her by Yakov Ivanovich Smirnov (1754–1840) Ukrainian chaplain to the Russian church in London from 1782–1837. There is also a goodly selection of recipes obtained from France, from a M. or Mme. Daubigny and Mme. De la combe. From the provenance of the recipes and the culinary annotations that besprinkle them, this is a manuscript recipe book that well deserved publication and we owe Dr Falvey an honourable debt for her undertaking.