PPC 96 (August 2012)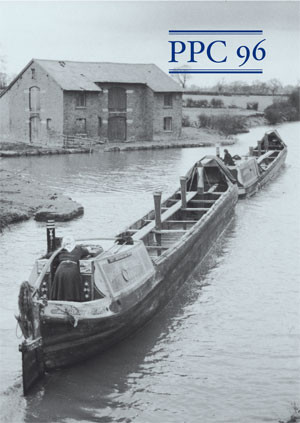 PPC 96 (August 2012)
 

Contents

Buy an individual article as a PDF PPC 96 is only available as a PDF so please note we can only supply a PDF if you use the BUY button below

| | | |
| --- | --- | --- |
| 19 | Food on the Move | Di Murrell |
| 33 | An Outline of the History of Capsicums in England | Malcolm Thick |
| 53 | The Lughnasa Platter: the Celtic Origins of Christmas Frumenty | William Woys Weaver |
| 59 | Achieving Authenticity in a Medieval Garden | Anthony Lyman-Dixon |
| 66 | Mistresses MacIver and Dabdoub Nasser Shake Hands | Steven D.P. Richardson |
| 72 | Zola and the Gorgons | William Sayers |
| 80 | Misplaced Passion | Sally Fincher |
| 88 | Finland, Home of Barley Porridge | Kyle McKibben |
| 92 | Against Terroir | Zachary Nowak |
| 109 | Book reviews |   |
NOTES ON CONTRIBUTORS
SALLY FINCHER is an academic at the University of Kent and writes regularly about food, cooking and eating for The Goods Shed, Canterbury's Farmers Market and Food Hall. ANTHONY LYMAN-DIXON owns and runs Arne Herbs, a nursery in north Somerset and writes widely on the history of herbs and plants. KYLE McKIBBEN was brought up near Glasgow, but defected to pork-eating Edinburgh in his twenties. He hates the goatiness of goats' cheese. DI MURRELL has spent much of her life on inland waterways here and in Europe. Once a proper narrowboat bargee, now she and her husband write about inland boating and teach barge handling from their base in Burgundy. See www.foodieafloat.com & www.bargehandling.com. ZACHARY NOWAK is the coordinator of the Food Studies Program at the Umbra Institute, an American university program in Perugia, Italy. He is co-editor of a blog on Italian food history (www.foodinitaly.org) and teaches courses in food history and the possibility of sustainable food. STEVEN D. P. RICHARDSON has worked fishing trawlers, tutored medieval history, been employed as a numismatist, and as an associate producer in arts and history television. Based in London, he is now a freelance writer and the author of the cookery app, telchef. WILLIAM SAYERS is Adjunct Professor in the Department of Comparative Literature at Cornell University. He writes on medieval western European languages and literature and works in collection development in the Cornell University Library system. MALCOLM THICK is an historian of gardening and agriculture. His life of Sir Hugh Plat, his study of the Neat House gardens, his introductions to William Ellis and William Lawson, will all be familiar to Prospect Books' readers. WILLIAM WOYS WEAVER is a food historian and Adjunct Professor at Drexel University in Philadelphia.
Preliminaries
DARTMOUTH HOUSING
I suppose it is in the nature of things not to stand still. Since arriving in Dartmouth in 1973, I have treasured the approach to this small town – stepped up one slope of a deep estuary valley – from the west or landward side. At night, you could speed across the plateau with not an inkling of the town over the escarpment. You came at it abruptly, there was a perfect edge to it. No longer. Year by year, it has extended its toehold on the higher ground. The site used to constrain its expansion: the town might become denser, but never larger. With motor cars destroying any sense of distance, all that has changed. Ribbon development is the rage. You might think this anathema, but not in Dartmouth. There will come a time when the town which started at the top of the hill – when Anglo Saxons were leery of riverside life – will end up at the top of the hill again, leaving the waterside for rich weekenders. Already the schools, half the churches, the supermarkets, the carparks, half the housing and the leisure centre are on the hilltop, and the lights of Dartmouth glow from miles away. Matters are getting worse with a proposal to build 400 more houses, of course on the summit. The idea stems from central government's urge to factor in more housing. That was in the days of John Prescott; news has just reached Devon. It doesn't matter where the dwellings are, just build them. Dartmouth is isolated: it is cut off by its river (no bridge), is 13 miles from the next town and anything like a main road. Four hundred houses means 400 full-time jobs and at least 200 part-time. Where? Dartmouth has no employment. If they are family houses, it also means a minimum of 500 new school places. Where? Dartmouth has one of the worst schools in Devon and it is small. Presumably the new inhabitants are expected to drive to everything: schools 13 miles away, jobs even further. It has taken the local authority two years to realize that this might be a problem.
A TASTE OF OLD ENGLAND
We lost our hot water system for a week or two in the coldest snap. This coincided with a visit from a company making a television programme about the life and work of Dorothy Hartley: no subject more deserving. It was therefore apposite that I was able to show them our giant water boiler, all in gleaming copper, that I had bought at Christmas. It holds five gallons, has the authentic long spout and tap so that you can draw water off without burning your fingers, and worked a treat on top of the woodburner (rather than off a hanger in the fireplace) keeping us in sufficient water to maintain a seemly life.
THE SENSE OF AN ENDING
The house has been echoing to debate about Julian Barnes's Booker Prize-winning novella and we thought we were unique, but in fact the discussions are happening everywhere near you. I could not grasp its qualities, save for the fact it was elegantly written. It did not benefit from brevity, there was no space to let a character develop; the action was incredible; the motives were inscrutable; where it should have had resonance (because author and reader went through much the same mill), it had none because the author misread entirely the motives and behaviour of his actors. Its discussion lubricated many dinners. I also reckon that the enjoyment gained by many from the now-notorious Geoff Dyer review is because readers found the universal praise lavished on the work did not quite match their experience.
CATHERINE DICKENS
The bicentenary of her husband has seen a welcome renewal of interest in Catherine Dickens. There is to be a television programme; there was the biography of her by Lillian Nayder; and there has even been a paean in her praise (and of her What Shall we Have for Dinner?) by Penelope Vogler in the Guardian. Ms Vogler is editor of the Penguin Great Food series, that strange set of a-historical historical revivals mentioned an issue or two ago. Her article seems to be a précis of Susan Rossi Wilcox's excellent study (Dinner for Dickens) which we published five long years since and which has never received the sales or the praise which it deserved.
TOMATA HONEY
We have all been enjoying a pot of tomato honey made by our son-in-law Paul Adams from an American recipe in Miss Leslie's Complete Cookery (1837) which was reprinted by Elizabeth David in her Omelette and a Glass of Wine. The tomatoes are cooked and strained through a jelly bag; the flavourings are lemon and peach leaves (or almond essence); it is heavily sugared. It tastes divine.
AMAZON
I was struck a blow when ordering Matthew Sweet's The West End Front: The Wartime Secrets of London's Grand Hotels (Faber, £20) to find that Amazon were offering it at £8, post free. The book, by the way, is good fun. He has been diligent in seeking out survivors; he has a journalist's facility for telling a yarn; his gallery of characters is eye-popping; the stuff on labour disputes at the Savoy is of value; its only fault is being slightly over-long. But the Amazon price. Which publisher can turn a profit with discounts like that? How do they do it? Which reminds me that publishers themselves are not innocent of market distortion. Not least, journal publishers. Which brings us on to the new proposals for open access for scientific research. It smacks of protectionism of the worst sort. Why there isn't 'Green' open access for all humanities and science is beyond me. There should be a strike by the entire academic world to force the publishers' hands. Just compare the prices of Presses Universitaires de France, below, to OUP.
OFF TO FRANCE
At the end of spring, we spent a week in Burgundy and a week getting there. Exposure to French hôtellerie and restauration was, as always, of great interest. Those of you with delicate constitutions had better now stop reading as I indulge in a moment's French-bashing. We were once again struck forcibly by the contrast between town and country. The towns, especially in northern metropolitan areas, seemed hyperactive. Parking was impossible, traffic dense, streets crowded. There was every bit as much a divide between the wealthy Parisian region and less populated parts as there is between south-eastern England and the rest of our own country. The change in small towns and villages in the face of rampant supermarketry and the decline of small-scale agriculture and its attendant services is also as noticeable as here in south Devon. The desertification of the great northern plains (farmers might call them prairies, but bird-watchers will prefer the term wasteland) was also something to behold. Fields of cereals stretching as far as the eye can see, with not a human (or any other wild life) in view. We tried hard to eat at and stay in places with some form of third-party recommendation, so reckon we were giving them a fair chance to show their proper qualities, but these were often not something to extol. When choosing a place to rest our heads, the most satisfactory solution seemed to be a characterful bed and breakfast operation. Alastair Sawday's guides are a starting point for these, as are the various associations of château proprietors. From these, you can find remarkable buildings and owners with personalities and taste. The level of comfort is often extremely high. Of course, you can draw the short straw of a place run by a madman or someone crazed by the concept of rules and regulation, but we were lucky this year. Unless you single-handedly rescue the Euro, hotels are only too likely to offer you polyester bed linen and dreadful pillows. Breakfasts in France seem to have embraced the self-service buffet system. I find this requires a depressing level of alertness at too early an hour as you fossick among a giant display of things you don't want to locate a croissant, some butter, some jam and so on. Croissants seem to have plunged still lower in quality; brioche is a better bet. Coffee, too, is not generally good. The Nespresso machine appears to have a stranglehold on many proprietors (even Marc Meneau at L'Espérance), the cafétière a lost art. Although by no means shy about room prices, the French cost of breakfast never ceases to raise the eyebrows. At L'Espérance (two stars in Michelin), a magical place, this was €28 per person for petit déjeuner simple and €34 for complet. Sated by the previous night's dinner, who would want more than coffee and a croissant? But to justify the exorbitant whack on the wallet the simple was a table laden with breads and fine home-made jams, tip-top butter, cherries, nectarines and strawberries, good yoghurt, crème caramel, poached pears, and a croque-monsieur if still peckish. That there are changes afoot in restaurants is exemplified by their sometimes odd approach to cheese. The chariot de fromages survives, but is not so universal as it was. We repeatedly came up against the croustillant de fromage as a substitute. This is a lump of cheese wrapped in filo pastry and baked in the oven. One particularly adventurous place had balanced the lump on top of a slice of pain d'épices before the final wrapping. Shades of deep-fried Camembert. Adventure for the sake of it was a common theme, when all one wanted was careful straight cookery. Mashed potato laced with pink grapefruit was one high point of this tendency, which was also evidenced by an urge to overcomplicate. Thus a fine dish of candied oranges was overpowered by an equally fine chocolate mousse. Apart, they would have been matchless; together, a mess (I confess to a horror of the combination). The need to elaborate (to seem to give value) is best seen in the multiplication of amuse-bouches, avant-desserts, intercourses, nibbles and extraneous matter popped in front of you when all you want is the meal you ordered. There was a time when they were really good (often better than the meal itself) but now, become compulsory, they are largely boring and no great advertisement of the chef's ability (and usually served straight out of the fridge). One evening we were constrained to eat in an Indian restaurant (which are multiplying). It was run by cheerful migrants from England, but the cooking was unrecognizable, even if the menus familiar. Some might aver the flavours more delicate, more refined. In fact they were bloodless, the spices almost imperceptible. Not for the first time, the ethnic alternative was not a solution.
THEODORE ZELDIN
It was with much pleasure that we read of the award of the highest category of the Légion d'honneur to Theodore Zeldin. One of the secret delights of our annual excursion to the Oxford Symposium is a fleeting encounter with this great man.
TESTICLES
While adverting to a planned public outing of Giles MacDonogh and myself in discussion about testicles and other offal at the Abergavenny Food Festival this September, I was passed this press report by Tony Brookes, maker of fine wine in South Australia. 'An Australian hoaxer left organizers of the world testicle-cooking championship hanging after claiming he was Australia's leading kangaroo testicle cook. A man calling himself Nigel Bevan failed to turn up after contacting organizers to boast of his credentials and order a supply of kangaroo testicles for the competition. Local villagers in Sumska Cuca in northern Serbia turned out in huge numbers to see what delights the Australian could come up with and a band was ready to play to welcome the mysterious Mr Bevan. The musicians were disappointed and the organizers were out of pocket after buying the kangaroo testicles with no one to cook them.'
MIKHAIL PROKHOROV FOUNDATION
Some, if not all of you will have heard of Darra Goldstein's decision to relinquish her distinguished editorship of Gastronomica. I believe it takes effect with the coming new year. So far as Prospect is concerned, an unexpected consequence is that I am to publish a Russian book by the late Yuri Lotman and Jelena Pogosjan which is entitled (in our language) High Society Dinners. A Panorama of Life in the Capital and treats of the manuscript archive of the Durnovo family in St Petersburg in the mid-19th century inasmuch as it relates to food, cookery and entertainment. The book was first published in 1996. Lotman was an extremely distinguished cultural historian. Darra Goldstein is to provide the introduction and Marian Schwartz the translation. When the project was mooted I protested that Prospect had no funds to underwrite the labours of so many important people. It was suggested that I might appeal for funds to the aforementioned foundation, created by the world's twelfth-richest man (from gold and platinum says Forbes) and devoted to helping the greater dissemination of Russian literature. The Foundation has proved extremely generous and I am grateful for their support. The book may be expected in 2014. If any of you is keen to translate other Russian books, the relevant programme is called Transcript and may be further investigated at <http://www.prokhorovfund.com/projects/own/195>.
SALON DES LIVRES GOURMANDS, PARIS, MARCH 2012
I had another outing to Edouard Cointreau's Gourmand bookshow in a Paris that was slightly less cold than previous years. It is always interesting to see what new stuff is around, although the exhibitors from England and the United States are in very small numbers. The best thing was a stand from the Presses Universitaires de France which showed many books relating to food history, mostly from Rennes and François-Rabelais de Tours. I give below a list of their titles. This is the nearest they are going to get to a review in the immediate future, so I think it best to give you news of them at least. I bought them all for the Companion. There will be a few evenings' reading there. Note the very competitive prices of these books.
Nelly Labère, ed. Être à table au moyen âge: Casa De Velázqvez, Madrid, 2010, 279 pp., paperback, €24.00. Annie Hubert et Michel Figeac: La table et les ports. Cuisine et société à Bordeaux et dans les villes portuaires: Presses Universitaires De Bordeaux, 2006, 304 pp., paperback, €20.00. Florent Quellier: La Table des Français. Une histoire culturelle: Presses Universitaires de Rennes, 2007, 270 pp., paperback, €20.00. Robin Nadeau: Les Manières de table dans le monde gréco-romain: Presses Universitaires François-Rabelais & Presses Universitaires de Rennes, 2010, 494 pp., paperback, €24.00. Valérie Boudier: La Cuisine du peintre. Scène de genre et nourriture au cinquecento: Presses Universitaires François-Rabelais & Presses Universitaires de Rennes, 2010, 372pp., paperback, €20.00. Athéna-Hélène Stourna: La Cuisine à la scène. Boire et manger au théâtre du XXe siècle: Presses Universitaires François-Rabelais & Presses Universitaires de Rennes, 2011, 339 pp., paperback, €20.00. Martin Bruegel, Marilyn Nicoud & Eva Barlösius (eds.): Le Choix des aliments. Informations et pratiques alimentaires de la fin du moyen âge à nos jours: Presses Universitaires François-Rabelais & Presses Universitaires de Rennes, 2010, 260 pp., paperback, €18.00. Matthieu Lecoutre: Ivresse et Ivrognerie dans le France moderne: Presses Universitaires François-Rabelais & Presses Universitaires de Rennes, 2011, 395 pp., paperback, €21.00. Marc de Ferrière le Vayer & Jean-Pierre Williot (eds.): La Pomme de terre de la renaissance au XXIe siècle: Presses Universitaires François-Rabelais & Presses Universitaires de Rennes, 2011, 418 pp., paperback, €20.00.
I should also announce with pride that Giles MacDonogh's translation of Testicules came second in the Gourmand Food Awards, category Translation. I was interested to note the considerable price asked for the Robert Laffont series of French chefs' books (around 1500 euros for the full set). I also noted that while single volumes of these command a price of approximately 50–60 euros, the first edition of Alan Chapel's is 'très rare et très recherchée' and costs 150 euros. Why this should have been so rare and sought after by contrast to the rest of them, I don't know. (These prices come from the second-hand bookseller [with a stall on the Seine] Alain Huchet, 46 rue Gassendi, 75014 Paris.) Other antiquarian booksellers I should also mention are Henri-Pierre Millescamps, 7 rue Saint-Front, 24000 Périgueux, and Librairie Gastéréa from Lausanne in Switzerland (gasterea@citycable.ch). The other exciting development, which is in anticipation more than reality because I was unable to buy the books in Paris, is the astonishing output of the University of San Martin de Porres in Lima, Peru. They really do have a lot of interesting and exciting books on Peruvian food history. So many indeed, that I can only point you to the website <http://www.elblogdelfondo.com/search/abel/Libros%20de%20Gastronom%C3%ADa>. That address will get you to their gastronomy list.
SYMPOSIUM OF GASTRONOMY
The next Symposium in Australia has been announced for Sydney, 5–8 April 2013, the subject is 'The Generous Table' which explores themes of hospitality, sharing and social inclusion in an era of billionaire power, greed is good, anger and entitlement, privatization and 'no'. Michael Symons has sent me their call for contributions, though the deadline is 10 August, 2012 which may have been passed by the time you read this. What used to be called 'soup kitchens' have changed in interesting ways with charity meals providing not just nutrition but also community. The Loaves and Fishes Free Restaurant in the Sydney suburb of Ashfield will thus provide an appropriate venue. Operated by the Uniting Church's Exodus Foundation, the restaurant serves around 600 meals daily for the homeless and others in need. Separately, and also responding to requests at the eighteenth symposium in Canberra, the organizers invite considerations (papers, meals, panel discussions) of gastronomy itself. How is Brillat-Savarin's dream doing? Has the symposium done its job? As is usual with the Australian event, when they ask for contributions they're not just talking about papers, but also contributions of a more creative kind, be it cookery, performance or who knows what. For more information contact: sydneysymposium2013@gmail.com.
CORDON BLEU IN SYDNEY
While many of you will know of the Cordon Bleu involvement in gastronomical studies at the University of Adelaide, some might not be aware that the combination of the university and Cordon Bleu no longer operates and Adelaide continues its courses without an outside partner. Cordon Bleu itself now has a new partner in the Southern Cross University's School of Tourism and Hospitality Management. They are offering a Masters of Gastronomic Tourism. If you want more information about this, dial up <http://www.scu.edu.au/coursesin2013/>.
EDIBLE MUSHROOMS
As with most English people, I have never fully embraced the world of the wild mushroom. Anxious not to follow in the steps of the myriad French who made a dreadful error, conscious that I can walk through miles of woodland seeing nothing desirable where a practised hunter will spot a skipload, I prefer to leave the activity of gathering mushrooms to those more expert. But sometimes I do pick the inescapable: the giant puffballs, the chicken-of-the-woods, the big things we all know to be OK. Now I find that even that simplest fungus, the chicken-of-the-woods or sulphur shelf, presents a hidden menace. I quote Wikipedia: 'The sulphur shelf mushroom sometimes comes back year after year when the weather suits its sporulation preferences. From late spring to early autumn, the sulphur shelf thrives, making it a boon to mushroom hunters and a bane to those concerned about the health of their trees. This fungus causes a brown cubical rot and embrittlement which in later stages ends in the collapse of the host tree, as it can no longer flex and bend in the wind.' Sad to say, the high winds and rain of the last few weeks caused just such a collapse, of our largest oak tree from which I have merrily picked many a slab of the fungus. I should have retained my original suspicion of the order.
OXFORD COMPANION, 3rd EDITION
Life at Prospect Books may be occasionally interrupted over the next six months by my having signed a contract with Oxford University press to oversee the composition of a third edition to Alan Davidson's Oxford Companion to Food. A publisher needs constantly to refresh a book such as this to persuade bookshops to continue stocking it in the way it deserves. However, were the Press to lay waste the original in order to construct a wholly new and up-to-date edition, they would, in the eyes of almost all the readers, be throwing the baby out with the bathwater. So, as with the second, the third edition will be a conservative exercise, keeping Alan's gems while attempting some nod to the very rapid changes that have come about the world of food, food writing, and the appreciation of the table. Any corrections or ideas will be gratefully received.
ANECDOTE OF TALLYRAND
Mark Cherniavsky has sent me the following communication:
'I've recently come across an anecdote about Talleyrand at dinner in Paris, which I have never seen before in the usual sources. It appears in the 1787–1817 diaries of Frances, Lady Shelley (published for the first and last time in 1912) and caught the attention of Maria Polushkin Robbins, editor of the small Cook's Quotation Book – A Literary Feast published in 1983 by Pushcart Press in New York. I suspect that Lady Shelley's diary remained obscure until it was added to student reading lists and it has now been reproduced widely in inexpensive editions available from Amazon. I checked the quotation in Ms Robbins' book against the original in the diaries themselves and it is in essence the same. The date is August 25, no year is given but evidently the Duke of Wellington was in Paris just before the battle of Waterloo and accompanied Lady Shelley to dinner to mark the occasion. Lady Shelley was Frances Winkley by birth and married the heir to the Shelley baronetcy, thus becoming the poet's aunt. Her diary is a lively, colourful account of her socializing in Paris at a time when so many legendary figures were there to negotiate a lasting European peace. '… "Let's go to Crauford's and end with Talleyrand's" [the Duke] said.' After a number of other observations, Lady Shelley continues: 'At the beginning of the week we dined with Talleyrand. … During the whole repast the general conversation was upon eating. Every dish was discussed, and the antiquity of every bottle of wine supplied the most eloquent annotations. Talleyrand himself analysed the dinner with as much interest, and seriousness as if he had been discussing some political question of importance.' In my own experience of accompanying my foodie wife, Anne Willan, on special dining occasions, I have observed how the topic of cooking, eating and drinking can take over the entire conversation. I am encouraged that even such an august personage as the Prince de Talleyrand fell into the same habit and wonder if it is peculiar to the French? The British, I suspect, are still embarrassed by conversation about food and cooks, and prefer small talk about the weather. Or has the rise of celebrity chefs in England changed the dynamic of English table talk while dining?
PROSPECT BOOKS LATEST NEWS
For whatever reason there has been insensate activity at Prospect Books. We have published Andrew Dalby's translation of Walter of Bibbesworth with the Anglo-Norman text laid out in parallel; we have sent Alan Davidson's two seafood books for reprinting with new covers (they should be back before July is out); we have reprinted Hannah Glasse in a slightly different format to make it sit more easily on the shelf; we have paperbacked Peter Brears's master-work Cooking and Dining in Medieval England; we have received back from the printer the next volume of Oxford Symposium proceedings, Celebration; we have published Michael Raffael's Messy Cook, the first cookbook with full colour photographs that we have ever done (looking, most will say, as if it was designed in the 1950s). I am quite breathless. Your only duty is to buy them and then I will be rich yet still panting.
HILARY RUBINSTEIN
It was with great sadness I heard of Hilary's death in May of this year. He was the literary agent of Alan Davidson and many other distinguished authors. The pleasure I derived from any dealings I had with him was very great and he will be much missed.
DI MURRELL
The first article in this issue is a look at the cooking on English narrow­boats when canals were still an economic artery. It's a real pleasure to report that its author Di Murrell was awarded the Sophie Coe Prize at the recent Oxford Symposium. This means that in two successive years (last year it was Eileen White) PPC authors have scooped the pool. Bravo!
BOOK REVIEWS
Gary Allen: Herbs, A Global History: Reaktion Books: 166 pp., hardback, £9.99. A lavishly illustrated hard back, scarcely bigger than a bar of chocolate at under a tenner has to be an ideal gift. Allen's information-packed little book will send the recipient either scurrying to the kitchen to try his unfamiliar recipes or into the garden to plant up some of the exotica he describes. And he should have left it at that. In spite of the subtitle, Allen is clearly neither a historian nor a botanist, a cavalier treatment of scientific names and a plethora of 'howlers' mean that one quotes his 'facts' at one's peril. This is a shame because my first reaction was that Herbs would make a brilliant aide-mémoire for anyone lecturing to a WI or a gardening club. Never mind, his valiant attempt to answer the great unanswerable question 'What is a herb?' invariably posed by awkward members of these bodies to test their speakers, is well worth remembering.  Wisely he does not involve himself in the complexities of medicinal herbs, but restricts himself to culinaries and it's his recipes that shine, such as the Australian technique of  marinating Acacia flowers in brandy before deep frying them. Equally inviting is Moroccan 'Majoun', a health bar with a difference, though disappointingly one of its ingredients means that its consumption is probably limited to its homeland. Original uses of our native flora are not neglected, for instance using the seeds of the otherwise unpalatable wild carrot as a substitute for caraway is a novel idea with a definite appeal. Clearly then Allen is a writer whose interest in eclectic culinary herbs overrides all other considerations and he should not necessarily  be faulted for that. All in all, it is definitely a book I am glad to have on my shelves, its infelicities notwithstanding. ANTHONY LYMAN-DIXON Giacomo Castelvetro, The Fruit, Herbs and Vegetables of Italy (1614), Trans and ed Gillian Riley: Prospect Books, 2012, paperback, 151 pp., ISBN 978-1-903018-64-4, £12.00. Prospect's new edition of Castelvetro's heartfelt plea to the Brits not only to eat more veg but to serve it up in an edible state, serendipitously coincides with the announcement in the trendy press that vegetables now form the main component of a meal. In London eateries meat, we are told, has been relegated to a merely supporting role. However, whether salads will ever knock beef off its perch in the country at large is more doubtful for, as Jane Grigson pointed out in her foreword to an earlier edition, similar hopes expressed by John Evelyn in 1699 and Elizabeth David in 1950 achieved little. But unlike these later writers, Castelvetro explains the health-giving benefits of a delicious but esoteric range of plants. Ingredients are described which even today are only obtainable dried from the deli or as growing plants from the better sort of herb farm. Amongst them are mallows for constipation, pomegranates for the feverish, pine nuts to increase a man's supply of sperm and white lupins which although only appealing to 'pregnant women and silly children', fatten pigs, discourage moles and fertilize the fields. He enlivens the traditional soggy English boiled cabbage by adding beets, parsley, thyme, borage, bacon fat and garlic half way through the cooking process and serving it with pepper and grated cheese. Amongst his handy tips he advocates storing cuttings in honey, a technique still used by the lavender farmers of the USA, but long lost to the British. Mention should also be made of Gillian Riley's erudite introduction in which Castelvetro comes over as an almost universally loved polymath who wholeheartedly embraced the Renaissance philosophy that 'the fruition of knowledge is in pleasure'. Sadly though, rather than enjoying a happy life, this otherwise remarkably gifted man let his tongue run away with him and incurred the wrath of the Inquisition. To save himself he fled to the grey muddy north, yearning for what Grigson describes as the 'Exquisite Sensation' which can only come from a sensible diet grown and eaten in bright sunlight. Writing this little book redolent with longing for the tastes and smells of his native Reggio Emilia must have been a sweet torture for him. A gourmet, skilled herbalist and brilliant classicist, if we cannot enjoy dinner with him in person, this is undoubtedly the next best thing. ANTHONY LYMAN-DIXON Tom Mueller: Extra virginity: The Sublime and Scandalous World of Olive Oil: Atlantic Books, 2012, 288pp., hardback, £18.99. At the very beginning of his book about olive oil, Tom Mueller takes us to an archaeological site in Cyprus where, about 4,000 years prior, a disaster had struck. The catastrophe – likely an earthquake – an ancient manufacturing complex, a sort of early high-tech incubator with operations in ore smelting, textile production, and perfume creation, all circled around mills and huge containers for processing olives into olive oil. Mueller describes how archaeologists gradually realized the olive oil fueled the other manufactures: it provided the raw material for the perfume, the industrial lubricant for the looms, and the fuel for the smelting. Mueller's wide-ranging account of both the ancient history and the current politics surrounding the olive oil industry is one of the very few recent books on the subject. In it Mueller functions like the olive oil in the ancient Cypriot industrial centre, linking disparate disciplines in his book, half eulogy, half exposé. The author is a journalist and a long-time resident of Italy, excellently placed to write this account for the intelligent reader who may or may not be a neophyte to the world of Olea europea's golden juice. Mueller moves deftly back and forth between olive oil's importance (both in economic and religious terms) to classical civilizations, the fruit's biochemistry, and the politics of oil production and certification. Particularly shocking – and this is the book's exposé side – is the ease with which inferior grades of olive oil are passed off as extra-virgin, the consequences of which are not only that consumers are swindled but also that a distorted market (read: artificially low prices) for quality olive oil hurts honest producers. Mueller's thorough investigation reveals how despite the best efforts of American olive oil makers – a result of their dedication to quality, their Yankee ingenuity, and business acumen – the US Food and Drug Administration (the American governmental regulatory body) does little to interfere with olive oil fraud. Olive oil tampering is illegal, but it is not an immediate health risk in most cases, hence already-scarce enforcement resources cannot be dedicated to its prevention. It was a pleasure too to have Mueller not fall into the trap of 'good fat, bad fat' during his lengthy (yet very readable) discussion of the health benefits of olive oil. The section on the discovery of olive oil's non-steroidal anti-inflammatory compounds, a sort of natural ibuprofen, was particularly fascinating. The cultured reader will appreciate the poems, quotations, and anecdotes with which the author spices the text. The journalist in Mueller gives the book a narrative flow, making the more intricate or technical parts of the book go down without any bitterness (though bitterness is a positive quality for olive oil, Mueller would remind us). While I truly enjoyed the book, it is this narrative style which creates book's only downside. Although mentioning the much mythologized 'Mediterranean diet' only in passing, Mueller implies several times that olive oil was 'an essential food' (7) and a daily staple in the Mediterranean past. In fact, olive oil was often the fat of choice for the rich: the poor produced it, but it was the rich owners who consumed it. Lard, which Mueller wants to confine above an imaginary line in the north of Italy, was in fact the fat not of choice but of necessity for many Italians, Greeks and Spaniards until recently. Another problem perhaps created by the narration is the fairytale-like quality of Mueller's cast of characters. Numbers of oil enthusiasts (including one 2 year-old) are moved to tears when tasting good extra-virgin olive oil; this emotional response, which seemed excessive to this reader, was a theatrical device which was used too frequently, becoming irritating and ultimately ineffective. How many of us cry when we taste an excellent wine, or a delicious artisanal cheese? The book's dramatis personae were also often one-dimensional, almost stock characters. On one side the big corporations with smokestacks as stage decorations and grinning-yet-dishonest managers: the Bad Guys. For the Good Guys, a few wrinkled-yet-virtuous old farmers and a slew of the rich and famous: a Tuscan marchesa, a daughter of a Tuscan painter and a Neapolitan baroness, various 'scions' of rich families, university professors-turned-millionaire entrepreneurs, members of families of diplomats, titled nobles with castles, a newspaper heiress, a Phillips-Andover/Harvard graduate, and several Horatio Alger stories (including one who actually won the Horatio Alger Award). One has to wonder if these are not simply the lucky descendents of the latifundisti of the past who appropriated all the peasants' oil. All are seemingly genuinely passionate about olive oil, but their privileged upbringing makes their determination to 'educate the consumer' sound self-interested at best, condescending at worst. Avoiding olive oil's past as a locus of class division and inadvertently underlining the role of the rich in its present does not help Mueller with his appeal for a more democratized consumption. Mueller's glossary was very useful, as well as his section on choosing good olive oil. After eight pages of acknowledgements and another six blank pages before I reached the back cover, I was disappointed to find neither a selected bibliography nor an index. Both would be important to a book that is not simply a collection of recipes and anecdotes about olive oil. I admit that this is likely an academic conceit, comparable to complaining about the lack of a page dedicated to a note about the font – many readers are unlikely to care – but it would have rounded out well what is otherwise a commendable and important book. The book's website, www.extravirginity.com, is a great additional research tool which extends and complements the book. Highly recommended. ZACHARY NOWAK Jean-Marc Carité: Pourriture Noble et Vengeance Tardive: Utovie, 2010, 248 pp., paperback, €11.40; Araignée Rouge et Cigogne Noire: Utovie, 2011, 231 pp., paperback, €11.40. Alcohol in some form has always had a role in detective fiction, but these two titles represent a new and unique genre in which misdeeds and murder mix with organic viticulture, a dash of sex and the occasional aroma of regional cuisine – poulet rôti aux Sauternes, poêlée landaise. In each book the plot, which advances largely through dialogue, pits the forces of good (scientifically rationalized organic practices) against the forces of evil (represented by producers and distributors of agri-chemicals along with dishonest wine companies and local government officials), with the former triumphant at the end. In Pourriture Noble the dashing, wine-loving detective Lecoanet is called in to investigate the sudden death of a head of an old wine-making family (discovered in a vat of Sauternes); in Araignée Rouge he helps discover the reason for sterility problems in vignerons in the fictional region of 'Coteaux de Maillan' in south-west France. There's plenty of detail of vineyard management, winemaking and wine appreciation, even if the text at times comes close to back-label winespeak, and although the crime component might sometimes be seen as subordinate to an éloge du bio it is also good-natured entertainment. BARBARA SANTICH Hattie Ellis, What to Eat? 10 Chewy Questions about Food: Portobello Books, 2012, 440 pp., paperback, £14.99. What to Eat? taps into the increasing middle class paranoia over what we should be eating. It explores questions such as 'what is sustainable fish?', 'does any diet work?' and 'what is a green kitchen?'. Hattie Ellis has gained a glowing reputation for her investigative journalism (her book Planet Chicken won the Derek Cooper Award for investigative writing in 2008) and What to Eat? demonstrates a return to form. Each question has been researched from a variety of angles such as considering different ways to reduce our carbon footprint beyond recycling food packaging (for example, by eating less meat and fewer dairy products). The information is delivered in an insightful, easy-going manner with a smattering of personal anecdotes on her own experiences of trying to become a more conscientious food consumer. At the end of each chapter there are three suggestions on how we can become more ethically, nutritionally and sustainably food aware with increasing levels of commitment. In the chapter on the green kitchen these include easy ideas which can be be put into practice on any high street (cooking seasonally). The next level of commitment is worth the effort such as preserving seasonal gluts of fruit or vegetables. The culmination are hopes and dreams of how today's problems could be solved in an ideal world (environmentalism will one day be appreciated for its creativity rather than its denial). She has used a variety of sources for her research including interviews with suppliers and campaigners. Although a selected bibliography is supplied an appendix of the organizations that helped Ellis scrutinize the answers to these questions would not have gone amiss. SAM BILTON Laura Gosalbo & Henri-Pierre Millescamps: Celebrity Chefs. Food Entertainment History: Gastronomía Activa, 2009, 455 pp., hardback, €50. This is so far a privately published volume, but the authors hope that a commercial house will take them up. The subject is a good one; the photographs are aplenty; there are useful tables and facts and figures; and the coverage is estimably international. So bravo for effort and one hopes they are adopted, when some unevennesses might be ironed out without effort. Faramerz Dabhoiwala: The Origins of Sex. A History of the First Sexual Revolution: Allen Lane, 2012, 484 pp., hardback, £25.00. This is an excellent book covering the transition from a society that imprisoned or executed adulterers to one that discussed them; from one which frowned upon harlots to one that embraced them however ambivalently; from one that had little concept of private to one where it was accepted. The transition, you might say, from medieval to modern, taking place over the long eighteenth century. He has read widely; he writes well; the subject is a gripper. Not a lot to do with food, I admit, but read it none the less. I would have liked greater attention to the French and a closer look at the parallels between England and the rest of Europe. A handsome book too. Claudia Roden: The Food Of Spain:  Michael Joseph (Penguin), 2012, 512pp., hardback: £25.00 Shortly after chef Pepe Rodríguez Rey, who cooks near Toledo, won Spain's 2011 National Gastronomy Prize, he commented that, for him, 'el toque en la cocina se aprende en casa.' In other words, the touch – or essence – of good cooking is learned at home. Straightforward as it sounds, in a country where the limelight now falls almost entirely on restaurant cooking – even homely dishes are generally 'perfected' by chefs for the media – one is grateful to hear the idea. One is appreciative, then, that Claudia Roden dedicated five years of research to teasing out what Pepe's comment means on the ground. In her large and beautiful new book, The Food of Spain, she explores edible Spain across time and place, celebrating its diversity, human and geographic, as a source of creativity. This central theme is an important one. As historian Raymond Carr jokingly put it, Spain is a country with as many chorizos as virgins. Roden herself uses humour to approach another key theme, the extent to which Spanish cooking today is a construct of reality. Reinvention of tradition has played a part in that, often creatively, but modern branding operations have been less positive in tilting our understanding of influences, regions, dishes and produce. Roden deals with this by passing on all kinds of people's thoughts and differences of opinion, often, one guesses, with a smile, sometimes, perhaps with a wince. In her choice of just over 200 recipes she picks many dishes new to readers abroad. What a lovely surprise to find fariñes, the northern corn gruel served up in its modern meaty form; arnadí, Valencia's sweet potato or pumpkin pudding; sopeao, southern tomato sops. Humble in origin, these dishes resist the idea of perfection. Every hand may bring something special to them. Other delicious things come from affluent home cooking: roast chicken with apples and grapes, fish in saffroned béchamel, a chocolate and chestnut custard. Here the book leans away from the frugal central tableland towards the Mediterranean. Roden writes that Catalan cooking is 'the richest, most complex and sophisticated of Spain', handing on an idea that has currency abroad, but perhaps due a mix-up over the culinary 'paises catalanes', akin to associating all southern French cooking with Languedoc. (On home ground conventional wisdom, even among most Catalan chefs, reserves the accolades for both home and restaurant cooking for the Basque country.) On the whole, though, the regionalism is subtle, helped by recipe variations that evoke how dishes travel and are cooked with great freedom of spirit. Beyond the recipes there is much of interest. At the book's heart lie historical essays. Roden writes densely and with passion on Spain's Muslim and Jewish cooking, a complex subject that requires filtering wide and deep sources to set local detail against the bigger picture. Especially useful is her unravelling of Muslim cooking's various strands that are usually written confusingly as one tradition. This perspective is of great value for both scholars and hands-on cooks. A wish-list for a paperback edition might note that Jason Lowe's photographs bring a richly coloured visual narrative to the book, but occupy over a quarter of it. Perhaps some of the space might be given over to text exploring other areas of history in more depth and playing with the leisurely domestic detail that gives A Book of Middle Eastern Food its timeless sense. One feels that this book, in contrast, is a time-capsule, capturing the cooking of an affluent epoch that may well soon come to a close. But there is much to celebrate here and cook with Claudia Roden's own enthusiasm – and toque – sending one scuttling to look for the paella pan. VICKY HAYWARD Helen Leach, Mary Browne, Raeline Inglis: The Twelve Cakes of Christmas: an evolutionary history with recipes: Otago University Press, 2012, 192 pp., hardback: £24.50. Building on her earlier 'significant study…of a vexed question' (PPC 89), The Story of the Pavlova, Helen Leach and her co-authors here explore the history of what is still for most of us an essential part of Christmas cuisine – the cake. Underpinning her approach is the idea of the recipe as a proxy-artefact or piece of material culture, and a text that 'encodes the flavour and texture of a dish-in-waiting'. Recipes matter more to cake-makers than to, say, stew-makers, since variations in proportions, temperatures, and procedures can mean an outright disaster rather than a slightly different taste or texture, and so ample material with which to trace the development of the Christmas cake, from its origins as a seventeenth-century Twelfth Cake in England to a twentieth-century Cathedral Cake in New Zealand, is to be found in private cookbooks, articles, and published books. Raelene Inglis contributes a wonderfully detailed statistical analysis of over 800 recipes covering the whole of the twentieth century, and Helen's sister Mary Browne once again embarks on the labour of translating recipes into modern terms, baking them, and – no doubt with considerable difficulty – managing to photograph the results before they are eaten by her fortunate family and friends. The Christmas cake is a particularly good subject for this material culture approach since it would have been an annual and isolated cooking Event – undertaken deliberatively by the household cook, not least because the cake has always, as part of a ritual feast, tended to feature expensive and rich ingredients. The shift to people drawing lots for their Twelfth Night roles, instead of searching for a token baked into the cake, meant it no longer had to be eaten in one go on one particular night, and it changed from yeast-based 'cake' to something richer and more long-lasting, generally though not exclusively made by the method of creaming fat and sugar to incorporate air, and eaten from the start of the festive period. Since the Christmas cake is a food that arouses strong emotion, as part of the personal tradition of a household or family at Christmas, my expectation would have been that recipes would be relatively constant, subject only to the pressures of economic circumstances, wartime shortages, and household size – yet the authors show a surprising degree of variation in the cakes made, especially during the twentieth century. There are discernible trends that crossed continents, some the result of new products like baking powder, some simply due to fashion (I remember adding chocolate and even, once, a tin of strawberries, to my own cake), but a continuing enthusiasm for pineapple, condensed milk, brazil nuts and brightly coloured cherries marks the later recipes out as distinctively and deliciously antipodean. The book is a combination of serious research presented succinctly and clearly, and practical cookbook written with the engagingly informal tone of someone sharing personal experiences with her peers. Reading it, I found myself wondering about the unexplained chemistry of cake making – why does adding egg custard mean you can use fewer eggs? Would milk and egg added separately have worked as well? – and would have welcomed rather more comparative description of the finished cakes, especially the differing textures of the crumb. What some describe as 'moist' is sometimes, to my taste, too soggy and the excellent photographs of cut cake suggest a range of density that is not always identified in the text. However, the remedy for this is obvious, and also welcome: I shall have to get baking! PAM GEGGUS Abbie Rosner: Breaking Bread in Galilee – A Culinary Journey into the Promised Land: Hilayon Press, Israel, 2012, 238 pp., paperback, $15.00. The power of food to unite as well as divide is nicely illustrated by this account by a Jewish author of her travels around Galilee observing, studying and recording modern, yet infinitely traditional food habits, shared of course by Arab and Jew alike. Her starting point was edible wild plants; her backstop was the Old Testament; her range extended from the harvest of the desert to bread baking, fig eating, and olive growing. Her account is eloquent and will yield you some good information on the tabun clay oven and the making of freekeh, as well as the use of wild plants zaatar, luf, asparagus and mandrake. Both mandrake and luf are of course poisonous. The mandrake can be unmanned by removing the seeds, and the luf can be neutralized by sucking on lemon (it's also possible that sorrel can help). It was, however, quite difficult to discover which plant was meant by luf. She never tells us and diligent Internet search yielded little. It may be Arum palaestinum, but then again it may not. Anyway, it was jolly interesting. Amy Goldman: The Heirloom Tomato. From Garden to Table: Bloomsbury, 2008, 260 pp., hardback, £25.00. The bibliography of the heirloom tomato accumulates at a surprising rate. Those of you with long memories will recall our approval of Mark Harvey, Steven Quilley and Huw Beynon's Exploring the Tomato. Then there is David Gentlecore's new history noticed on another page, as well as Andrew Smith's account of the tomato in America (and we shouldn't forget Lindsey Bareham's Big Red Book of Tomatoes), and now this volume which was recommended to me in the books pages of that estimable journal, Hortus. There, Joe Eck chose Amy Goldman's book as 'one of his three favourite books to have been published in the past 25 years.' The book is largely and handsomely illustrated. It contains a long catalogue of tomato varieties and sixty pages of tomato recipes. It does not have much on tomato history. The author has also done books on squashes and melons. The work is enthusiastic and informative enough to make one wish to go in for heritage seed growing. Good stuff. Barbara Santich: Bold Palates. Australia's Gastronomic Heritage: Wakefield Press, 2012, 336pp., hardback, A$49.95. Studying the food history of Australia (if, for the sake of argument, you exclude the thousands of years before Europeans arrived) has many attractions because it's something like a controlled chemical experiment: put ingredients A, B and C in situations D, E and F and observe the reactions. Because all this happened in the era of copious written documentation, we have every chance of discovering the truth. It's not exactly evolutionary anthropology. That's not to say that Australians, indeed Antipodeans in general, don't have their debates and disagreements, but they do have a head start on the rest of us for establishing the truth. Few writers have contributed more to our understanding of Australia than the distinguished and redoubtable Barbara Santich. In this book, she addresses head-on the general history of food in Australia. An informative text is enriched with a remarkable collection of delectable illustrations and a cornucopia of quotations from all sorts of sources. It makes for a heady mixture and a readable one too. You will find chapters on bush tucker, picnics, barbecues, lamb and mutton, cakes, pies, and the food industry. So potent is the mix that it makes ideal bedtime reading. Peter Brears: All the King's Cooks. The Tudor Kitchens of King Henry VIII at Hampton Court Palace: Souvenir Press, 2011, 192pp., paperback, £15.00. This is just a note to mark a second revised edition of Peter Brears' important study of the Hampton Court kitchen. It must be the most extended account of Tudor offices available today, generously decorated as usual with Peter's handsome drawings. It is equipped with some useful Peter-style recipes which he subtitles 'A Practical Approach'. Practical they certainly are. I'll be roasting a peacock tomorrow. Good on Souvenir Press for keeping the flame alive, much like our Olympic torch relay artistes (except the Devonian who let it go out). Jane Joseph & Guy Poltock. Fit for a Queen. A recipe book researched from the handwritten manuscripts of Ada Parsons (1888-1958) head cook to the Earl of Strathmore c.1912 to 1916: Cranfield University Press, 2011, 150pp., hardback, £35.00. Jane Joseph and Guy Poltock are grandchildren of the redoubtable Ada Parsons who was cook to the late Queen Mother's family in the early twentieth century. Her career started with working for the Marquess of Winchester. (I recall encountering him years ago in the records of The British South Africa Company – the creature of Cecil Rhodes. He was remarkable for his longevity and astonishing activities in several fields. He courted bankruptcy when involved in the affairs of the 1920's spiv, Clarence Hatry, and he managed to get married at the age of 89 to the marvellously named Bapsybanoo Pavry, England's only marchioness of Indian birth. He left her after a few months' cohabitation and took up with Eve Fleming, Ian Fleming's mother. May we all be so vigorous. End of digression.) Ada Parsons went on to work for the Dalgety family and then for the Bowes-Lyons, the earls of Strathmore, in Hertfordshire and at Glamis. A nice memoir of Ada is succeeded by fifty-odd recipes transcribed from her notebooks. The character of the dishes is much as you would expect and the practical detail is (again as you would expect) kept to a minumum. The Queen Mother doubtless responded well to the orange gin recipe (three Seville oranges steeped in a quart of best gin). The final section is a choice of lunch and dinner menus with a party at the end. They whooped it up at Glamis, I'll bet. A nice period piece. Alasdair Scott Sutherland: The Spaghetti Tree. Mario and Franco and the Trattoria Revolution: Primavera Books, 2009, 255 pp., paperback, £14.99. I was meant to write a foreword for this but somehow it fell through the bannisters. This may be the reason why he didn't send me a free copy and it has taken me some time to get around to buying one. For those of you interested in the rise of Italian cooking in this country, it is essential reading. In the end it gets quite tedious as one restaurant begets another, and on and on through fifteen begats before we get to the end, but at the start of it all he's got lots to tell us that we didn't know before. Mr Sutherland has been very energetic in talking to staff and prime-movers in the restaurant explosion that followed the opening of the first Terrazza in Soho. He's also collected lots of snapshots. There are survivors of this sixties wave; for example, La Famiglia, close to where the Davidsons used to live in Chelsea (which is where I last took Jane to lunch). But now of course Italian cooking has moved on and Sutherland is quite interesting in discussing points of comparison between the English interpretation (River Café) and the Italian. What is sometimes difficult to unscramble is the significance of the food in contrast to the impact of the Apicella interiors on British Italian restauration. A restaurant that makes a speciality of a variation on Chicken Kiev is hardly echt-Italian even if other aspects of their cooking were. But the design, well that was something else. Bridget Henisch: The Medieval Cook: The Boydell Press, 2009, 251 pp., hardback, £25.00. I am guilty yet again of inefficiency and have failed to alert you to this valuable book that was published by Boydell two years ago. Bridget Henisch is an attentive and sensitive reader of medieval sources and can tease a cogent narrative from the most disparate of indications, be they written or illuminated. It sometimes makes us common or garden browsers blush with shame. She expresses the aim of the book succinctly at the outset, 'the aim of this study is to consider medieval cooks in the context of time and circumstance, to show how they were presented in the art and commentary of the period, how they functioned, and how they coped with the limitations and expectations which faced them in different social settings.' So in six chapters, she looks not only at grand cooks, but cottage cooks; at simple cooking and the most elaborate feasts; at street food and food purveyors; at home cooks and courtly cooks. The closing chapter is on the cook in art. There are plenty of really enjoyable illustrations. I particularly liked the misericord of a kitchen quarrel from Bristol cathedral: it reminded me of home. In general, as with her earlier works, Mrs Henisch concentrates on narrative sources rather more than dry financial or legal records. This is not meant in any way as a criticism, merely a reflection on its entertainment value because it is not easy to get worked up over a pipe roll. Well recommended. David Gentilcore: Italy and the Potato: A History, 1551–2000: Continuum, 2012, 257pp., hardback, £60.00. David Gentilcore: Pomodoro! A History of the Tomato in Italy: Columbia University Press, 2010, 254 pp., hardback, £18.95. Do not be abashed at the price of potatoes, I fear it is standard for too many books nowadays (NB not Prospect, which is perhaps why I'm only having one holiday this year). Columbia University are rather kinder to us if we want to read about tomatoes. Generally the Americans are more creative in their pricing of books that might have a wider audience than four university libraries in the north-east. David Gentilcore is professor of early modern history at Leicester University. He is my new star food writer. Because here we have a professor who writes English that you and I can understand. He has written three books on foodstuffs in Italy: the potato, the tomato, and maize (and the resulting pellagra). The maize book is still in Italian so I have not noticed it here. I can't recommend highly enough the potato book. It's just gripping. I say go and get it from your library. I'm not even going to even rehearse the fascinating information it retails about the how the potato was absorbed into Italian culture and agricutlure, and how the history of the crop is enmeshed in the deeply absorbing history of Italian upland zones. I should, by way of parenthesis, here urge the claims of the well-received book by Julia Blackburn called Thin Paths, Jonathan Cape, £17.99. Many of you will have read this moving account of life in the Ligurian alps, apparently somewhere behind Ventimiglia. It's just wonderful on the feel of the place, the life of its survivors and the impact of war and societal change. However, where it fell down as a book was it was a bit high on the emotion and a bit low on the history and what I wished really was that Ms Blackburn had spent more time teaching us historical realities. Professor Gentilcore fills in some of her gaps on the whole topic of rural depopulation and the profound changes that the Italian back-country has gone through (just like the French I suppose. Did anyone notice the sale of a complete hamlet in the Limousin the other day? And this was an auction reprised after the failure of the first one, when there were no bids. The tomato book is a cracker too, it is after all a fascinating subject which takes in everything from sixteenth-century botany to twentieth-century industrialization, fascist propaganda, and social change surrounding increased mobility and mass media. All in 214 pages of text with plenty of illustrations. Anne Willan with Mark Cherniavsky and Kyri Claflin: The Cookbook Library. Four Centuries of the Cooks, Writers, and Recipes That Made the Modern Cookbook: University of California Press, 2012, 375pp., hardback, £34.95. I recall talking to Mark Cherniavsky about a book along these lines in the early days of my tenure of Prospect Books. How lucky the authors are in their choice of publishers: the UCP, in their 'Studies in food and culture', of which this is number 35, under the supervision of Darra Goldstein, have served them magnificently. They have ample space, handsome illustration, tasteful typography (in two colours) and excellent design to lay out for us envious readers the bones of their remarkable collection of cookery books. Anne Willan has in a sense been here before in her much-quoted and often-appreciated Great Cooks and their Recipes (1977). But don't think you can economize by not buying today because you bought yesterday. What we have here is a clear and enlightening account of cookbooks up to the Victorian era. As an appendix to each chapter there is also a selection of commented recipes: these are both lucid and revealing and might even provoke you to cook a 'Yorkshire Christmas pie of five birds' – it'll take you a bit of time but Anne Willan gives you much guidance. There is also a fine index and an excellent bibliography. Would that all collectors were so intelligent. Bravo! Lynne Chatterton: From the ground up, home cooking without fear: Pulcini Press, Limited Edition 2010, 357 pp., hardback, £22.00. Although we carried a short extract from this book in PPC 92 I have been remiss in not noticing it, which omission I now fill. A handsome paperback with arresting typography, this is a private publication that repays investment (so often they don't). Lynne Chatterton and her husband are knowledgeable about farming, both hands-on and bookish, and the lands and its uses give structure to the many sensible and enjoyable recipes. These are what they might eat at home, and so might you, but were you to do so you might be displaying wide experience of the world's cuisines and favourite dishes. Lynn is a woman of strong opinions which benefit from years of work among bureaucrats and NGOs, as well as a latter-day career as as olive farmer in Umbria. What's nice about her recipes is that they are do-able, even if your larder doesn't always contain (as apparently hers does) a haunch of wild boar. The book can be bought online from <http://www.cottage-umbria.com/FTGU.html> Joy Larkcom: Just Vegetating, a Memoir: Frances Lincoln, 2012, 336 pp., hardback, £18.99. Almost everybody has read a book by Joy Larkcom, and if not a book then an article. She opened our eyes to salad stuff, oriental vegetables and altogether urged us to be more adventurous in our walled gardens, allotments and potagers. This handsome scrapbook of a book affords a useful overview of her life and writings being a collection of many of her articles, linked together by an autobiographical commentary. There is a plethora of amusing illustration. If there is any larger lesson to be learned it is that things change quickly. Who would have thought that we would be eating mizuna as a matter of course shortly after her reporting from Japan in 1986. The men among her readers will appreciate especially some of her garden plans so that they can indulge in armchair gardening, their speciality. Harvey Levenstein: Fear of Food. A History of Why We Worry about What We Eat: University of Chicago Press, 2012, 218 pp., hardback, £18.95. We are all acquainted with the author's important studies of American eating, Revolution at the Table and Paradox of Plenty. This could be thought a coda or afterthought and stems from his realization, when writing about Americans' reactions to French food, that their own food culture was riddled with fears and apprehensions, often largely unfounded. It is highly entertaining, short and sharp, well documented, instructive and valuable. It is also quite depressing. The topics covered include the reaction at the beginning of the twentieth century to the realization that germs were a threat to life and hygiene, particularly those born by flies, with a marvellous anecdote of the monetary bounties paid to people bringing in dead flies to official receivers (one especially inventive winner found the best method of scooping the pool was to breed the flies then kill them). Then there is a chapter on milk and its hidden threats, one about bad bacteria in the bowels and yoghurt, and on the hygiene surrounding beef, E.coli and other dangers. Then there's a discussion of early battles against additives, lots about vitamins and vitamin deficencies and a brilliant closing segment about natural foods, cholesterol, slimming and the relationship of food and early death. What's great about the book is how he ties all these tales to real people and to arresting stories. Quite first rate. The underlying conundrum, which he doesn't quite resolve, is that all these food scares have some basis in common sense and reason. The way they developed, escalating to something never far short of hysteria, may well have been due to their wilful or well-meaning manipulation by individuals or special interests but their basic point still can't be entirely ignored. So the book does not banish all the question marks over the relationship of what we eat and how we thrive, even if it does illustrate that you should never believe everything you are told. I still have a pile of books which never seems to diminish, but now we will have to call it a day until the next issue. High on my list is the new six-volume Cultural History of Food from Berg. I should also take advantage of this half page of space to announce a latecomer to our list for 2012. Consequent on meeting the makers of television documentary on the life and work of Dorothy Hartley, to be screened this autumn, we are publishing, under the title Lost World, a selection of her articles for the Daily Sketch on crafts and country life in England which were first printed in 1933–6. These were the base material for her first book on country ways, published in 1934, Here's England. Of course, they resurface in various forms in all her subsequent work. The selection has been made for us, and is introduced by, the writer and photographer Adrian Bailey, who was a friend of Dorothy Hartley's in her later years. The articles will be illustrated by some of her box-camera snapshots which Mr Bailey has been kind enough to pass to us. There will be a foreword by Lucy Worsley who is introducing the TV film. Below, you can see the cover with an evocative photograph which was the work of the same photographer as our cover picture of narrowboats.