PPC 107 January 2017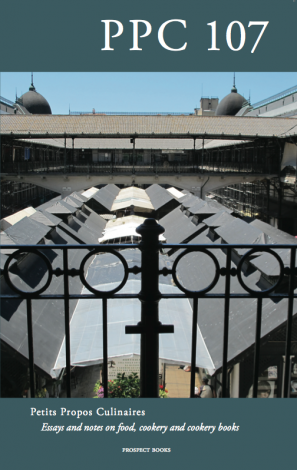 PPC 107 (January 2017)
Contents
20 The Pasties of Cornwall and the 'Cornish Pasty', Part II Peter Brears
29 Haggis — Pudding Anna Martellotti
38 Accuracy and Precision in Food Writing Peter Hertzmann
52 What's up with Ewe? The Rise and Fall of English Sheep's Milk Cheese Mark Dawson
63 A Candid Examination of Mrs Mary Cole Mary-Anne Boermans
99 Mercado do Bolhão: The Life and Possible Death of a Market Dawn Starin
108 How to Eat Crayfish, Stockholm, 1884 William Sayers
117 Book Reviews
NOTES ON CONTRIBUTORS
Mary-Anne Boermans was a finalist in the 2011 series of The Great British Bake Off and is now a successful food blogger. Her interests have latterly been in British food history. Her book Great British Bakes: Forgotten Treasures for Modern Bakers is published by Square Peg.
Peter Brears is familiar to Prospect Books readers from his books on jellies, medieval cookery and Yorkshire food. His Cooking and Dining in Tudor and Early Stuart England appeared in 2015.
Mark Dawson received his doctorate from Nottingham University for his study of the Willoughby family in the sixteenth and seventeenth centuries. His book on the subject, Plenti and Grase, is published by Prospect Books.
Peter Hertzmann is an independent researcher. In his weekly blog, amuse- bouche, intermèdes, et mignardises <blog.hertzmann.com>, he presents recipes for small dishes accompanied by musings that have little to do with them.
Anna Martellotti is an Italian philologist, formerly an associate professor at the University of Bari, particularly interested in medieval food history (Libro di buone vivande, 1991), especially in European contacts with the Arab world (Il Liber de ferculis di Giambonino da Cremona, 2001) and early Italian cuisine (I ricettari di Federico II, 2005).
William Sayers is a former teacher and librarian at Cornell University. His gripping collection of etymological essays Eatymologies, appeared in 2015.
Dawn Starin is an anthropologist and honorary research associate at UCL, London. She has spent decades studying and writing about the people and the wildlife of Africa and Asia.
An excerpt from   HAGGIS — PUDDING
by Anna Martellotti
The haggis, a type of pudding of cereals and fats boiled in a sheep's stomach, is widely known as a symbol of Scotland, but its Scottish origin is somewhat controversial, and recently Peter Brears argued that 'the haggis was traditionally more of an English than a Scottish dish',1 gathering a number of recipes from ca. 1400 to the end of the eighteenth century 'after which time it gradually retreated into the northern counties, where it only passed into extinction in the mid- to late-Victorian period.'
The first recipes with the name hagis (or similar spelling) are preserved in a number of manuscripts scattered through the fifteenth century (by now all edited by the late Constance B. Hieatt),2 mostly containing old texts copied and recopied.3 Hence, the first known attestation ca. 1435 ('hagus of a schepe', in the British Library manuscript Harleian 279, edited by Austin)4 can now be antedated to ca. 1400 ('hagis of schepe', in the Bodleian Library manuscript Ashmole 1444, edited by Hieatt):
Hagis of schepe. Nym the thermes [guts, intestines] with all the talow; wasche ham clene & perboyll & sithen hak ham small. Grynd brede, peper & saffroun & cast all in the schepis maw, & sethe it wel, & gif it forthe.5
  English haggis is a loan word from Anglo-Norman hagis, hagiz, hagays, etc., a culinary term obviously translated as 'haggis', with a quotation from the Treatise of Walter de Bibbesworth (ca. 1250): 'va t'en, quistroun, ou toun havez [fleyshhock] Estrere le hagis del postnez', which, as Brears says, confirms 'that it was a solid object being cooked by boiling'.6 It is also documented in glosses (with a different spelling) as a translation of the Latin tucetum 'sausage'.7
    The noun is related to the verb hacher, hachier, hager, haker, hascher, hecher, 'to chop up, mince', exclusively a culinary term, referring to meat or vegetables cut up finely with a knife, as in the quotation: 'pour j coutel a hecher les herbis'; p.p. as 'chopped up, minced' ('la ortie, menuement hakee, En eisil fort seit destem- pree').8 It seems quite distant from the word hache, 'axe' or (in military usage) 'battle-axe'.
   A fairly good description of the procedure is offered by the Tractatus, a Latin book on cookery preserved in two manuscripts from the beginning of thirteenth century (Paris, Bibliothèque nationale, lat. 7131 and 9328);9 copied immediately before the Liber de coquina, the well-known treatise compiled under the patronage of Frederick II (after a long history of reformulations and reordering that begins with the Meridionale).10 The Tractatus, with its evident Norman influence, must belong to the same circle.11