PPC 100 (March 2014)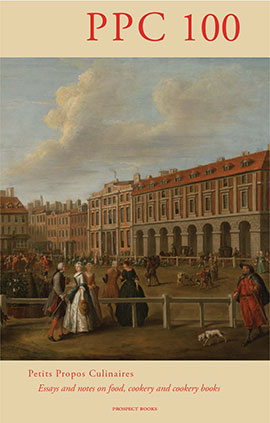 PPC 100 (March 2014)
 

Contents

Buy an individual article as a PDF

| | | |
| --- | --- | --- |
| 11 | A Life in the Day of Alan Davidson | Helen Saberi |
| 21 | To what Extent Did People Eat Vegetables in the Early Eighteenth Century? | Malcolm Thick |
| 43 | Elizabeth David, a Centenary | Jojo Tulloh |
| 46 | Caecubus Ager | Alistair Elliot |
| 47 | Cassoulet & Other Matters | Nicolas Gray |
| 60 | The Medieval Banquet | Johanna Maria van Winter |
| 67 | Gastronomic Studies | Barbara Santich |
| 70 | Tasting a Neighbourhood: a Food History of Manhattan's Lower East Side | Peter Beck |
| 89 | The Original Fish Fight: the Newlyn Fish Riots of 1896 | Josh Sutton |
| 98 | How Sex is Confused with Food in the West | A.R.T. Kemasang |
| 107 | The Rippingille T.G.I. 740 Portable Oven | David Burnett |
| 118 | More Buns | William Sayers |
| 123 | Bistros! What they were and what they are | Philip Hyman |
| 134 | Wild Parties in Prehistoric Greece | Andrew Dalby |
| 140 | From a Pasty in Cornwall to the Cornish Pasty | Rachel Laudan |
| 149 | The Leeds Symposium on Food History and Traditions: its Origin and Progress | C. Anne Wilson |
| 153 | Rocket, Cress and a Dash of Skirret: a Journey through a Mare's Nest | Anthony Lyman-Dixon |
| 162 | Archestratus: Naughty Poet, Good Cook | John Wilkins |
| 174 | Book reviews |   |
NOTES ON CONTRIBUTORS
ANDREW DALBY, PHILIP HYMAN, RACHEL LAUDAN, HELEN SABERI, BARBARA SANTICH, JOHN WILKINS, and C. ANNE WILSON are editorial advisors to PPC. PETER BECK is a freelance journalist and farmer. He has cooked in restaurants in Italy and farmed in Maine, Virginia and Hawaii. His piece was written while studying at Yale. DAVID BURNETT is a publisher, most recently at his Excellent Press in Ludlow. He is the author, with Helen Saberi, of The Road to Vindaloo, a Prospect book. ALISTAIR ELLIOT's Roman Food Poems is a Prospect book. He is a distinguished translator of classical drama and poetry as well as a poet. NICOLAS GRAY is the son of Patience Gray. He was master of a barge and is a community activist. He lives with his partner, the photographer, journalist and fellow-bargee Maggie Armstrong, at Spigolizzi in Apulia. A.R.T. KEMASANG is an Indonesian writer and researcher living in London. He is author of articles and longer studies on the history of tea and on the Chinese in Indonesia. ANTHONY LYMAN-DIXON has written much on the history of herbs and other edible plants. His piece is part of an encyclopaedia in progress. JOSH SUTTON is the author of the camping cookbook Guyrope Gourmet (Punk) and is a freelance writer. His piece is a chapter from his forthcoming book with Reaktion, Food Worth Fighting For, which is a study of food protests from bread riots to more modern expressions of alarm and concern. WILLIAM SAYERS is Adjunct Professor of Comparative Literature at Cornell University. His collected essays on the meaning of some food words are being prepared for publication by Prospect Books. MALCOLM THICK is a garden and agricultural historian with a particular interest in vegetables and market-gardening. His biography of Sir Hugh Plat came out with Prospect in 2010. JOJO TULLOH is a journalist and writer whose most recent book is The Modern Peasant (Chatto). JOHANNA MARIA van WINTER was Professor of Medieval History at the University of Utrecht. She specializes in the history of food, and of the Knights Hospitallers. Her Spices and Comfits is a Prospect book.
Prelimiaries
PPC 100
I hope that the founders of Petits Propos would be gladdened by the appearance of this, the hundredth issue, 35 years after the first unnumbered PPC, dated February 1979. Once up and running, it was to be published three times a year. Had that schedule been maintained, this anniversary number should have been printed in autumn 2012, so we are not too delayed. I must confess that the delay, such as it is, is entirely my fault. In the tender care of Alan and Jane Davidson (up to and including PPC 63), they kept up to the mark. The slippage has occurred during my tenure, from PPC 64, which was issued in April 2000. I am grateful to all those who have contributed to this and any earlier issues. They will know only too well that such service is a gift and the recompense is naught beyond a few complementary copies. The continuance of PPC relies on these people, as it also does on those who generously subscribe, both here and abroad. Do not think your contributions go unrecognized. PPC 100 is bumper. It contains excellent articles from some of our Editorial Advisors as well as pieces from other independent spirits – all of which are sure to stimulate some positive reaction from often supine readers. PPC 100 is also in a new format. As my eyes grow older, I find I need that help in reading which derives from clear and spacious typography. I trust the change irritates no one, although it may distress those who like tidy bookshelves filled with uniform runs.
BRITISH TELECOM
A harsh reminder of our dependence on modern methods of communication has been delivered to the residents of Allaleigh, the hamlet in south Devon which is headquarters of Prospect Books and PPC. The overhead telephone cabling was blown down in a storm on the night of 5 February. We might have expected an effective response from the 'phone company but it was not to be. It has left us without any service for the whole month.  One might wonder if we do indeed live in a 'rich nation' (the Prime Minister's phrase when offering to pay for flood damage that might have been prevented by more timely action on his administration's part). One might also wonder what was the original point of privatization (better service, they said) when it was undertaken by the Thatcher administration. In the event, it has unmanned us. It's not enough to say, 'Write a letter', because all too often we don't have the correct address. And, in any event, has any of you paid for a stamp lately? I therefore apologize for any failure to respond to emails, to make payments, to discover correct facts while copy editing, to calculate the royalties, to generally make progress. A steady, uniform gait over life's hurdles is a good approach which leads to sound sleep; however, the world now demands a different pace and slipping from one speed to the other is difficult as well as unsettling.
WHEN PHYLLIS MAKES A PUDDING!
Peter Brears very kindly sent a small product from his reading in the shape of a poem printed at the end of The Band of Hope Cookery Book (Whitehaven 1907). It's charm is palpable and we are grateful to him. The poet is one A.L. Harris. I do not know of any other work by him.
When Phyllis makes a pudding She puts on a cotton gown, Looks up a work on cooking, And consults it with a frown. Then dons a cooking apron With the latest thing in bibs – To call it unbecoming Would be merely telling fibs. She pats and pulls, and strokes it With a slightly anxious look – As though it were the apron, Not the girl, that makes the cook. Descending to the kitchin, She is ready to begin – With calm determination, See her grasp the rolling-pin! With sleeves above the elbow Which her dimpled arms disclose, And a little dab of flour on Her retroussé little nose. She looks so fascinating With one eye upon the book – But in the end you wish she'd Left that pudding to the cook!
LEEDS SYMPOSIUM 2014
The Symposium will be held on Saturday 17 May 2014 at the Friends' Meeting House, Friargate, York, YO1 9RL. The subject will be 'Kitchen Technology in England from 1600 to the Second World War'. If you wish to enrol, send a cheque for £20.00 made payable to Leeds Symposium on Food History, with your full name, address and telephone number, to Leeds Symposium on Food History, c/o Special Collections, Brotherton Library, University of Leeds, LS2 9JT. If you wish to participate in the communal lunch, please bring one dish, either savoury or sweet. The speakers for this year include an introduction by Ivan Day, Peter Brears on charcoal and steam; Giles Cowley on wrought iron and steel; Tony Weston on spitjacks; David Eveleigh on gas; and Michael Finlay on pastry jaggers. Quite appetizing I think. C. Anne Wilson has retired with honour from her role of overall co-ordinator (see the piece later in this issue), and the direction of the symposium has been taken over by a distinguished committee, with a secretary. His address is: Robert C. Whitehouse, 5 Parkland Drive, Darlington, DL3 9DT, e-mail: <robert@robertwhitehouse.com>; and website: http://www.leedsfoodsymposium.org.uk.
DUBLIN SYMPOSIUM 2014
The 2nd Biennial Dublin Gastronomy Symposium will take place in the School of Culinary Arts & Food Technology, Dublin Institute of Technology, Cathal Brugha Street on the 3th and 4th June 2014. I quote their brief description: 'The theme is "Cravings / Desire". This theme can be interpreted in the widest possible manner ranging from craving or desire for better food and wines, more knowledge about food and beverages, fast food, street food, food in pregnancy, authenticity, novelty, health properties, body image, aphrodisiac, food porn, food as hobby or pastime, food for profit, cultural capital, economic and social status etc. Details of the call for papers are posted on the DGS website http://arrow.dit.ie/dgs/. Participants can expect Irish hospitality, lively discussion, great food and a collegial environment to share their passion for gastronomy with an international collection of like-minded individuals.'
OXFORD SYMPOSIUM 2014
The Symposium will be held this year on 11–13 July; the subject is 'Food and Markets'. A call for papers and registration materials have already been posted on the Internet at the website: http://oxfordsymposium.org.uk. The costs are closely detailed on the site and they range from £205 (£105 for students). If you want accommodation and the full package, it is of course more. It is held, as usual, at St Catherine's College. If you need to correspond you can write to: Priscilla White, Registrar, The Oxford Symposium, 27 Hawley Square, Margate, Kent CT9 1PQ, UK.
GASTRONOMICA
This journal, which we have come to know and love, has a new editor in Melissa L. Caldwell of the University of California, Santa Cruz. And it has a new masthead: no longer to be 'The Journal of Food and Culture' but hereafter 'The Journal of Critical Food Studies'. This indicates, I take it, the capture of Gastronomica by working academics. Who would have thought that so short a while since Alan Davidson and Theodore Zeldin attempted to persuade Oxford University and the occasional rich English benefactor (mostly Lord Forte if I recall it correctly) that 'food studies' were a valid sphere of academic endeavour we would see such an international superstructure of conferences, departments, professors, lecturers and post-graduates arise on this very foundation? There were many people (though never enough) in the 1960s and 1970s who realized that food should be taken more seriously: that it had a resonance beyond mere feeding. But while embracing this wider vision, it was closely allied to a sense of delight in the actual food on one's plate. One can see too that this was the stance of Brillat-Savarin and his later disciples. But when I wade through yet another incomprehensible, turgid or tendentious piece about food in its academic, cultural studies, sociological, political or genderish context, I sometimes miss that delight. I fear for our world if it falls too completely into the hands of serving academics. They seem to have little interest in communicating beyond their own microcosm. So I hope Gastronomica does not put aside its earlier glories.
FIRE & KNIVES and GIN & IT
Many of you will have enjoyed Tim Hayward's explosion onto the gastronomic literary scene with his journal, Fire & Knives, and the more recent, and short-lived, starburst from Kate Hawkings's Gin & It, the liquid half of the equation. All is changing in this camp and we received an explanatory message, the nub of which I give as follows: 'We have been working very hard on what turned into a "rescue package" for both Fire & Knives and Gin & It. As we've made clear from the very beginning, neither magazine was ever intended to do more than cover its own costs but, as time has gone on and the market for independent food magazines has transformed from a desert into a busy shrubbery, even that modest requirement has long evaporated. Our well-intentioned attempt to consolidate the magazines and to publish as an annual proved not to be economically viable. … Towards the end of this depressing journey we've realized that our only real hope was to find someone rich enough not to need the money and altruistic enough to give it to us rather than a deserving charity. At that point, it seemed kinder to admit that, financially at least, our grand experiment had failed. In financial terms, we are forced, today, to regretfully pronounce both Fire & Knives and Gin & It dead but we hope that what those names stood for – a brave experiment in uniting writers and readers at a chaotic time in publishing – will be remembered and might live on in other incarnations.'
BOOK REVIEWS
PPC has always attempted to be helpful with its book reviews. So few food books get adequate coverage in the literary or broadsheet press. However, the list of books to be treated grows ever longer and I find it difficult to do justice to it. If any of you wishes to review something, or wishes to own something, just think that a short review will gain you the book – as well as our gratitude. Oretta Zanini de Vita and Maureen B. Fant: Sauces & Shapes, Pasta the Italian Way: W. W. Norton & Company, 2013: 400 pp., hardback, $35. Readers of Oretta Zanini de Vita's Encyclopedia of Pasta will be overjoyed to have this book. It complements her detailed description of the various kinds of pasta with the recipes that were too numerous to be included in an already big book. The Encyclopedia is a tightly organized work, bringing order and good humour to the huge range of information gathered during decades of research throughout Italy, and this companion volume has an equally sensible structure, allowing us to explore the delicate balance between sauce and shape in an undogmatic but rigorous manner. Oretta is fortunate to have her gifted and erudite translator, Maureen Fant, as co-author of Sauces & Shapes. Between them they reconcile the polarities of Italian and North American recipe writing, balancing the almost anal yearning of conscientious American cookery editors for precision where none is possible, with the passionate expression by dedicated Italian cooks of what to do and how to do it, in terms inexpressible in numbers and measurements. This creative tension is handled with great good humour and generosity of spirit, and the resulting compromises are lucid and often hilarious. This book is much more than a collection of pasta recipes; it is one of the best works on Italian food I have read, explaining attitudes to cooking and eating, and full of detail and anecdote. It is about Italian cooking in Italian homes, not the Italian-inspired creations we meet in Italian restaurants abroad, or the versions of Italian food promulgated by egocentric foreign celebrity chefs. We learn how local conditions, habits and traditions can fossilize into dogma, or evolve with changes in circumstances, how innovation for its own sake is rare, but brilliant improvisation is a necessity. A cool look at our fashionable reverence for regional gastronomy is a reminder that many regions of Italy are in fact fairly recent and sometimes arbitrary political divisions, which cannot comfortably be applied to a cuisine. Instead Oretta has explored the cooking in tiny hamlets or remote valleys, in small hill-top towns, or sprawling seaside conglomerations, each with their own pasta shapes and recipes; she has talked to old ladies about family traditions and sourced products that, thanks to the publications of ENSOR and the Slow Food movement, are being rescued from extinction. This kind of information transcends regional stereotypes, we are simply given recipes that work, from traditional sources we can rely on. So the structure is based on recipe types not regions, with recommended pasta shapes for each recipe. There is also a section on how to make these different shapes. Finding one's way around is a bit of a struggle. The contents page lists the main sections, but not their contents, which are listed at the beginning of each section when you come to it; but it could have been helpful to have them right at the start of the book, to save some frantic searching. The glossary of pasta shapes is helpful, and the numerous sensitive line drawings are informative as well as decorative, and of great practical use in showing how to make and cook the different kinds of pasta. The rather garish colour photographs have been in most cases reproduced, inexplicably, larger than life, not helpful when meeting a dish for the first time – irritating and pointless. Making fresh pasta by hand can take a lifetime's skill and many hours, or be done rapidly. The tortellini of Emilia, tiny little twisted knots enclosing a small amount, about the size of a pea, of a rich and complex filling, which can include Parma ham, pork, veal, mortadella and Parmesan cheese, are made by hand slowly and with care, cooked in a fine meat broth, and eaten with a spoon. The aromas of the broth, the fresh egg pasta and the complex filling are savoured slowly, the texture of the tortellini as complex as the flavours, where the double layers in the knot contrast with the transparent single layer enclosing the filling, melting on the tongue and yet chewy to the teeth. This dish used to be made only for special occasions, a few times in the year, as a special treat. The opposite is the rapid preparation of pinched or torn pasta from a batch of fresh dough, where little strips are rubbed and twisted between the palms of the hand to make trofie or cecamariti which can be tossed into a pan of boiling water and dressed with a simple sauce. Good quality industrial pasta is not an inferior product, just different. Although the commercial varieties, from long thin threads to short chunky shapes, can determine the appropriate sauce, the general opinion, in home cooking, is gently pragmatic: most sauces go with most shapes. A loose rich sauce will slither down and adhere to long strands of slightly rough pasta, like spaghetti, or the voluptuous Bolognese ragù will cling to the smooth fresh egg tagliatelle with which it is served. Never, ever, even think for one moment of the gruesome combination of minced meat boiled in a tomato sauce that is the abomination known a spag bol. Don't go there. We are told how short ridged tubes work so well with a dish of pasta e fagioli, as the dimension of the tube will hold a bean or two, bathed in sauce, making a voluptuous combination in the mouth. Orecchiette combine with crumbled sausage meat, a little dry chilli, garlic and tender-stem broccoli, the concave pasta holding bits of meat and sauce to contrast with the sprigs of the vegetable. We meet strange combinations of ingredients – pasta cooked in a soup of salt cod, chickpeas and chestnuts: not a fanciful invention, simply a way of using cheap local things on non-meat days. Or the voluptuous combination of fried eggplants, grated smoked ricotta, and a tomato sauce that is pasta alla norma (and we get a convincing explanation of the name). The benign simplicity of the Roman spaghetti al cascio e pepe is given in its elemental form, a simple condiment of coarsely ground black pepper and pecorino romano. A substantial main dish of pasta shapes with a tomato and swordfish sauce, or a light dish of spaghetti in a cream of red or yellow bell pepper, lightly seasoned with lemon and basil, are characteristic of the enthusiastic range of recipes. By now a bit in awe of the authors we follow their directions obediently, and are rewarded with dishes of considerable subtlety. This is a book to read and cook from with huge enjoyment. Gillian Riley Susan P. Mattern: The Prince of Medicine: Galen in the Roman Empire: Oxford University Press, 2012: 368 pp., hardback, £20. Do readers of PPC need a biography on Galen? The answer must be affirmative. Galen was one of the most prolific authors of antiquity, with much of his therapy based on food, drink and stronger versions of these in drug form. He is our best authority on Greek and Roman foods. If you look up Andrew Dalby's Food in the Ancient World from A to Z (2003), Galen appears in many entries, 'hake' and 'heart' to take but two. Galen's many books on food, nutrition and the humours contain innumerable case studies and patient narratives of the kind used by Mattern in this volume. She collected all the medical cases in an earlier work, Galen and the Rhetoric of Healing (2008), and redeploys a number here. Writing Galen's biography is particularly problematic, since much of the evidence comes from this extremely ambitious and egotistical man himself, who presented himself to the world with such success that he dominated Western and Arabic medicine for a millennium and a half. Mattern's approach contrasts with Paul Moreau's, whose Galien de Pergame of 1985 is a series of quotations of Galen's own words. Mattern treats the doctor thematically: Pergamum (Bergama in Turkey, where Galen was born), medical education, Rome (where he mainly practised), the gladiator school where he earned his spurs as a doctor, anatomy, etc. If this all sounds rather medical, much of the Rome chapter focuses on the grain dole to the poor and malnutrition. In his training, Galen was influenced by his father's experiments to discover whether tares were botanically related to wheat and barley or not (On the Powers of Foods 1.37). In his daily life, he might eat something unsuitable, such as wheat porridge (ib. 1.7), or invite a patient to his house and cure him by reversing the order of dishes in the meal (ib. 2.22). In his travels, he might ask Thracian farmers what sort of grain they are growing (ib. 1.13). His life and medicine revolved around food: we might expect the physician to the emperors Marcus Aurelius and Commodus to have much comment on imperial dinners and rich men's foods, but not a bit of it. As Mattern brings out, there is much more material on endemic food shortages in the Empire every spring (On Good and Bad Juices 1), one consequence of which was passing on skin ulcers to (wealthy) babies by wet nurses who suckled them (On the Powers of Foods 3.14). Galen was interested in both ends of the food spectrum: he had a home in Campania, producer of Rome's best vintages, on which he commented, while he studied most the agricultural poor, since their being forced down the food chain in the spring to eat acorns and vetch normally reserved for their animals was scientifically revealing. When it came down to it, he had no time for the livers of red mullet (ib. 3.26) or cooks preparing foods for pleasure rather than health (ib. 2.51). John Wilkins Anna Martellotti: Linguistica e Cucina: Leo S. Olschki Editore, 2012: 170 pp., €20. The chance survival of manuscripts – some elegant presentation copies, often in Latin, others grease-stained craft manuals in the vernacular that were sometimes copied out before being chucked away – leaves us with puzzles about how they might relate to each other, and to the wider world of provisions and how they were cooked and eaten. Linguistics can clarify some aspects of medieval Italian food history; and Martellotti explains how linguistic analysis has allowed her to form her own opinions of Italian culinary development as well as detailing those conclusions and opinions with fluency and enthusiasm. Language, however, is only one means of approach to the question. The disciplines outlined in this book explain how all this scholarship might work and are brought out to buttress Martellotti's passionate and erudite, but not uncontested, arguments about the influence of Arab gastronomy on the cuisines of medieval Europe. It is hard to do justice to the complexities of her exciting and innovative argument. Briefly, she finds evidence, based on versions of a now-lost MS written in Sicily for the Emperor Frederick II by one of his renowned Arab cooks, that the whole of medieval European gastronomy was Arab in origin, with a certain Swabian input from Germany. Versions of this cuisine filtered down via Norman England (from direct contact with the Norman presence in Sicily), finding its way into all the known manuscript sources from Italy and the rest of Europe. The charismatic Frederick, known as Stupor Mundi, Hohenstaufen (or Swabian as Martellotti prefers) by birth and allegiance, had his power base in Sicily; there he grew up, speaking six languages, one of them Arabic, and when not rampaging around Europe harassing kings and popes, was at ease in the hedonistic cultural hothouse of Palermo, where the douceur de vivre included falconry, poetry, and refined dining. According to Martellotti the cultural and political hegemony of the Normans was the vehicle for this splendid Arab cuisine, which in word as well as deed, in kitchens and cauldrons as well as texts, was to be for centuries the main influence on European gastronomy. Martellotti traces the impact of this courtly Arab cuisine in its transmission from a master chef's lost manuscript through a text, Liber de coquina, copied later in several versions, to other surviving cookery texts, from a 14th century version of the Meridionale, published by Bostrom in 1985, to a later version in the BNF, and compares it with material from the late 12th century in the British Library, edited by Constance B. Hieatt in 1986. According to Bruno Laurioux, Hieatt's 'seductive hypothesis', outlined at the Oxford Symposium in 1996, that the Liber de coquina was the vehicle for this transmission of the Arab cuisine of Sicily to the rest of Europe, via Anglo-Norman MSS, is debatable. Readers of PPC will enjoy comparing Martellotti's enthusiastic and carefully argued position with the equally scrupulous, but sceptical, view of the Arab influence by Bruno Laurioux in Une histoire culinaire du Moyen Âge (Honoré Champion, Paris, 2005) where his essay on pp. 305–335, 'Le goût médiéval est-il arabe? À propos de la "Saracen connection"' summarizes a different point of view. Laurioux examines over half a century of different takes on the Arab influence, from Maxime Rodinson to C. Anne Wilson and Charles Perry, and finally Martellotti, and eventually gives them all a clear well-reasoned thumbs down. Gillian Riley Tony Kitous & Dan Lepard: Comptoir Libanais: a feast of Lebanese-style home cooking: Preface Publishing, Random House, 2013: 288 pp., hardback, £20. The current civil war in Syria has seen a large influx of Syrian refugees into Lebanon. One project to help them has been run in conjunction with the restaurant Tawlet Souk el Tayeb in Beirut. Established by Kamal Mouzawak, who has a short essay in Tony Kitous' new book, the restaurant promotes foods from different parts of Lebanon and encourages cooks from across Lebanon to come and cook, highlighting the variations between coastal, mountain and inland cooking. They also have international themed dinners when visiting chefs demonstrate the foods of other regions of the world. Mouzawak also founded the first farmers market in Beirut, promoting local foods and produce. His work encapsulates many aspects of Lebanese cuisine; the use of fresh ingredients, its simplicity, its connection with the land, but also its openness to other influences and the ability for it to travel. The latter two aspects are perhaps what defines Lebanese food for us today. The entrepreneurial spirit of the Lebanese has meant they have been open to many other cultures over time, as they have spread via trade or migration, and they continue to diversify as new challenges and opportunities present themselves. Lebanese food has become familiar across the world disproportionately in relation to the size of the country. Lebanese food, like the country itself, has a fascinating if sometimes troubling history, related in such classic books as Anisa Helou's Lebanese Cuisine (1994) and Claudia Roden's A Book of Middle Eastern Food (1968). These were written by exiles from the turbulent region and motivated by the desire not to lose touch with foods they were bought up with. The cuisine of the Lebanon in particular benefitted from its rich geography being a part of the Fertile Crescent, and with a variety of landscapes from the Shouf mountains to the Bekaa Valley as well as a long Mediterranean coastline. The climate also suits a range of products with mild winters on the coast and snow in the mountains, which feed the Litani and Orontes rivers as they irrigate the inland Bekaa Valley. The country's history as part of other empires, such as the Egyptian, Persian, Roman and Greek, brought in influences from across those territories, combining the cooking of the Mediterranean and the rich cuisine of Persia. Particularly significant was the arrival of the Phoenicians in Tyre, in southern Lebanon, in 4000 bc when – as the first seafaring nation in the Middle East – they established a trading post for silks and spices, building an early empire based on trade in fabric dyes. The Phoenicians also brought in pulses, wheat, nuts and olives which are the mainstays of classic dishes such as kibbeh, baclava and the ubiquitous flat bread, served at almost every meal. From the time of the Phoenicians the Lebanese became great traders (holding some responsibility for the slave trade, particularly in East Africa). Lebanon has exported its cooking through commerce and migration, spreading Lebanese cuisine around the region and into Europe and Africa, as well as importing ingredients and styles of cooking. As a result the precise origins of Lebanese dishes are often difficult to pin down accurately. As one of the the few Middle East countries with a large Christian community Lebanese cuisine has also been open to Christian as well as Muslim traditions. So, for example, there is a wide variety of vegetarian dishes reflecting the requirements of Lent. From 1516 to 1918 Lebanon was part of the Ottoman Empire. This further contributed to the spread of Lebanese culinary influence as the empire drew to itself the best of its territories, which spread from western Asia to southern Europe, as well as north Africa. It also opened Lebanon up to the foods of other parts of the empire. The Ottoman influence is still apparent in the use of lamb and rice in Lebanese cooking. Arab nationalism, which grew as the Ottoman Empire declined, led to individual countries laying hold of their own cookery cultures, and Lebanon, was no exception. Dishes such as tabbouleh, kibbeh, and fattoush were examples of Lebanese home cooking that become popular across the Middle East and beyond. The larger-scale migrations of Lebanese around the world in the late nineteenth century, initially to other Arab countries but then increasingly to the USA, resulted in these dishes finding new homes. Before the 1975 civil war Lebanon was also perhaps the most open country in the region and as such developed a thriving tourist trade. The French influence, when that country held the mandate to rule Lebanon after the First World War, helped the country both with its cuisine, particularly pastries, and with a restaurant culture, something other Middle Eastern countries have only more recently developed. The civil war and the Israeli invasions led to the exile of many wealthy Lebanese to the West where they established restaurants showcasing Lebanese food and preserving their culinary heritage. The end of civil war in 1991 allowed people to return and a restaurant and food culture to flourish again. Like many cultures emerging from a disorienting period, the Lebanese returned to their culinary roots, with the promotion of traditional foods. The Tawlet Souk el Tayeb restaurant and the Beirut farmers market are examples of this. But they are also examples of another trend which has been to diversify, using the varied ingredients available to them and the experiences of exile, to generate an eclectic food scene unlike anything else across the Middle East. Visiting the country in the mid-1990s soon after the end of the civil war, I ate in restaurants in Beirut serving food reflecting these different influences of a quality to match that in many London restaurants. The classic mezze of Lebanon, which consists of many small dishes, usually fairly simple, such as pickled vegetables, salads, stuffed vine leaves, puréed pulses and vegetables, has come to represent Lebanese food for many. Whilst not necessarily what would be served at home, these dishes showcase both the simplicity of Lebanese food and its fresh ingredients. This simplicity has led to some experimentation, comparable to that with tapas in Spain, so that we now see hummus with different spices apart from cumin, the use of yoghurt and tahini dressings on various vegetables, arak (the aniseed-flavoured spirit similar to Ouzo or Pastis) being added to marinades or as a cooking medium. Interestingly Lebanese food is in great demand in the Gulf states, as it appeals to both Western and Middle Eastern palates, and has been promoted in the West as 'healthy' given its similarity to other Mediterranean cuisines. With the current conflict in Syria having serious consequences in Lebanon, with inter-communal tensions rising again, it may be we see another exodus from the country that may bring with it the 'new' Lebanese food, that has taken the best of traditional food and taken it to another level. Whatever the future its clear that one of the defining characteristics of Lebanese food is, like its people, its ability to adapt. Tony Kitous is the owner of a chain of Lebanese-style restaurants across London, in major shopping centres and airports. The menus at these 'Comptoir Libanais' restaurants, and his Kenza restaurant in the City, feature many of the same traditional Lebanese dishes that appear in this book, which can perhaps be described as the book of the chain. There are no great surprises here, with recipes for hummus, baba ghanoush, fattoush, batata harra, shorbat adas, and the use of tahina, sumac, pomegranate, all of which I suspect we are getting used to. Many of the recipes give a little twist to the traditional but perhaps not enough for a generation now familiar with the innovative Middle Eastern cooking of the likes of Yotam Ottolenghi, or who may themselves have visited Beirut today. That said, the recipes certainly work and there are some which deserved repeated consumption, for example the salmon marinated in pomegranate and molasses, which may sound a trifle rich but in fact works really well. The writing style leaves something to be desired, to be fair not an issue exclusive to this cook book. When you get words such as 'passion', 'love', 'simple', 'honesty', 'fun', and 'easy' all within the first two paragraphs I get a little uneasy. There is plenty of hyperbole and repetition in the introductory sections, which I suggest you skip to get to the recipes, which is a shame as the short piece there by Kamal Mouzawak, of Tawlet Souk el Tayeb fame, seems a major missed opportunity. The photos are by Dan Lepard, best known for his baking books, and are a real bonus. Tim Harris Anya von Bremzen: Mastering the Art of Soviet Cooking. A Memoir of Food and Longing: Doubleday, 2013: 340 pp., hardback, £16.99. I regret not having previously encountered the work of Anya von Bremzen. Had it been otherwise, the entries on Russia and the various republics of the USSR in the Companion revisions would have been better. Her first cookery book, Please to the Table: The Russian Cookbook, written with John Welchman, was published by Workman in 1990. Mastering… is partly a memoir of a Russian childhood, something about dislocation and adjustment once in America and a general account, informed by her own and her family's experience, of life, food and cooking in the Soviet Union after 1917. Although her grandfather was head of Soviet Naval Intelligence and a thoroughgoing Communist, he was also Jewish, so the author's identities were split between membership of the nomenklatura on the one hand (a club that occasionally paid dividends) and a problematic ethnic group. Her own mother felt the difficulties to a much greater extent and resolved the matter in 1974 by emigrating to America with her school-age offspring who aspired at first to a musical career, but settled into writing and reporting about food and travel. This memoir is the outcome of a very extended conversation (over 50 years) between that child and her mother. And the outcome too of a joint attempt to cook meals that exemplified the culinary history of the USSR, decade by decade, in a small flat in Queens, New York. Out of these two activities comes an enticing account, at once depressing and uplifting, and always intriguing, of the Revolution across the stove-top. There is sufficient history, and it is well enough researched, to provide structure; sufficient anecdote and consecutive narrative to entertain and inform; sufficient wild facts to supply a week's worth of dining-out. The author's approach to history smacks of Carlyle and the Great Man complex, but it is probably a true reflection of some people's experience that the history of Russia seems to concentrate on the big men and their failings: Lenin, Stalin, Brezhnev and the rest. The fall-out from their autocracy was felt in the smallest and barest grocery store, and in the shopping bags of those who relied upon it. The book is rich in detail about culinary shifts, problematic supplies and matters of housing and accommodation. It also offers a very different interpretation of the Gorbachev regime to that which we are accustomed to here in the West. There are a few of those paradigmatic recipes at the end, but this is a memoir, not a cookery book. Were I to say that she would have written in a different style had she ended up in England, that would be to cavil. Ben Downing: Queen Bee of Tuscany: The Redoubtable Janet Ross: Farrar, Strauss and Giroux, 2013: 340 pp., hardback, £22.85. Janet Ross was the author of Leaves from our Tuscan Kitchen (1899 and repeatedly reissued; still in print indeed, with Grub Street). [As a young man, I had the privilege of knowing Michael Waterfield, her great-great-nephew (and editor of a later edition of Leaves), who was the chef-proprietor of the Wife of Bath restaurant in Wye, Kent – one of England's finest in its time – when he was cooking with my stepfather at the Hole in the Wall in Bath.] There is little enough in this book about Leaves, save for the admitted fact that Janet Ross cooked not one of the dishes herself, and that the original idea was her niece's. There is a great deal, however, about her family background and the affairs of the English and foreign colony in Florence from the late 1860s until her death in 1927. The author is literate and well informed; the book is readable and instructive, as well as serving as a constant reminder of the closeness of connection among the Anglophone intelligentsia of the time. That is not to say that it is entirely enjoyable. By the finish, I had come to the conclusion that Janet Ross was not someone I would have liked to have met. Nor did Ben Downing persuade me I was mistaken. Perhaps because there are so many connections and personalities to cover, over so many years – not to speak of wars, revolutions and political upheavals – the reader is often adrift in a maze of names, genealogies and news bulletins. Because quite a substantial amount of material is drawn from published memoirs rather than manuscript correspondence or journals, there is a certain distance between the reader and subject – and, alas, a distinct lack of scandal (Janet herself seems devoid of the sensuality you might expect from someone revelling in la vita toscana.) Expecting a whole lot of knockabout rumpy-pumpy (think of Norman Douglas, or Walter Savage Landor from an earlier period), it was surprisingly dry. Nina Stibbe: Love, Nina. Despatches from Family Life: Penguin-Viking, 2013: 322 pp., hardback, £12.99. This has possibly been many people's Christmas present, or Christmas reading at the least. It consists of letters written to a sister at home during the early 1980s by a 20-year-old from Leicester who had been taken on as nanny to the two young sons of Mary-Kay Wilmers, already working at the London Review of Books, which she now edits. The spare prose, the frequent and economical dialogues, the personalities in this star-studded corner of north London, the humour, affection and wry realism all contribute to a highly enjoyable experience, refreshingly unsullied by poor taste or ill will. A book that makes you feel good, and feel a little guilty as a reader when you interrogate the text for signs of beastliness, class status or self-awareness. Because, of course, that's what really interests us. An apparently semi-literate girl (and, at first you think, relatively poverty-stricken) surrounded by giants of English letters (Alan Bennett is the hero figure, Jonathan Miller the ogre). But this girl's aunty usually stays at the Meridien in Piccadilly, she owned a horse when younger, and had been sent to France for her improvement at some stage too. All these questions (and guilt about asking them)… Then, there's the matter of food. The historian anxious to trace the tides of fashion will have a field-day here. (Why, for instance, did she think that we were only coming to grips with the BLT sandwich in 1982?) When we trace the graph of Britain's rising appreciation of good food, documents like this will serve as an important corrective. If you have a long train journey, and have not read it yet, go bag a copy. Ben Highmore: The Great Indoors. At Home in the Modern British House: Profile, 2013: 292 pp., hardback, £15.99. The author is Professor of Cultural Studies at Sussex. He has written a book about interiors with almost no illustrations, the gist therefore is literary and cultural studyish. And it is entertaining enough. The emphasis is postwar but when material is lacking, he goes further back, even to the Victorians, to make his point. He has watched a fair bit of TV and deploys his memories to good effect – although there are moments when he should have watched more. He uses the Mass Observation archive as well (and the material is always helpful – and I should thank him for his reference to W.J. Turner's Exmoor Village (Harrap, 1947), an account of the village of Luccombe for Mass Observation, which is full of thrills and great photographs). His big point is how relatively banal innovations in plumbing, bedding, heating and painting provoked wider and deeper social change, although it may sometimes be ticklish to unravel whether the technical innovation was responding to or initiating that change. He is good on duvets, for example, and what they tell us of our bedroom habits: but did we adopt duvets with such enthusiasm because Terence Conran told us our sex lives (and bed-making) would be more thrilling, or because we needed a better bed-covering for sex lives that were already getting sexier? Anyway, it is a pleasing walk down memory lane and the notes are full of things you might not have read (although, I would say, not quite full enough – but that is a counsel of perfection). So thanks to him I turned to Of Human Bondage (Somerset Maugham) and was struck by the power of some of its facts, if not by its literary style. Maugham is very good about the food eaten by those on the margins of London society at the end of the nineteenth century; very good too on why we should be grateful for the welfare state, even in its postmodern version, and its provision of a safety net, however badly strung.
SOPHIE COE PRIZE 2014
Information about this year's prize was ignored by me until the last moment in the preparation of this issue, hence the singular location of this notice. The deadline for entries for the prize is Friday 9 May 2014. Candidates ashould submit an essay on food history of up to 10,000 words. It may have been published in the past twelve months, or it should be ready for publication. Terms and conditions are set out on the website: http://sophiecoeprize.wordpress.com/. A single prize of £1,500 will be awarded this year. Last year's deserving winner was Barak Kushner for his work on Japanese noodles, an extract from which graced the pages of PPC 98.