2020 First Catch Your Gingerbread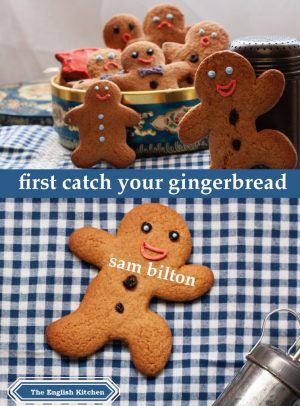 ISBN 13: 978-1-909248-69-4 Paperback, full colour Publication date: November 2020 256 pages 234 x 156mm Price: £15.00
Gingerbread is a lovely treat which has played a part in almost everyone's childhood. But what was gingerbread made of when it first arrived on our plates? When did treacle, dark and sticky, first become available? And why did the gingerbread man leap from the tin, and run so fast with a fox snapping at its heels?
Sam Bilton examines the history of gingerbread, from ancient times down to the present day, before introducing us to a range of delicious gingerbread and ginger cake recipes that bring the story of this spicy and much loved treat to life.
Sam Bilton is a broadcaster for the BBC, writer of articles for English Heritage, and runs events at The Garden Museum, Lambeth, at various museums and venues around the UK, including Royal Horticultural Shows. She also hosts Supper Clubs and blogs at 'comfortablyhungry.com'.
Annie Gray (food historian, The Kitchen Cabinet) 'Well, this book is a real treat!' 
Contents
| | |
| --- | --- |
| Part 1: THE STORY OF GINGERBREAD |   |
| Introduction: What Is It About Gingerbread? |   |
| Chapter One: Ancient Origins of Gingerbread |   |
| Chapter Two: Medieval Gingerbread |   |
| Chapter Three: Everyman's Gingerbread |   |
| Chapter Four: Gingerbread Creations |   |
| Chapter Five: All the Fun of the Fair |   |
| Chapter Six: Decline and Rise of Gingerbread |   |
| Part II: The Recipes |   |
| Biscuits, Wafers & Griddle Cakes |   |
| Bread & Yeasted Cakes |   |
| Gingerbread Cakes |   |
| Savouries |   |
| Desserts & Sweetmeats |   |
| Miscellaneous Recipes |   |
| Acknowledgements |   |
| Notes |   |
| Bibliography |   |
| Recipe Index |   |
| General Index |   |
|   |   |
|   | > |