5 Eat Your Front Garden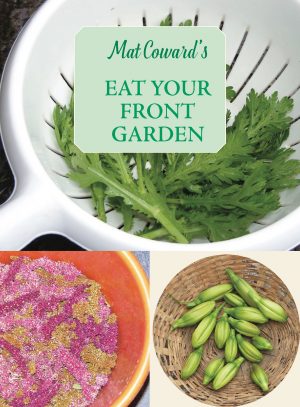 ISBN-13 978-1-909248-67-0
Publication date: March 16th 2020
240 pages; 187×137 mm; paperback; 90 colour photographs
Price £12.99 / US $ 25.00 CATEGORY/BIC WMPF Gardening: growing fruit & vegetables WM: Gardening RIGHTS World
Mat Coward
Eat Your Front Garden
Mat Coward's book could be called the "invisible allotment," as it offers suggestions for edible plants which are easily grown in ornamental gardens. The book gives detailed advice on how to grow and eat the produce from these plants, many of which you may already be growing. Your front garden won't look like an allotment, but you'll still get a significant amount of food out of it. 
 There are plants here which are bona fide ornamentals which, to many people's surprise, have edible parts. Then there are species which are grown as ornamentals in this country, but which are considered vegetables elsewhere. Hosta is a good example; in Japan it's grown as an agricultural crop.  Finally there are lesser-known edible plants, like the Cinnamon Vine (Dioscorea batatas) which is a charmingly-perfumed climber - as long as you don't tell anyone it has another name - Chinese Yam -  and you're going to dig up the roots, eat them raw or roast them.
'Potter down Mat Coward's garden path to discover exciting new culinary delights. Coward reveals how both familiar and unusual plants, often valued for their ornamental appeal, can become ingredients in delicious meals. I'll be putting dahlias, day lilies, hostas and sunflowers on my menu too. Truly inspiring.' Adam Pascoe, Gardeners' World
'A clarion call to use all available space to grow food. Excellent suggestions on plants to choose, and brimming with practical details which will give a novice gardener confidence.' Phil Iddison, engineer and allotment holder
If you would like to read an extract from Mat Coward's book, please click
here
: 
Mat Coward is a writer,  journalist, and scriptwriter. He writes a gardening column for the Morning Star, and is a scriptwriter on the cult TV show, QI for the BBC. He is the author of many books, including crime novels and children's books.