Beppina and the Kitchens of Arezzo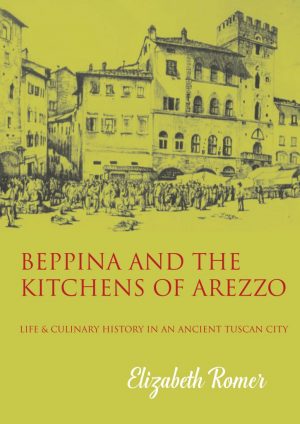 FORMAT: paperback with flaps PRICE: £17.99 ISBN: 978-1-909-248-66-3 SIZE H x W : 216mm x 138mm EXTENT: 352 pages CATEGORY: WB, Food & Cookery, WTL Travel writing RIGHTS: World English PUBLICATION: 12 March 2020
BEPPINA AND THE KITCHENS OF AREZZO
Elizabeth Romer
Life and Culinary History 
in an Ancient Tuscan City
 Elizabeth Romer has a small apartment in Arezzo, which she and her husband live in during the winter months when their Tuscan farmhouse is cut off by bad weather. She has spent hours wandering in the small back lanes, visiting shops and the small back kitchens. One day she she bought an old recipe book of Artusi's, owned by a woman called Beppina, and became inspired by the Jesuit recipes she found in the dusty shop. 
Elizabeth Romer researched the recipes, finding a tomato sauce (sugo di pomodoro) recipe from 1891. She also enthuses about recipes for delicacies including artichoke tart, and drowned trout, to name just a couple. 
She tells us about the culinary history of the region. From Baroque times to the present day, the reader will feel they are walking through the market and gardens of Arezzo, sampling wines, cheeses and country produce.
Elizabeth Romer was born in Wales, went to the Royal College of Art and lived for many years with her husband in Egypt. In 1972, Elizabeth Romer and her husband bought a farmhouse in Tuscany, near Arezzo, where she wrote her first book, The Tuscan Year (1984), describing the daily lives and cuisine of her farmer neighbours.