2020 50 Ways to Cook a Carrot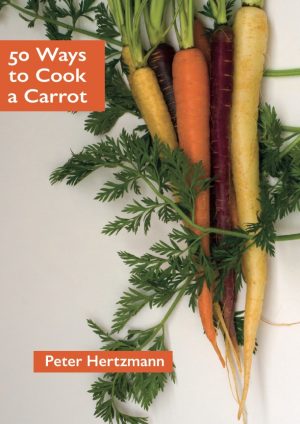 ISBN 13: 978-1-909-248-63-2 Publication date: UK June 2019, USA January 14th 2020 Pages: 192, paperback with flaps. Size: 234 x 156 mm. Price: £ 18.00 / US $ 30.00 / CAN $ 38.99
by Peter Hertzmann
50 Ways to Cook a Carrot
A 2020 New Yorker Best Cookbook of the Year, Peter Hertzmann's mission is simple - to make as many people as possible realise that if you can manage 50 ways of cooking one simple ingredient - the carrot - you can cook almost any dish, and cook it to perfection.
Every method presented in this book is approachable for both novice cooks and those with many years' experience. He gives prescriptive advice, such as the salt concentration for pickling a carrot should be 3%, but his book is easy to put into action in the kitchen.
Some of the methods
Simple slices — Matchsticks, julienne, or bâtonnets — Dicing — Roll cut — Grating carrots — Mandolins — Juicing carrots — Blending carrots — Immersion blenders 
Making sauerkraut — A new-fangled pickling container — Salt fermented carrots — Miso-pickled carrots — Acid fermentation — Keeping pickles crisp — Acid fermented carrot pickles — Determining liquid quantity — Salt for acid pickling — Sugar for pickling — Pickling spices — Processing acid-fermented carrots
Peter Hertzmann is a passionate cook, and educator on food cooking, with years of teaching to his name. He is a professionally trained cook, completing 'stage' placements in several high end restaurants in France, then worked in restaurants, and produced complicated seven course menus as part of a team over many years. He has taught in prisons and colleges of further education. Peter lives in the USA and is a regular contributor to the Oxford Symposium on Food.
*
Recommendation by the New Yorker by Helen Rosner, Best Cookbooks of 2020, December 2020
This clever little book is, as the title promises, a compendium of nothing but carrot recipes—carrot soup, carrot gumdrops, macaroni and carrot—though the titular root is a placeholder (or maybe a metaphor) as much as a literal ingredient. Each recipe is a practice exercise for a different foundational kitchen skill, from basic structural matters of grating, julienning, and blending to the more high-concept techniques of salt-fermenting and cooking sous vide—all done with carrots. With instructions and explanations delivered with the pleasingly brusque encouragement of a seasoned teacher, this is a brilliantly audacious act of culinary pedagogy that (also quite brilliantly) verges on the absurd.
Round up of best books of 2019 by Lucy Lethbridge in the The Oldie, October 2019
Peter Hertzmann's 50 Ways To Cook a Carrot may be the absolutely last word on carrot cuisine: with a chapter entitled 'Processing acid-fermented carrots', we know we're in the hands of a master.
Review in the Morning Star, December 2019
50 Ways To Cook a Carrot by Peter Hertzmann (Prospect Books, £18) is an intriguing title for a very readable book in which the author, a professionally trained cook who has also taught cookery, uses carrots as an example to stand in for many other garden crops.

Although there are plenty of recipes in the book, Hertzmann's main intention is to teach us methods and scientific principles which we can then apply to different ingredients and dishes. Original and valuable, this is a book you'll return to many times.'
Podcast: Jeremy Cherfas has an interview with Peter Hertzmann at https://www.eatthispodcast.com/carrots/ (October 2019)